Procurious is celebrating its 10,000th member months ahead of its second birthday in a milestone that has surpassed all expectations.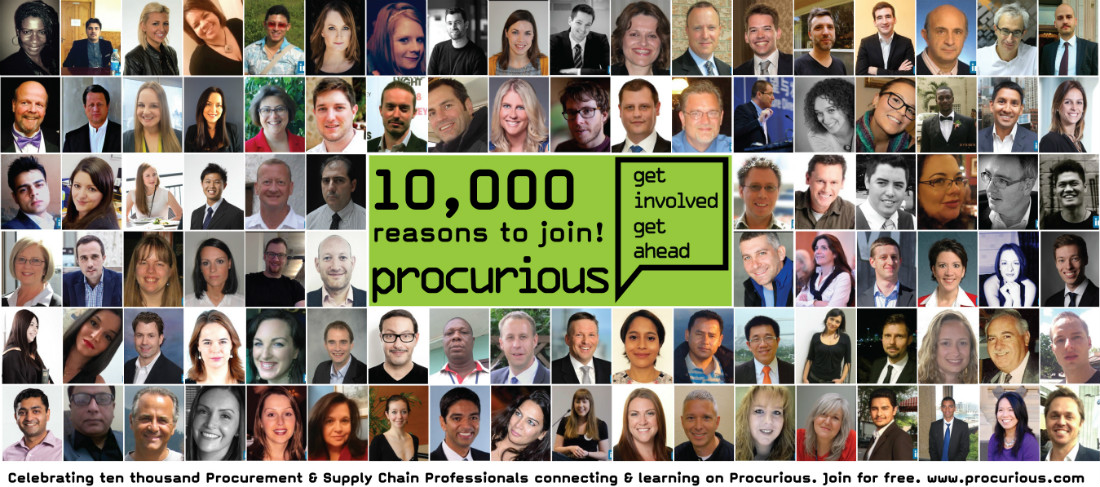 We're delighted to make this announcement and want to take the opportunity to thank all of our members for helping us to build and grow such a fantastic community.
When we launched in May 2014, we wanted to provide a hub for members to advance their careers, develop their skills and expand their professional networks. We like to think that the growth in the community suggests that we're making a difference for procurement and supply chain professionals.
Shifting Procurement Landscape
A huge shift is in the making within the procurement/supply management profession. While cost remains important in the procurement function, professionals work at the interface of an extended global supply chain and are responsible for an ever-growing corporate spend.
Increasingly, Chief Procurement Officers (CPOs) command a seat next to the CEO in the boardroom, and successful supply management practices are seen as pivotal to corporate growth. As a result, demand for new talent is soaring, and so are advancement opportunities.
Against this backdrop, Procurious broke new ground in May 2014, when it launched as the first free online global business network for curious, ambitious procurement and supply management professionals. Building on its mission to strengthen the global supply chain community, Procurious has become a vital source of knowledge, connections, news, and advancement opportunities.
Unlike other communities, Procurious offers a powerful combination of career advancement, skill development, and professional networking, all on one platform. With more than 80 eLearning videos, discussions on everything from commodity indices to procurement systems, and a wealth of guest writers adding their voices to a twice-daily blog, Procurious is at the epicenter of the industry
Flexing Collective Muscle
"The complexities of procurement and supply management are a world away from what they were a decade ago. Executives realise the huge risk posed to their business if there are supply chain disruptions, or costly reputational damage caused by bad management and supply chain practices," said Ms Seary.
"This means that organisations of all shapes and sizes are placing a far greater emphasis on procurement professionals, who are commanding a seat right next the CEO at the boardroom table.
"It's a world away from the procurement function within organisations a decade ago, when procurement was still considered a backroom function. Back then, buyers struggled for influence over corporate spend, typically buying from large suppliers and sticking with long-term contractors, with the primary focus on cost.
"Many of the issues the profession faces are too big for any one person or company to address alone. It's exciting to think what our global procurement community can achieve as we flex our collective muscle."
Engaging the Community
Procurious members engage with the site daily to find a daily stream of highly relevant and credible procurement news and information and broader business and tech/digital news that can be difficult to locate among the noise on LinkedIn.
Procurious member, Chetan Shetty of Productivity Champion Advisory Services in New Zealand, said the site contributes to their business network efforts. "The site is very different and a refreshing approach to connecting with like-minded professionals."
Members hail from over 140 countries and represent some of the largest organisations in the world including Visa, BHP Billiton, British Airways, Apple, IBM, Shell, HSBC, Unilever, NHS and Deloitte.
You can join the Procurious community for free today by registering at Procurious.com.
To celebrate our milestone, we've created a neat infographic to illustrate just how far our 10,000 members could take us…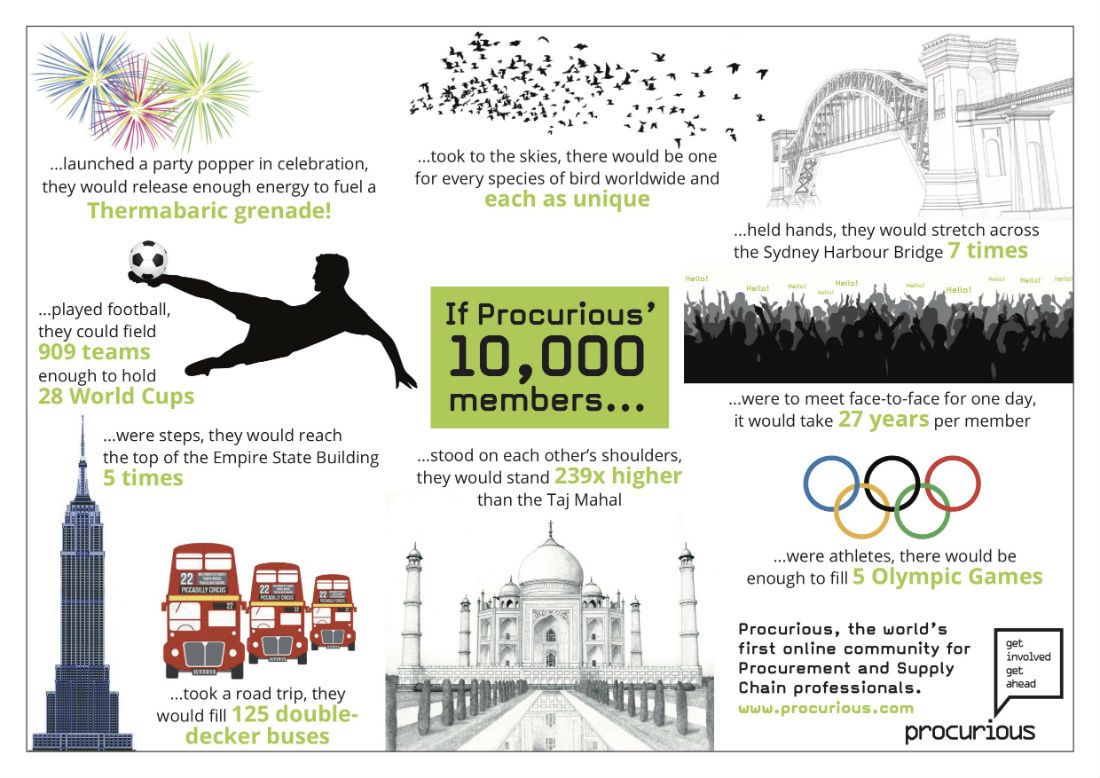 Meanwhile, here are some of the key headlines from procurement and supply chain this week…
Child Labour Concerns in Battery Supply Chain
A new report from Amnesty International and African Resources Watch has raised concerns about child labour in the battery supply chain
The report states that "very few" companies are taking the required steps in due diligence, particularly in relation to the mining of cobalt
Amnesty accused major global organisations, such as Apple, Samsung and Sony, of "failing to do basic checks to ensure that cobalt mined by child labourers has not been used in their products"
Cobalt is not currently covered under the US Dodd-Frank Act, which is limited to tin, tantalum, tungsten and gold
Read more at The Financial Times
First Stage of "Space Data Highway" Launched
A node was launched into space on the back of a communications satellite on Friday, which was the first part of Europe's new space "data highway"
The European Data Relay Satellite (EDRS) has been planned as a way to increase the volume and speed of data transmission, as it doesn't require the relay from an Earth-based ground station
EDRS-A node will relay data, including picture and radar images, that will be used to monitor floods, sea ice and oil spills
The system, costing Euro 500 million ($545 million; £380 million), will also be available to paying customers once it is fully operational
Read more at Business Standard
Peugeot Signs Iran Manufacturing Deal
PSA Peugeot Citroën has signed a deal which will mean that three of its current models will be manufactured in Iran over the next five years
The deal, a Joint Venture between PSA and Iran Khodro, is expected to invest up to €400m over the next five years in manufacturing and R&D
Manufacturing of the latest Peugeot 208, 2008 and 301 models will take place in Tehran, with the first completed vehicles expected in 2017
It comes just a week after economic sanctions against Iran were lifted, and means a return for Peugeot to the country where it manufactured vehicles up until 2012
Read more at Supply Management
Google Plans to "Beam 5G" Using Drones
Google is building and testing a fleet of solar-powered drones capable of beaming 5G signals for mobile phone networks
Codenamed "Project SkyBender", the drones will be able to transmit data up to 40 times faster than standard 4G, through the use of cutting-edge wave technology
The drones are being manufactured by the Google Titan part of the organisation, formed following Google's acquisition of Titan Aerospace in 2014
It is hoped that these drones will enable Google, and other providers, to bring the internet to remote areas around the world
Read more at The Verge