Ello. Is this the social network you have been waiting for?
This is what happens when social networks like Facebook and Twitter start to veer off-course – disillusioned programmers come up with something they think everyone wants: ad-free, and to some extent – private.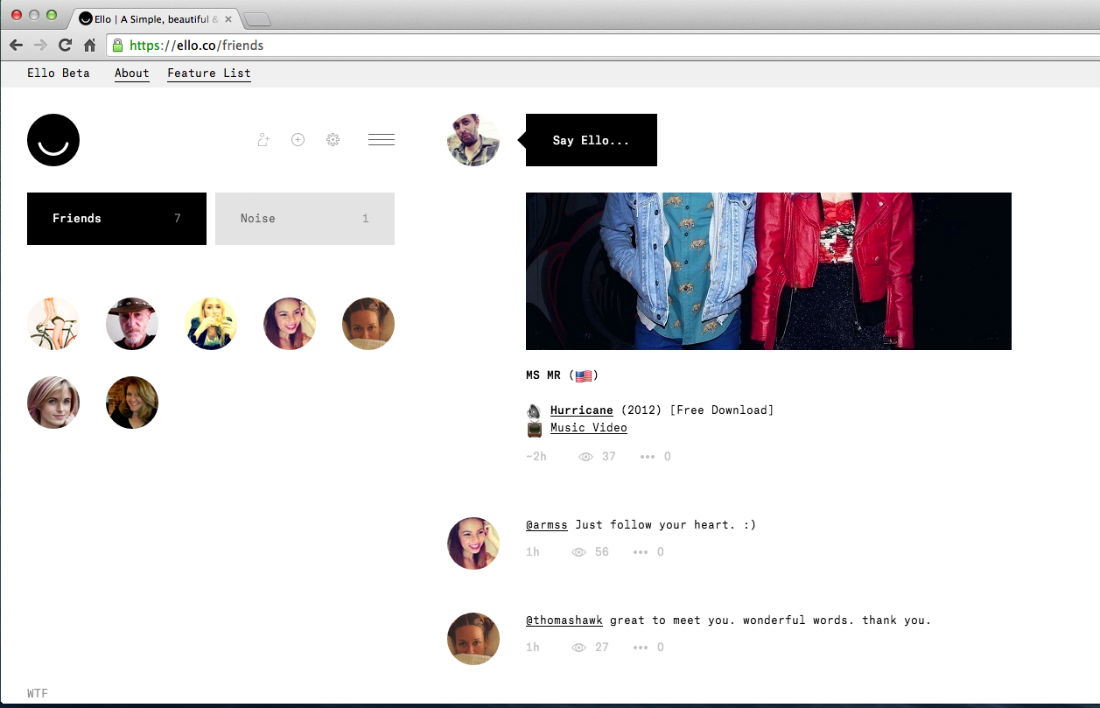 Going incognito
But what does this 'simple, beautiful & ad-free' new platform actually achieve? At this early stage it all reeks of being a bit too cool for school… You get the sense it's been designed for those desperate to stand out, but in the same breath want to rebel against the system, damn the man. There's rebellion bubbling beneath the monochrome swooshes, but everything is so hidden it's hard to fathom what's really going on.
You want to hide? Sure, you can do that (along with everyone else who's desperately trying to suss out if their friends are there too). We're as good as invisible – but this isn't entirely the happy outcome everyone thought it would be.
"Every post you share, every friend you make and every link you follow is tracked, recorded and converted into data. Advertisers buy your data so they can show you more ads. You are the product that's bought and sold…"
OK, maybe we're overplaying Ello's original modus-operandi here – but deep down it is still driving at the same thing.
Why is anonymity so important?

Social networks (by their very nature) are social. They are a not palm-laden solace for shying away from the wandering eyes of the world.
Many will surely (mistakenly) flock to Ello for peace of mind -after all, a few lofty statements go a long way… But on the face of it, it seems that Ello is no different: The information Ello collects includes your location, language, referring web site, and time spent visiting Ello.
Dig a little deeper and we note that users can however opt to switch this tracking off by visiting their settings page. With the best intentions this still won't stop your browser from communicating/disclosing your activity to Internet servers the world over – albeit anonymously – so is there really such a thing as going dark?
On its 'WTF' page Ello reiterates that it respects a browser's Do Not Track preferences, but notes such efforts are effectively null and void if you happen to use Chrome, or use services Google-powered search services or YouTube.
Did you manage to get an invite? You can add me on mfsmith20 and we can explore this crazy place together…
What do you make of it all: do you think that Ello has a worthwhile place in society?