From golf clubs to firearms, pharmaceuticals to trainers, 3D Printing is disrupting the manufacturing process of an increasing number of products. But what are the long-term implications for the supply chain as a whole?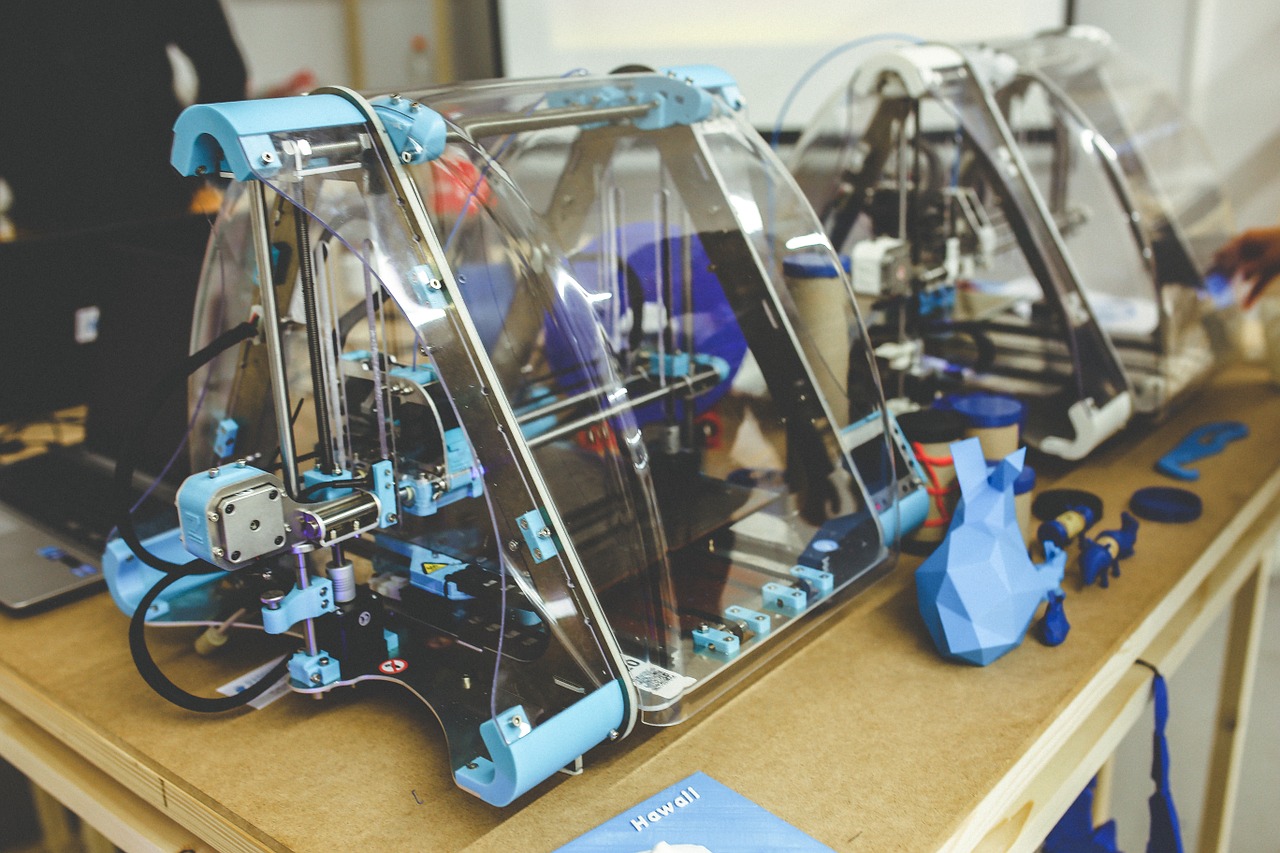 It's a common misconception that 3D printing is something new. Although the processes and thinking for it have been around for a number of years, it's taken a while for the technology to catch up and allow wider functionality and usage.
As a procurement and supply chain professional, this opens up a world of possibilities – a world of potential cost savings as a result of lower manufacturing costs and a centralised supply chain. Of course this isn't going to happen overnight, but organisations can start to think differently.
The End Outsourced Manufacturing?
Manufacturing in particular has the potential to see a big change. The advances in 3D Printing can allow certain products to be made in house, instead of being outsourced to 'low cost' countries. While good news for organisations bringing more jobs back home, it doesn't provide a rosy outlook for countries like Mexico and China, traditionally strongholds for low-cost manufacturing.
By bringing manufacturing closer to home, it also gives organisations an opportunity to reduce risk in their logistics, reduce lead-times and make savings on transportation costs. Plus, there's the lower carbon footprint of global activities as an added bonus. This is all illustrated in this neat infographic.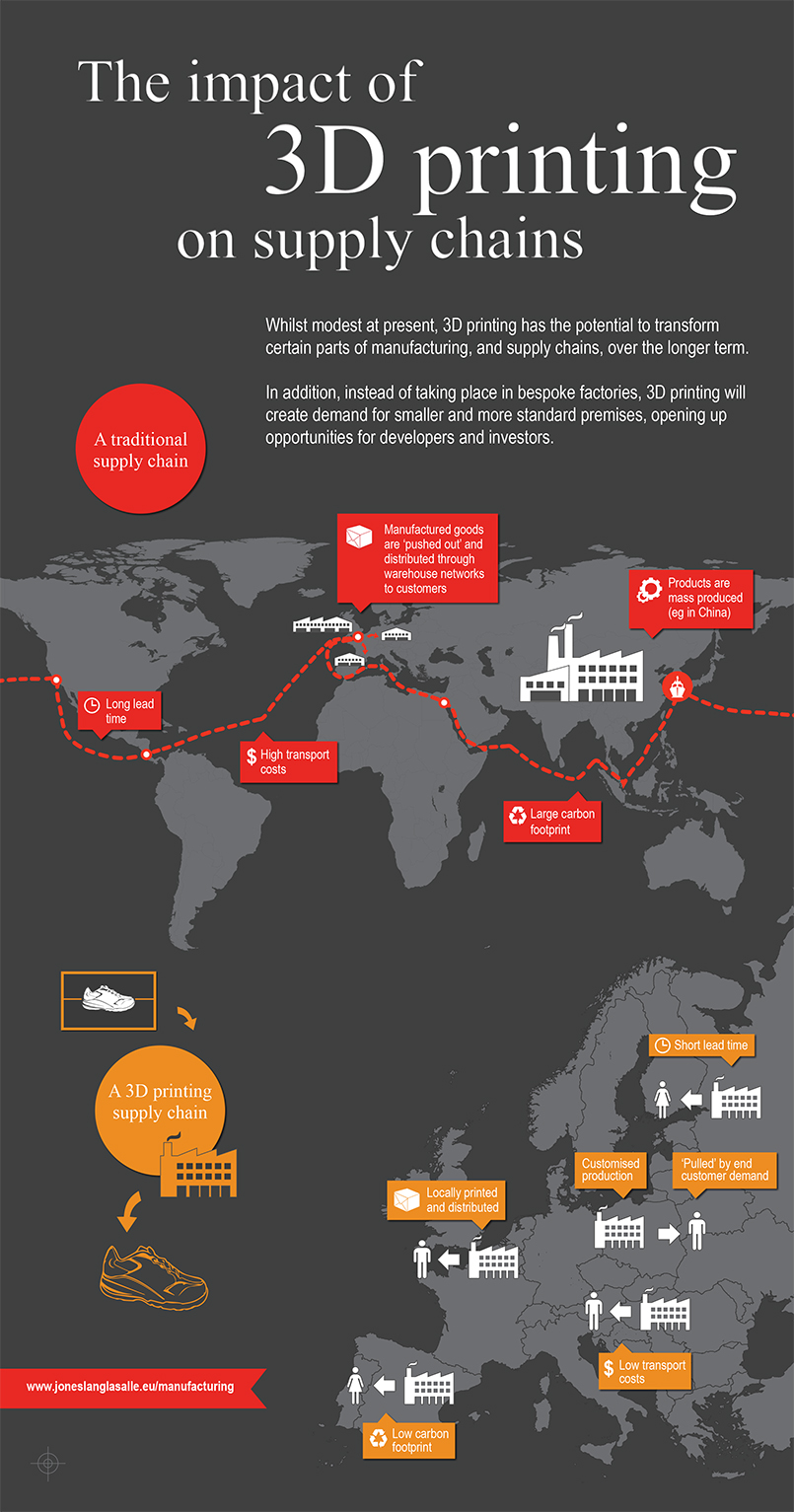 In the pharmaceutical industry, manufacturers are using 3D Printing to improve medicines delivery systems for patients. Printers are being used to produce pyramid-shaped pills, which provide a more rapid drug release than cylindrical pills, and layered tablets that dissolve quicker and more efficiently.
While these processes are still in their infancy, manufacturers are hopeful that technology and science will work hand in hand, lowering production costs, enabling local production and, in the long run, reducing the end cost for patients.
Changes in the Supply Chain
Beyond enabling organisations to bring manufacturing back to a local setting, lowering logistics and transportation risks and costs and even maybe reducing globalisation as a whole, there are other impacts in the supply chain to think about.
Organisations will be able to produce prototypes of designs much faster than before and facilitate testing by being able to print on site. Organisations will also be able to print packaging materials, more tailored to certain products, as well as tools, jigs and other aids for manufacturing.
Finally, the requirement to hold inventory can be reduced by having designs for applicable products and other parts held on a hard drive, ready to be printed on demand, rather than physically stored in a warehouse.
Beware the Magic Bullet
A word of warning, though. As great as all this sounds, there are still risks and issues that need to be considered with 3D Printing.
Protection of copyright and security of patents is a big deal when all the designs are held on a hard drive that could be hacked from outside the organisation. Some organisations have taken steps to protect their intellectual property, but can you be 100 per cent sure you're safe from cyber attack?
On the environmental side, although footprints are lowered for transportation, the need for printers to run continuously to be cost-effective means increased energy usage and costs. This would lead also to increased carbon footprints for local factories.
Finally, with greater efficiencies in the supply chain, reduced transportation requirements and potentially fewer warehouses, where does that leave the supply chain manager? If parts are going to be printed on site as required, there isn't going to be the need for someone to manage an end-to-end process.
Best learn how to use the printers then!
Do you work in an industry that's seen an increase in 3D Printing? Do you work with printers – have we missed any big benefits? Let us know and get involved in the discussion! 
Meanwhile, we've been very good to you again this week and rounded up all the stories you need to be reading in procurement and supply chain.
Tapping into the 'big data' that can help Greek supply chains to be more agile
Supply chain platform provider GT Nexus has begun tapping into the big data that has accumulated in its system to help shippers, carriers and forwarders provide "assurance of supply".
In an interview prompted by the possibility of a Greek exit from the Eurozone, GT Nexus's EMEA director of marketing, Boris Felgendreher, said the Greek crisis bore all the hallmarks of major disruption – the sort that shows the limitations of supply chain planning.
"This sort of situation puts a premium on being agile, in respect of companies being able to move from one sourcing location to another, and that is always difficult. This particular disruption has an added element in that it is financial," said Felgendreher, alluding to the fears of a 'Grexit' and the problems Greek companies have with making and receiving payments.
And although Greece itself has accepted the terms of its bailout, a number of Eurozone countries have still to ratify the deal, meaning the threat of a Greek exit persists. However, Mr Felgendreher explained that a recent development by GT Nexus could offer firms a way to circumvent these issues through a "fusion of the physical and financial supply chains", following an agreement between the platform developer and trade finance solutions provider SeaburyTFX.
Read more at The Loadstar
UK food supply chain on the brink
Much of the UK's food supply market is on the brink of collapse as the UK's largest supermarkets continue to slash prices, according to business recovery specialists Begbies Traynor.
The recovery firm said that delaying payments to suppliers means that the food retail industry has never been tougher for the UK's smallest food suppliers, independent grocers and farmers.
According to Begbies Traynor's Red Flag Alert research for Q2 2015, which monitors the financial health of UK companies, the UK's food retailers continue to experience rising 'Significant' financial distress, increasing 38 per cent to 5,258 struggling businesses over the past year (Q2 2014: 3,804), 97 per cent of which (5092) are SMEs. However in reality the UK's food supply chain that keeps these stores stocked is by far the biggest loser.
During Q2 2015, the UK Food and Beverage Manufacturers, which include many of the food suppliers and farmers that supply the major UK headquartered supermarkets, witnessed the highest year on year increase in 'Significant' distress of all sectors monitored by the Red Flag research, rising 54 per cent, with 1,622 companies now struggling to make ends meet; up from 1,052 at the same stage last year.
Read more at Fresh business thinking
Mercedes revamps supply chain, logistics to trim costs
Mercedes-Benz aims to reduce logistics costs by about 20 per cent per vehicle as the company invests hundreds of millions of euros in a sweeping global reorganisation of its supply chain network.
The automaker has increased production outside of its German home over the past decade but many of the components used in its cars are still sourced from Europe. The shift has increasingly stretched its supply chain because of the distances parts have to travel, placing a bigger strain on a system that is already trying to cope with record demand.
Logistics is a "very significant" cost position, according to Mercedes production and supply chain boss Markus Schaefer, who said supply chain costs can exceed manufacturing costs in some of the division's lower-wage plants.
"With more than 30 vehicle derivatives each built from several thousand parts, the complexity is immense," Schaefer told reporters in Speyer, Germany, where the carmaker last week opened a 90 million-euro consolidation center. Here components from European suppliers will be consolidated and repacked more efficiently for shipping abroad to Mercedes plants in China, the U.S., and South Africa.
Mercedes may establish similar centers in growth regions like China and North America, the company said in a statement.
Read more at Automotive News
McDonalds vow to end deforestation in its global supply chain
McDonald's, the world's largest chain of hamburger restaurants, has recently announced a huge global commitment on deforestation across the company's expansive global supply chain.
The commitment builds upon McDonald's Framework and longstanding leadership in the area of sustainable sourcing. The pledge encompasses all of the company's products and focuses on beef, fibre-based packaging, coffee, palm oil, and poultry for which the company will begin developing specific time-bound sourcing targets in 2015.
McDonald's will continue working collaboratively with a broad range of stakeholders, including suppliers, governments and NGO partners, to develop long-term solutions designed to combat deforestation around the world.
Francesca DeBiase, Senior Vice President of McDonald's Worldwide Supply Chain and Sustainability, said: "This commitment to end deforestation demonstrates another major step for McDonald's as we work to increasingly embed sustainability throughout our global business. Making this pledge is the right thing to do for our company, the planet and the communities in which our supply chain operates. We're excited to continue collaborating with our supplier partners to achieve our goals."
Read more at Supply Chain Digital