No matter how motivated we think we are, we all experience that productivity-lull – and it doesn't just happen on Friday's…
Thankfully we're dosed-up on caffeine, and have ploughed headlong into the world of productivity apps and useful websites so you don't have too.
Here are a smattering of our current favourites: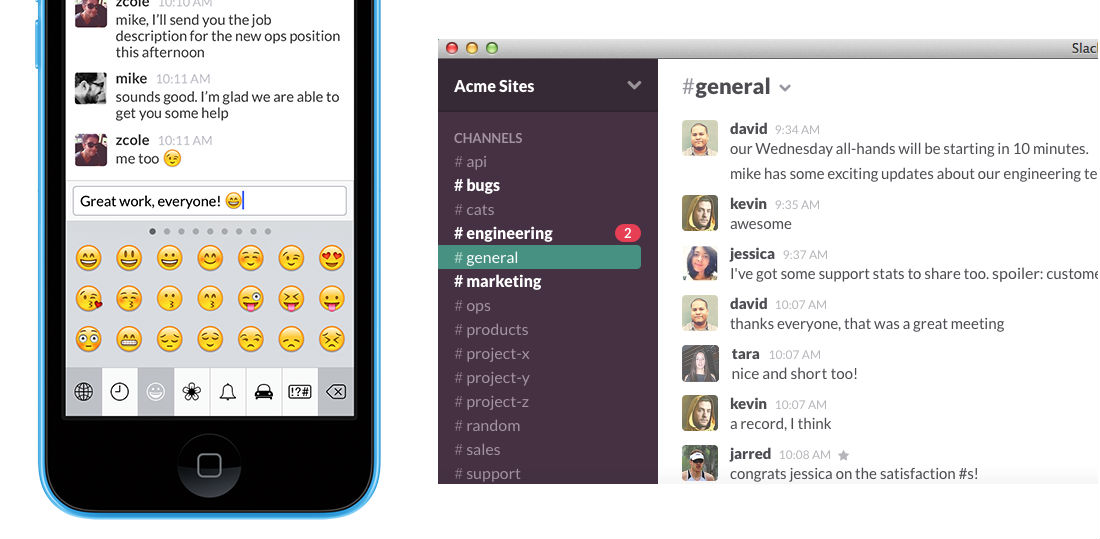 Slack
We've crushed on Slack hard here at Procurious HQ… We've had to tell Jack (Product Manager) off for making googly eyes at his screen, and the idea was to boost productivity!
Tony Conrad (founder of About.me) says the following: "I am basically in love with Slack. It took us less than 24 hours to get everyone on board (as you know, people are resistant to change), and it is amazing." But this could come from any number of fresh Slack converts…
Slack brings all of your communication together in one place. It takes all the best bits from your MSN Messenger's, Skype's, and Lync's, while leaving all the needless bloat behind. Its clean and uncluttered interface means nothing gets in the way of the meat and potatoes of
The best bit? Slack is completely free to use (for as long as you want), and with an unlimited number of people too. Go team go!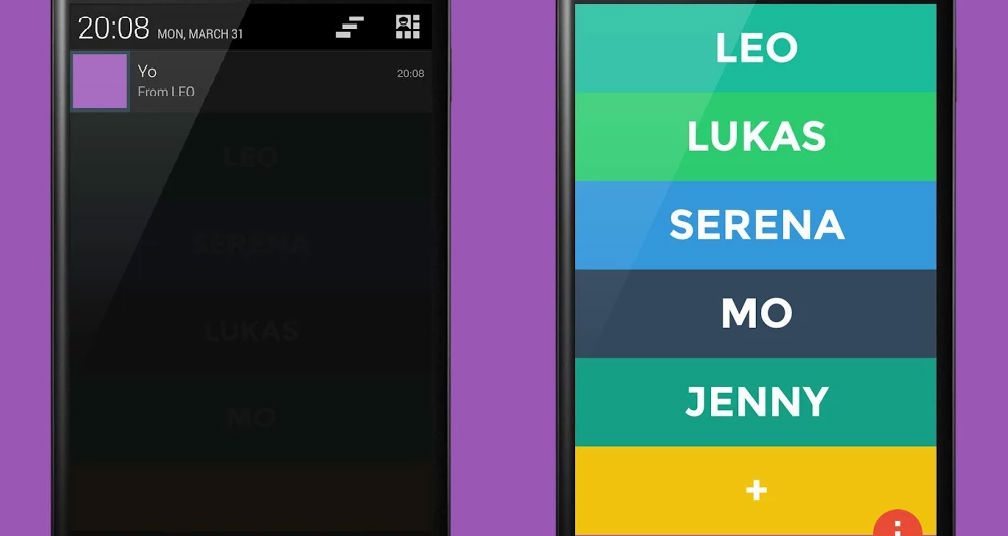 Yo
Today we're revisiting Yo – the simplistic, throwaway app has graduated to big-boy pants and somewhat surprisingly has attracted even more funding…
Remind yourself what we said about it first-time round. 

The #firstmovers among you may still have Yo installed – and if so you might like to know that its just received its first considerable update. But with it comes an extra layer of complexity, one we're not entirely sure is needed.
Yo Link adds the ability to chaperone your 'Yo' with a URL – Or Arbel (Yo Founder) says this of the functionality: "News websites can now offer not only getting instant Yo notifications when a story breaks, but also attach the story itself and readers can open it in a frictionless and convenient way."
Hashtags are also now supported.
The beauty (or madness, depending on who you asked) of Yo, was its purposefully limited offering. Has Yo's visionary over-egged the pudding?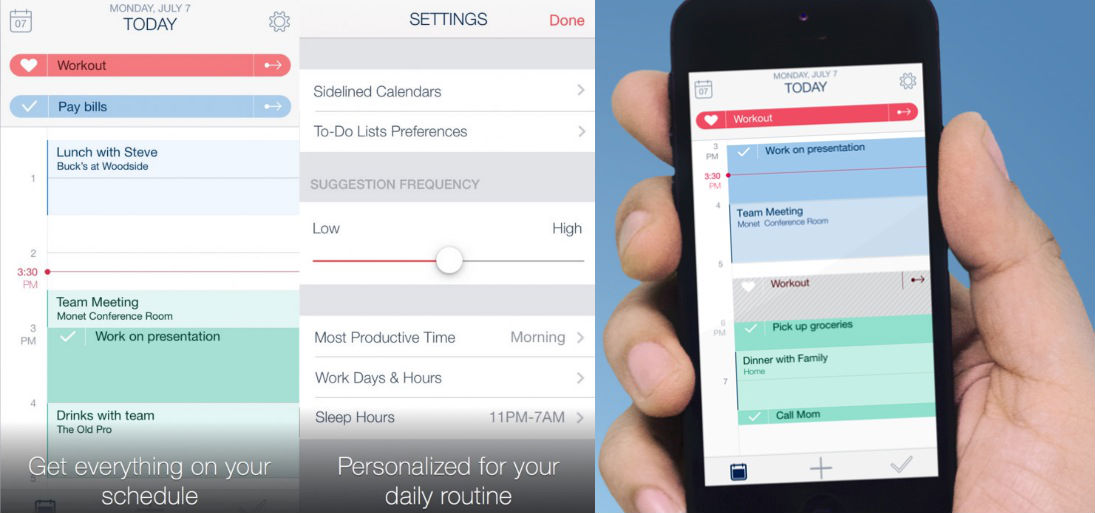 Timeful
Are you an iPhone user, and suffer from poor time-management? As luck would have it, we have the very app for you…  Timeful aims to take the weight off your heavy shoulders by helping you to get things scheduled and completed more effectively.
Timeful arrives in an already crowded market, but because it syncs with your calendars (Google, Microsoft Exchange, Apple iCal, etc.) it can use its intelligent time management system to help you make the best use of your time by suggesting things for you. The app also allows the user to add specific to-do items and 'habits' they would like to turn into recurring activities.
What's more, the more you use it, the better it gets. Over time, our algorithms will learn what you like to do and when you like to do it, which will help generate more accurate suggestions.
Android users fear not – a version is reportedly in the works, as is a web-based edition. So soon you'll all have so much free time you won't know what to do with it… Spend it on Procurious yeah?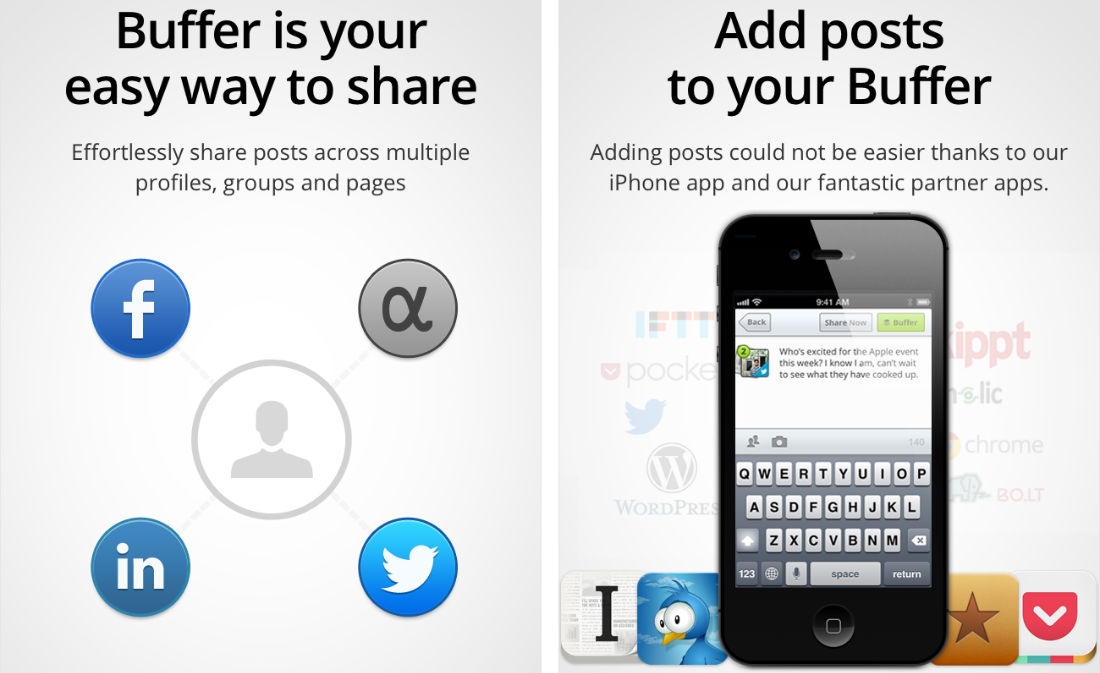 Buffer
While we're not playing around with the excellent IFTTT or Friends+Me services – we're turning our eye to the equally-awesome Buffer app. It's definitely worth a go if you find yourself juggling posts across multiple social networks…
By making Buffer part of your daily routine you don't need to worry about lumping all of your social media updates together in one period. Just bash some posts out, save and schedule them to be pushed out throughout the day (or week).
Buffer will play quite happily with your Internet browser (Chrome, Safari, and Firefox are all supported), just install one of the browser extensions, then click the Buffer icon whenever you spot something shareable.
There's integration with Twitter, Facebook, Google+ (and more) under the hood, plus it offers both web and mobile access so you can post and schedule updates even if away from the computer.