Following on from our call to step up your networking game, we've published a quick, digestible guide to spending five minutes on our network.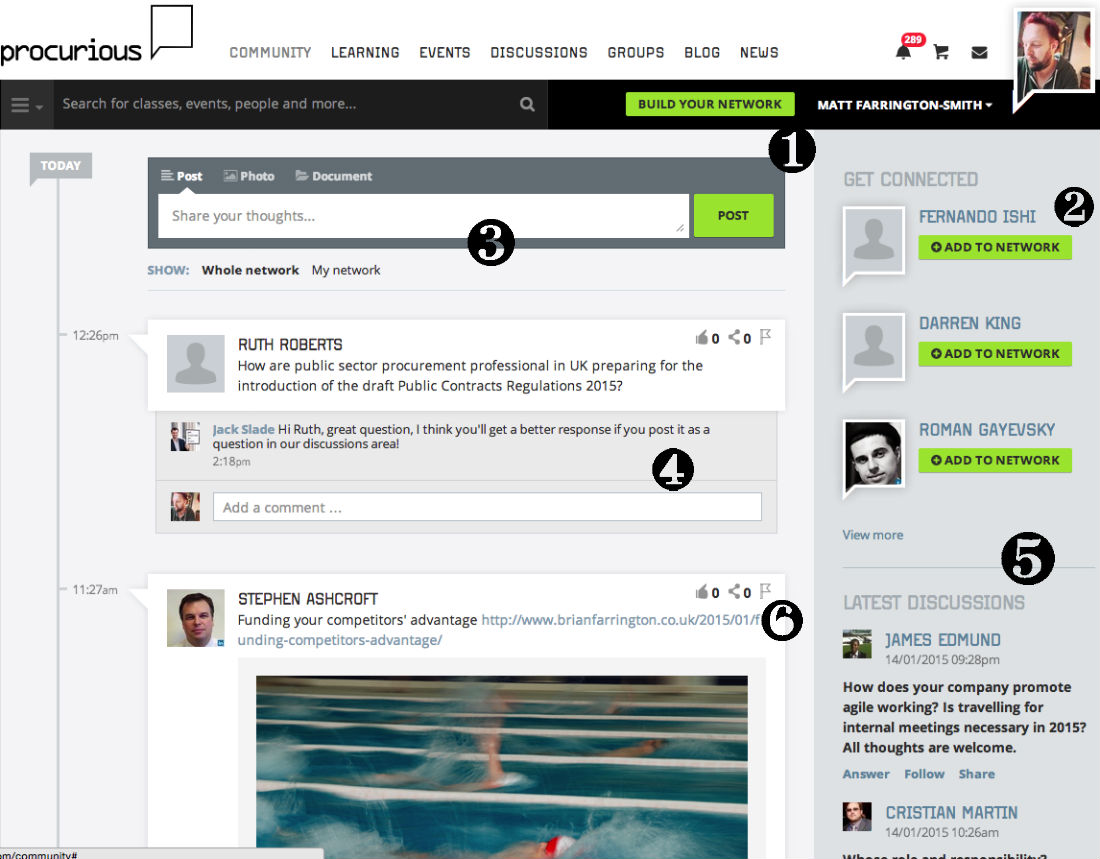 If your Community Feed is looking a bit empty, then that big green 'Build your Network' button (1) is your friend…  We've waxed lyrical on the benefits of this tool in the past, see here. Invite your LinkedIn contacts, send a personalized email link, or use the filters to select members by country/industry/category.
For instant gratification, can we instead draw your attention to 'Get Connected' (2). This presents a selection of Procurious members we think you should connect with. Click 'View more' when you've exhausted the recommendations.
Got something you want to get off your chest? Post a status update (just like you do on LinkedIn/Facebook, or send a Tweet on Twitter) to your Community Feed. Just start typing at the 'Share your thoughts' prompt (3). Don't feel like you need to be restricted to text either. Feel free to post a fun/informative/thoughtful photo, or upload a document that you'd like to share with the rest of your network.
Posted a status? Great! Hopefully other Procurious members will take a shine to it and comment (4). Try it yourself by leaving a comment on a post in your network.
Remember, you can tag other Procurious members in comments and statuses by prefixing with the @ symbol.
If commenting on statuses isn't enough for you then look to 'Latest discussions' (5). Here you'll see a list of the most recently submitted discussion topics that Procurious members have posed.
Click into the topic to answer and air your thoughts. You can also elect to follow discussion topics, and share them to your Community Feed if you so wish.
See something in your Community Feed that you like? Click the thumbs-up to give it your seal of approval (6), or click the share icon to repost to your network.