"This is everything I know, folks" – Former President and CEO of Ford, Alan Mulally, shares the sum of his knowledge in one slide at ISM2016.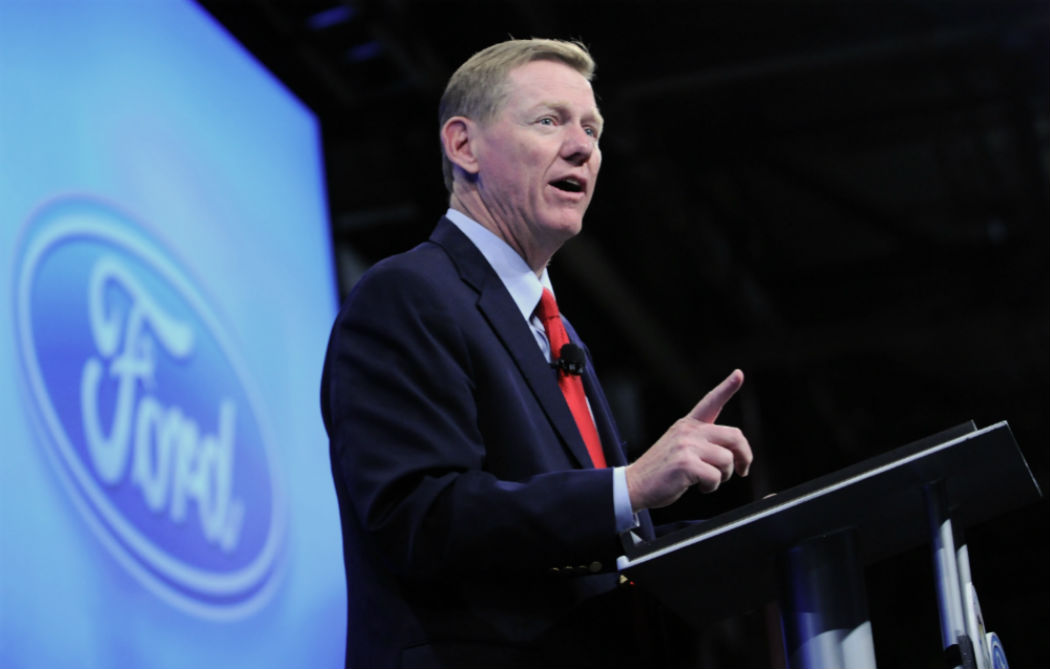 ISM's keynote speaker Alan Mulally has one of those CVs that's exhausting just to listen to. Alongside his nine-year stint as President and CEO of Ford, he served as Executive Vice President of Boeing, and CEO of Boeing Commercial Airplanes.
He was named to the Google board of directors in July 2014, served on President Obama's US Export Council, and the advisory board of NASA.
He was named in Fortune's 50 Greatest Leaders list, voted one of Time Magazine's 100 most influential people in 2009, and voted 2011 CEO of the Year by Chief Executive magazine. Mulally is also a fellow of the UK's Royal Academy of Engineering. 
One Slide to Say it All
"If it isn't a Boeing, you shouldn't be going", says Mulally. He worked at Boeing for no less than 37 years, notably as a chief engineer for the avionics and flight management systems for a number of major Boeing projects, including the 747 and 777. As CEO of Boeing Commercial, he launched the 787, and was at Boeing during the 9/11 attacks, horrified to see a commercial airplane being used as a weapon.
Boeing was shaken to its core by the event, with production dropping from 620 planes a year to 280. "Not many companies can sustain a loss like that and remain viable", says Mulally. Eventually, Boeing returned as the number one avionics organisation in the world.
The average airplane has about four million parts, and at the height of a new project, you might have over one million people working on the design. This is where Mulally learned how to develop a skilled and motivated team, and his principles and practices around working together led him to success after success at both Boeing and Ford.
Mulally brings up a one-page chart with 11 bullet points.  "This is everything I know, folks", he tells the audience, and he means it. Whenever an audience member asks a question, he brings this chart back up on screen, selects the relevant point, and talks to it. Here's the list in full:
Principles and practices around working together:
People first
Everyone is included
Compelling vision, comprehensive strategy and relentless implementation
Clear performance goals
One plan
Facts and Data
Everyone knows the plan, the status and areas that need special attention
Propose a plan, positive, "find a way" attitude
Respect, listen, help, and appreciate each other
Emotional resilience – trust the process
Have fun – enjoy the journey and each other.
Making sure "everyone knows the plan" is achieved through colour-coded project charts. "Every Thursday morning, we'd link up everyone around the world and colour-code the charts", Mulally says. "Red means we've identified a problem – which is great – and we're working on it."
Ford Motors Turnaround
Mulally took these colour-coded charts over to Ford when he took on the role of CEO at the behest of Bill Ford, grandson of Henry. There he found a very different culture, and at first, people didn't "get" the colour coding. "We had about 320 different charts",
Mulally says, "I explained the coding, and the business leaders went away and had their charts colour coded. At the following meeting, I was surprised to see chart after chart all colour-coded green".
The organisation was forecast to lose 17 billion that year, yet there wasn't any red or yellow to be seen. The problem, Mulally discovered, was a culture in which business leaders would hide problems, making issues disappear rather than highlighting them as opportunities.
When a leader named Mark Fields was finally brave enough to place some red on his chart (due to a major production issue), Mulally responded by clapping in the leadership meeting. "People were looking at me, looking at Mark, waiting for him to be fired", he says. "They thought the clapping was a signal for some bouncers to come in and remove Mark from the room!"
But Fields wasn't fired. Instead, Mulally treated the production issue as a rallying point, showing Ford's business leaders how to come together to figure out the problem, and also demonstrating that he valued Mark's honesty by seating him next to the CEO at each subsequent meeting. Mark's charts went from red, to yellow, to green.
And the following week? 320 beautiful, rainbow charts.
Deep Trouble
When Mulally took over at Ford, the company was in deep trouble with the aforementioned $17 billion loss in 2009. Ford was sized for 26 per cent market share in the US, but only had 16 per cent, losing money on every brand and vehicle. Mulally responded by focusing on the Ford brand over all others and consolidating the nameplates down from 97 to 15.
He launched a restructuring plan to turn around the losses and market share, and his cost-cutting initiatives led to the company's first profitable quarter in two years.
In 2006, Mulally led the effort for Ford to borrow $23.6 billion, mortgaging all of Ford's assets to overhaul the company and protect it from recession. This decision meant that Ford was the only company of the "Detroit Three" (Ford, GM and Chrysler) that did not have to take a government loan during the automotive industry crisis of 2008–9.
Value of Procurement
Mulally recognised the enormous value of procurement, especially in his aggressive cost-cutting endeavours. He promoted procurement to a leadership position within the company – something which had never been done at Ford – and ensured all of the business units around the world were working together with procurement.
Suppliers were also a major part of Mulally's turnaround, and Ford rose from a position of second-last preferred customer, to number three today.
Today, Ford is the number one brand in the US, and the fastest-growing car manufacturer globally. It builds the first, third and sixth best-selling vehicles in the world presently. Mulally attributes this success to his eleven-point slide – in the end, it's all about building the right culture and motivating your people.