Delivery to your door? That's all a bit old-fashioned for Amazon it seems, as their plans for delivering customer orders using drones takes shape.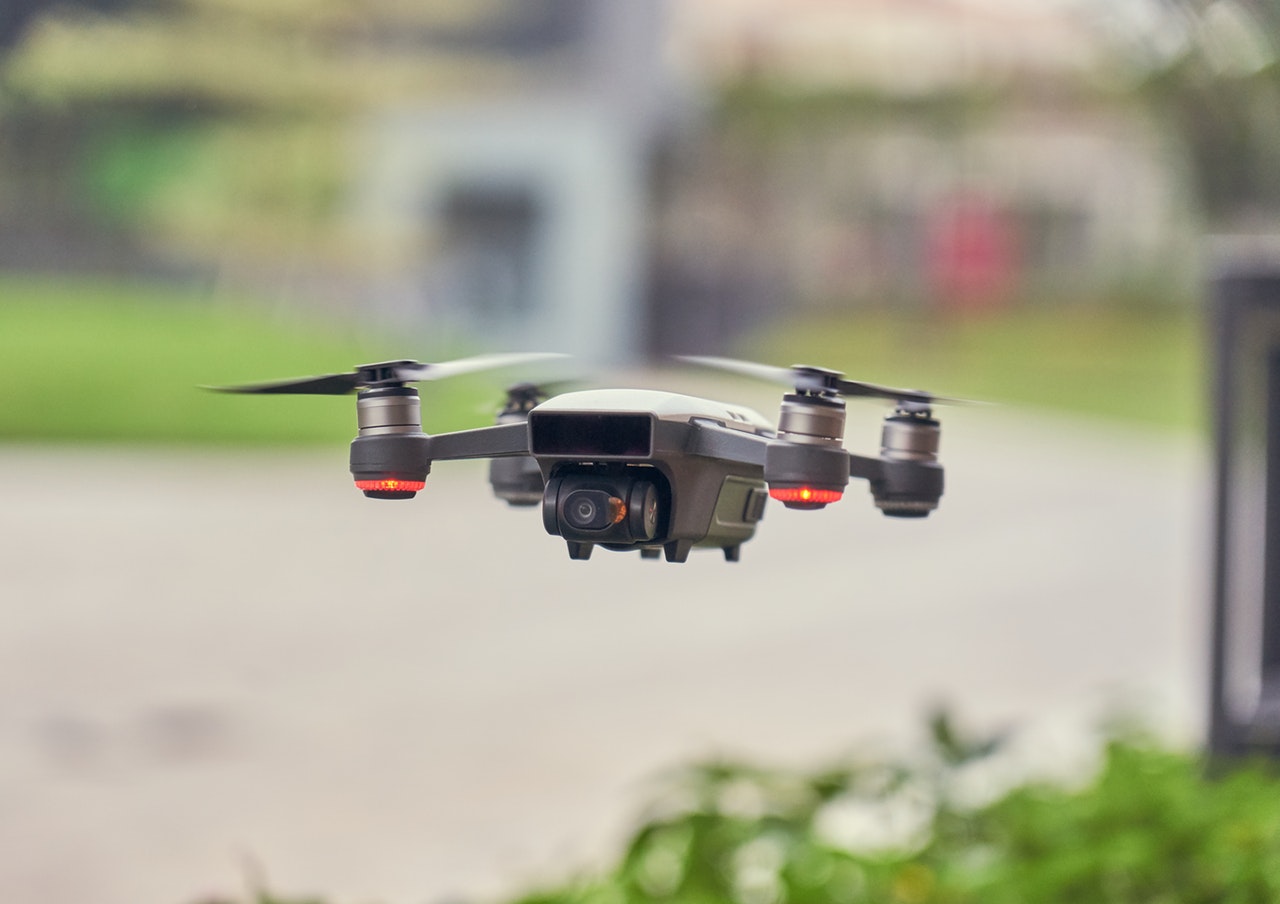 The common thought was that Amazon had intended to use their drones to deliver packages straight to the customer's door, but details of a patent lodged in the USA has opened up a whole new range of possibilities.
From warehouse to hand
The patent, lodged in September 2014 and recently accepted, allowing details to be published, proposes to deliver packages straight to the customer, tracking their location using data from their smartphones.
The delivery option falls under the previously announced 'Prime Air', something that Amazon has been developing for a while now. However, it goes much further than most people expected. Using the Amazon app, the customer would select the 'Bring it to me' option, and then wait for their package to arrive from the closest dispatch location.
The patent also reveals plans for the drones to be able to communicate with each other, exchanging information on the weather and traffic conditions in the area. The drones will be designed in a variety of shapes and sizes in order to manage packages of different weights and shapes.
And if you're worried about the drones crash-landing in your cappuccino while waiting outside your favourite café for that must-read book, fear not. The drones will be outfitted flight sensors, radar, sonar, cameras and infrared sensors to ensure safe landing zones are found and to constantly monitor the drone's path to ensure it avoided collisions with human or animals.
Regulatory Disputes
However, the patent's acceptance does not mean that US authorities will approve the plans. For a while now, Amazon has been trying to convince the Federal Aviation Authority (FAA) to approve widespread use of drones, as well as allowing them to do further testing and development in the field.
Drones are currently limited to a height of 122m (400ft) and must stay in the pilot's line of sight. Such have been Amazon's issues with FAA regulations, that it has conducted much of its testing in Canada. The FAA has also been blamed for the US losing out in drone development, most notably to the UK, where a research centre is being built.
It's not only the FAA that Amazon needs to convince either. A British Airline Pilots Association survey highlighted that just over half of adults think that drones pilots should have formal training, and that prison sentences should be imposed for endangering aircraft.
New Technology
While Amazon's patent raises a number of questions about safety and privacy, it's clearly a major development opportunity for the supply chain and logistics industries. Direct deliveries to an exact location could prove to be a considerable time and money saver, particularly for people in remote locations.
We'd be interested to hear your thoughts on this development. Is it going a step too far? Do you really want to have drones delivering packages to people wherever they are? Is the convenience worth the potential disruption?
Technological advancements were a hot topic at the Big Ideas Summit, powered by Procurious, a couple of weeks ago. From driverless trucks on mine sites, to technological disruptors in the supply chain, we've heard some great ideas. But we want to hear your Big Ideas too – find out how to share them here.
To access all the great content and discussions from the event, join Procurious for free today and join the Big Ideas Summit Group.
Meanwhile, here are some of the big headlines making the news in the procurement and supply chain space this week.
Apple wants to be entirely carbon neutral… one day
Apple wants to create enough renewable energy to power its entire global business, including its supply chain. Chief executive Tim Cook claimed it would take Apple "years" to realise the goal but said it had to happen.

"Apple's goal is to achieve a net-zero impact on the world's supply of sustainable virgin fibre and power all its operations worldwide on 100 percent renewable energy," it said in a statement.

The firm already generates enough renewable energy to power 87 percent of energy use in its stores, offices and data centres, but that figure doesn't include the supply chain. Apple said its supply chain uses 60 times as much power as its own operations.

Apple has previously been criticised for the environmental impact of its supply chain, most of which is based in China; regulators in China were said to be investigating two Apple suppliers for toxic dumping in 2013, amid other accusations of dumping by industrial partners.
Read more at Wired UK
Wal-Mart builds Supply Chain to meet e-commerce demands
Wal-Mart Stores

Inc.

is one of a growing number of big-box retailers building out their supply chains with distribution centers designed to meet the demands of online shopping. The company expects to open four such giant facilities this quarter, as it aims to triple online sales by 2018, to $35 billion from $12 billion last year.
Building fulfillment centers designed to cater to e-commerce, which demands the ability to handle a large number of small orders, can help retailers conduct more profitable online sales, said Brian Kilcourse, managing partner at RSR Research LLC, a retail technology consulting firm.
Each of Wal-Mart's new facilities will be more than 1 million square feet and hold at least 500,000 items—much larger than its traditional distribution centers for stores, which hold 30,000 to 50,000 items. Wal-Mart opened an e-commerce center in Texas last year, and like that one, the new buildings will use both human labor and automation, such as computer-controlled chutes, to move items.
The goal of Wal-Mart's new centers is to provide a single place stocked with a wide variety of products to get shipments collected and sent faster, a Wal-Mart spokesman said. Ultimately, analytics behind the shopping software will determine, on the fly, the most efficient way to fulfill the order, the spokesman said.
Read more at The Wall Street Journal
Jaguar Land Rover honours supply chain firms
Vehicle manufacturer Jaguar Land Rover has recognised its top ten direct suppliers at its inaugural Supplier Excellence Awards.
Companies from Corby to Cairo were presented with trophies by actress Joanna Lumley, at a ceremony held in the West Midlands, close to the heart of the company's UK operations.
Ian Harnett, Jaguar Land Rover Director of Human Resources and Purchasing, said the awards had been instigated to recognise the role supply chain firms played in helping the company achieve its goals.
A total of 10 trophies were presented for performance in 2014:  two gold, four silver and four bronze.  The awards went to individual plants or facilities, rewarding on-time delivery, continuous quality, accreditation to international and Jaguar Land Rover standards and flexibility to meet the company's developing needs.
Read more at TheBusinessDesk
New partnership to transform healthcare procurement in Asia-Pacific
UK and Australia-based company Healthcare Procurement Partners (HPP) has expanded its Asia-Pacific operations with a contract to deliver cost-savings and process improvements for the largest corporate healthcare provider in Asia-Pacific, Fullerton Healthcare Group.
Following an initial program of reducing non-payroll spend for Fullerton Healthcare's Australian subsidiaries, Brisbane-based HPP will now pursue similar procurement projects in Singapore and Indonesia.
While the terms of the Project Fusion contract between HPP and Fullerton Healthcare Group remain commercial-in-confidence,  HPP's local on-site presence in these key Fullerton Healthcare markets is expected to deliver significant repeatable annual savings by mid-2015.
HPP's Managing Director, Daniel Williams said: "This promotes the transparent exchange of knowledge about how and where to unlock savings and improve cost-efficiencies, locally and more widely,"
Read more at NewsMaker
$349 Apple Watch components cost only $83.70
A "teardown" of the product by IHS Technology found the components cost $83.70, compared with the retail price of $349, giving it the lowest hardware costs relative to consumer price of any Apple phone researched by IHS.
IHS said estimated component cost to retail price ratios for other Apple products it had reviewed ranged from 29 per cent to 38 per cent.
The company said its analysis included manufacturing costs of $2.50 but did not include costs such as logistics, capital expenses, research and development, software and licensing.
Kevin Keller, senior principal analyst for materials and cost benchmarking services at IHS, said: "It's fairly typical for a first-generation product rollout to have a higher retail price versus hardware cost.
Read more at Supply Management