Gartner named Basware a Leader in the 2018 Magic Quadrant for Procure-to-Pay Suites for the third time – but it's not as mysterious as it seems. Read on for a demystification of the Gartner Magic Quadrant evaluation process.
It's Not Magic – It's Basware
I'm not sure why it's called the Gartner Magic Quadrant but I'm sure that there's no magic behind our recognition as a Leader. In my role as Senior Analyst Relations Manager, I have the unique opportunity to interface with nearly every aspect of our global business from research and development to product management to customer support to sales and marketing, and I can tell you our success boils down to 2 things – we're 100 per cent obsessed with customer success and we work hard to deliver.
Why is Gartner so influential and how are purchase-to-pay vendors evaluated?
With over 15,000 employees and over $3 billion in annual revenue, Gartner is a massive research and advisory firm that has a strong reach in the purchase-to-pay market, particularly with CIOs. Its reports are widely read, and the Magic Quadrant is regarded as a useful tool in creating vendor shortlists. The report comes with a graphic that depicts the purchase-to-pay market using a two-dimensional matrix that evaluates vendors based on their 'Completeness of Vision' (horizontal axis) and 'Ability to Execute' (vertical axis).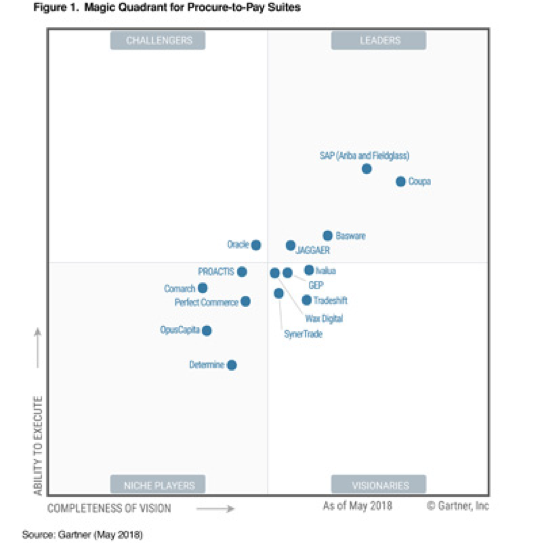 'Ability to Execute' primarily focuses on the caliber of the vendor's products and services, including core pieces of purchase-to-pay functionality such as e-procurement, catalog management, e-invoicing, and accounts payable invoice automation. Another key piece of execution is customer experience, which takes into account feedback gathered via online surveys, inquiries into Gartner, and calls between Gartner and purchase-to-pay customers.
'Completeness of Vision' is an appraisal of the vendor's ability to map the direction of the market and outflank competitors, as well as innovate to meet customer needs. Vendors are evaluated around vertical/industry strategy and the speed with which they can bring innovation to their offering (e.g. robotic process automation, advanced analytics and machine learning).
Gartner's evaluation of vendors is supported by inquiry calls, face-to-face meetings, survey tools, product demos, and briefings. We feel they are looking to understand how solution providers appeal to CPOs, CFOs, and CIOs and how the product meets the needs of those key stakeholders. Gartner first issues an online survey and then talks to two different customers verbally for each provider.
How are solutions evaluated?
Gartner uses surveys, customer interviews, and extensive solution demos, to evaluate the provider's vision and their ability to execute on that vision by bringing innovation to life within the product.
Through our experience with the process, we believe that the following capabilities are being assessed:
Core procure-to-pay functionality from e-procurement through ok-to-pay
Global deployment suitability to maximize the value across the world
Platform capabilities like mobile features
AI & machine learning and smart technology applications
Integration to ERPs and other back-office systems
e-Invoicing sophistication and network reach
Customer support and implementation aspects
Packaged analytics
Supplier information management tools
Source-to-settle solution integrations
Personal consumable workstream support for configuring complex workflows
Requisition MRO workstream support to automate more processes
Contingent work force procurement to automate the requesting of labor
SOW services governance and procurement
Direct order support
Travel & expense capabilities to capture more enterprise spending
Supply chain finance to support cash flow management
What factors make Basware a Leader in the Gartner Magic Quadrant for Procure-to-Pay Suites?
Based on the information contained in the 2018 Gartner Magic Quadrant for Procure-to-Pay Suites, we believe our 30+ years of industry expertise, strategic vertical approach, market-leading products and obsession with customer success landed us in the Leaders' quadrant for the third time.
Our number one goal as a company is customer success. We empower customers to simplify operations and spend smarter to reach competitive agility by getting 100 per cent spend visibility through on-boarding 100 per cent of suppliers, capturing 100 per cent of invoices and achieving 100 per cent user adoption of e-procurement.
So, I think it's important to call out four areas that Gartner commented on in the report that best demonstrate our 100 per cent promise:
Read more here 
Gartner Inc., Magic Quadrant for Procure-to-Pay Suites, Desere Edwards, William McNeill, Magnus Bergfors, Patrick M Connaughton, Kaitlynn N. Sommers, May 29, 2018.