Are smart contracts, enabled by blockchain, the next big thing or just a temporary hype?
What is a contract? Put simply, a contract is any agreement that is built on the logic "if…[ABC] – then…[XYZ]". And we make these kind of arrangements very day both in business and our private lives.

If I'm working on the development of the Procurement department at a particular company from 8am to 5pm Monday to Friday – then I'm paid £5000 on the 25th day of every month and I earn the right to have 25 vacation days per year
If I pay £45 on the first day of the month – then I get an unlimited internet package for the entire month delivered to my IP address from this internet provider
This is the basic logic behind all kind of contracts.
What is the no.1 problem with contracts today?
Nobody can guarantee the implementation of a contract's conditions on both sides.
The employee might come into the office every day, but half of their working time is spent watching YouTube in the coffee area.
Maybe you pay each month for your internet service, but the traffic is too slow and connection gets lost at the most important moments…
In business these potential problems are solved by official contracts where a breach of contract could result in legal action.

But why should I trust my lawyers, my banks and the courts more than I trust my own business partners? Ultimately we are mutually dependent on each other so my business partner should be interested in maintaining that mutual trust. Moreover, why should I pay all these middlemen to implement and monitor contracts, why should I spend my time and money on court cases if the contract conditions have clearly been violated by the other party?
Blockchain is already addressing these issues with some success. And these "if… – then…" algorithms created with Blockchain technology are called smart contracts.
Example of Smart contract logic: Purchase of manufacturing equipment
Imagine a manufacturing company, MANCOM, needs to double its packaging line capacity. They are planning to get the new packaging equipment according to their technical specification, with production output of 10,000 pieces per shift, up and running at full capacity until 1st of June 2019.
After running their request for quotation (RFQ) – they have selected a company, YOURPACK, and prepare their Smart contract.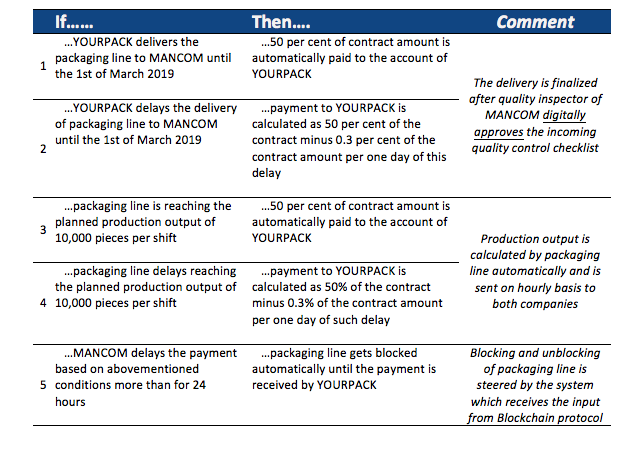 These Smart contract can include the following conditions in the protocol:
In the best case YOURPACK delivers the equipment to MANCOM before the 1st of March 2019, and gets 50 per cent payment automatically. Then before the 1st of June equipment runs with the planned capacity, and gets another 50 per cent automatically from MANCOM's account.
If there are delays with delivery or installation – payment is reduced accordingly. So YOURPACK's interest is to do everything in their power to make things in time.
If MANCOM delays the payment – the equipment blocks itself and cannot be used. So it is in MANCOM's interest is to pay in-time and in full.
Once again, the main principle of the Smart contract is to use "if…then…" logic. And to decide upon the precise triggers that will lead to specific consequences. An important aspect of Smart contracts is automation – that is avoiding the human factor after the agreement is validated from both sides.
Invest time and efforts in writing down the causes and effects, which should be clear and transparent and which cannot be misinterpreted.
After you have agreed on the principles and the "if… then…" algorithms – give the assignment to programmers who will create their codes and protocols based on Blockchain.
Blockchain: the enabler of Smart contracts
At the heart of Blockchain we need the following core ingredients:
asymmetric cryptography – which gives the ability to create the records and protect them
distributed systems – which gives the ability to transfer value by making updates to the records
And the beauty of blockchain is that is allows us to digitally sign transactions. And what is even more important – you can prove it. After the record is created and distributed to the network, no one can modify or change it without others being aware of it. The levels of security and traceability are incomparable to traditional contracts and transactions.
Today we create huge contracts with numerous clauses and appendices. We hire expensive lawyers to create these contracts and then we hire yet more expensive lawyers to protect our rights, and prove in court what we meant by all those numerous clauses when the contract was first written.
Comparison table: Smart and Traditional contracts
| | |
| --- | --- |
| Smart contracts | Traditional contracts |
| Program or protocol, which uses Blockchain technology | Paper documents composed using corporate and legal standards |
| Based on code, written in computer language | Based on legislation and written by lawyers |
| You need assistance with defining terms of contract and with coding | You need legal assistance to compose and register contract |
| Contract conditions are unchangeable once approved by all parties. They are transparent and automatically checked. If contract terms are violated – certain penalty, punishment or sanction occurs automatically | Can be amended or interpreted differently by different lawyers. Conditions may be partly fulfilled or poorly fulfilled. If contract terms are violated – you resolve conflicts by negotiations or in the courts |
| The security of the transaction is guaranteed | No guarantee, most laws can be bypassed |
| All transactions carried out without third parties and intermediaries | Transactions are made with a number of other involved parties: lawyers, banks, courts or public services… |
| Transactions may happen using Crypto-currencies | Transactions are made using traditional currencies through banks |
| When the terms of the contract are fulfilled, the exchange of values takes place instantly | Exchange of values occurs with delays |
| The contract can be concluded with a person from anywhere in the world without personal presence | The contract is signed only with the personal meeting of the two parties |
| Protection from corruption or fraud | High risk of fraud, corruption or bribery |
The next big thing or just a temporary hype?
Smart contracts are facing many challenges on the way to mass application in Procurement.
I don't know how fast it will become a common practice, or the full possibilities behind blockchain technology for Procurement and Supply Chain Management, because we are only at the beginning.

In today's world new technology can challenge and change the status quo within a matter of years. And I advise you to be at the forefront of these changes.