The Big Ideas Summit is just a couple of weeks away! We caught up with Peter Holbrook, CEO of Social Enterprise UK, to discuss the rising prominence of the social enterprise agenda.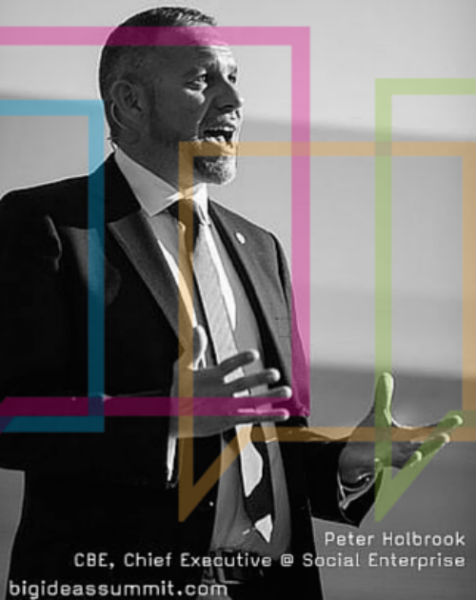 Peter Holbrook is the Chief Executive of Social Enterprise UK, the UK's national trade body for social enterprise. The organisation works with its members to raise awareness of social enterprise, generates political engagement for social enterprises, and works with private sector organisations to explore and connect with social enterprises, helping them integrate these businesses into their supply chains.
Peter is passionate about the potential of communities and non-profit organisations to be much more enterprising and involved in business, and is helping to drive the social enterprise agenda across all sectors and industries.
Peter was awarded a CBE in 2015 for his service to social enterprise.
At the Big Ideas Summit, Peter will join a high-profile panel to discuss social and sustainable procurement and ethics, their impact on the procurement profession, and what procurement leaders could and should be doing to embed these practices. Peter says:
Meeting pioneers and enlightened leaders is always a privilege. Procurement has huge impact, potential and possibility – I'm looking forward to meeting kindred spirits, and agreeing further progress.
Tell us a bit about yourself.
I'm a practitioner, networker and advocate for social business – the growth and innovation in this sector is astounding. I've been happy to be a part of it for over 20 years.
What are the main challenges that face social enterprises in the UK?
Public awareness of social enterprise still requires a great leap forwards, and many social enterprises still require greater scale.
What's the biggest success story in the Social Enterprise industry you have come across?
There are plenty of examples but my current favourite is the FairPhone – a crowdfunded social enterprise that has brought to a much needed market the world's first fair trade smart phone.
Fairphone is the world's first modular smart phone. It has been designed to be easily repairable by users, to last years longer than other smart phones, and is free from any conflict materials or minerals in its supply chain.
You can find out all you need to know about the Fairphone here.
Many procurement professionals think that buying social or sustainable goods is more expensive – in your experience, is this true?
Our evidence shows that in over 50 per cent of cases social businesses are more competitively priced than their private sector competitors. It's about creating added value not necessarily added costs.
What should procurement leaders be doing to help drive the social and sustainable procurement agenda?
Become champions for social procurement! Procurement can ensure your brand and company values are reflected within your supply chain. Be bold!
Peter Holbrook talk about these topics in more detail during a panel discussion on turning social enterprises into your 'ideas suppliers' at the Big Ideas Summit on April 21st.
If you're interested in finding out more, visit www.bigideassummit.com, join our Procurious group, and Tweet your thoughts and Big Ideas to us using #BigIdeas2016.
Don't miss out on this truly excellent event and the chance to participate in discussions that will shape the future of the procurement profession. Get Involved, register today.