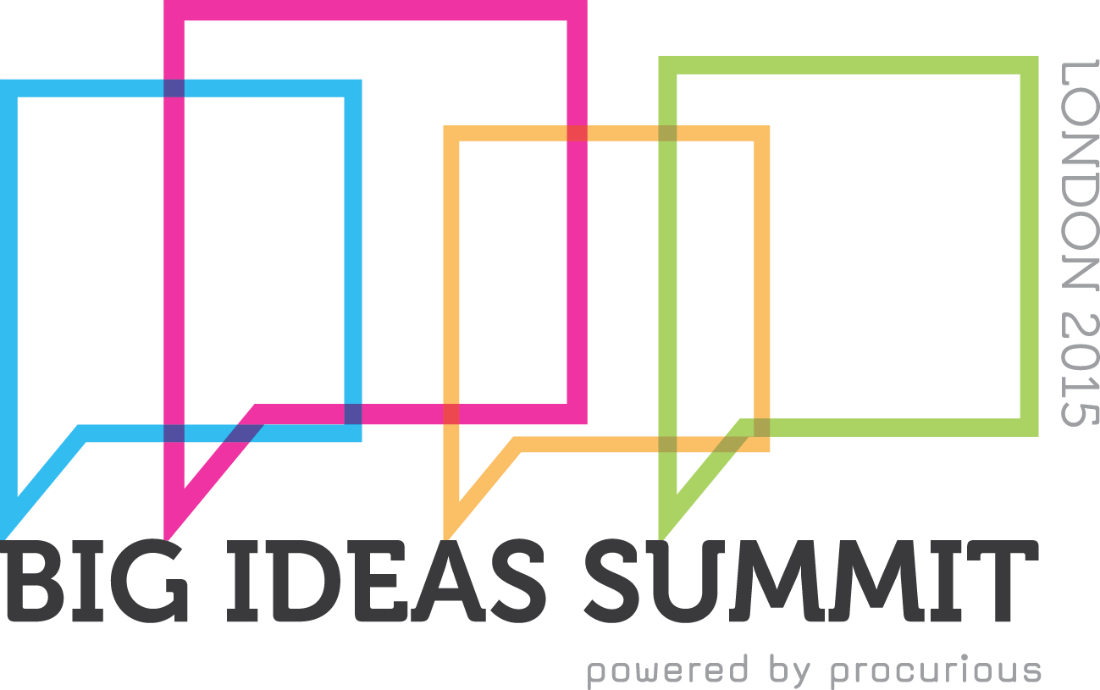 What is it?
The Big Ideas Summit is the world's first digitally-led think-tank for procurement and supply chain professionals. It is powered by Procurious.
When is it?
30 April 2015. Expect to see most of the action between 09.30 – 17.00 (GMT) However the thought-provoking discussions and lively debate will continue long after, and we'll also share video footage throughout the month of May on Procurious.
Where is it?
Although the event itself will be held in at a central location in London, due to its digital nature Procurious members will still be able to get involved.
How can I join in?
You'll need to be a registered member of Procurious – join here for free if you haven't already. Then simply access the Big Ideas Summit Group page (which can be found here) to soak-up thoughtful opinions, participate in insightful discussion, and share your own Big Ideas with the Procurious community.
We'll also be live tweeting throughout the day, so make sure you're following @procurious_ to share and respond to our tweets.
Will it be live-streamed?
Procurious boasts a global audience of 5000+ procurement professionals from more than 100 countries. If we were to cater to all of these timezones, it would be a tough job – so rather than live-streaming (and making you keep awkward hours) we'll instead share video with those who've registered.
I'm on the fence – why should I take part?
We've listed 6 of the most-compelling reasons here.
Who are the 'Influencers'?
The term 'influencers' refers to the specially-invited thought-leaders who will be sharing their Big Ideas with the room and you – the Procurious community.
Our experts span the worlds of procurement, technology and social media. There will be CPOs from organisations including:  Burberry, NHS, AstraZeneca, Hovis Ltd, and Exchequer Services, media from Spend Matters and Redactive, and experts  representing the bleeding-edge of tech. As well as CIPS, McKinsey & Co, The Hackett Group, Jules Goddard from London Business School, and Rio Tinto's CFO, Chris Lynch.
The full list is available to view at bigideassummit.com.
I've got a Big Idea of my own…
Great to hear! You can Tweet us your Big Ideas @procurious_ remembering to use the hashtag #BigIdeas2015.
Leave your Big Idea on Facebook – you can find us at www.facebook.com/procurious
And of course you can tell the Procurious community all about it by joining the Big Ideas Group page and posting it to the community feed.
Who is behind Procurious?
You can read all about us in Our Story. 
Where can I learn more?
We've created a special website to promote the Big Ideas event, visit it at bigideassummit.com
Plus you might be interested in the following stories:
Sigi Osagie`s Big Ideas On Bringing The Real You To Work
6 Big Ideas To Join Procurious By Thursday
CIPS David Noble: Big Ideas On How Procurement Will Seize The Day
Thinking the Unthinkable – Big Ideas on Supply Chain Risk
Mark Perera's Big Ideas on startups, technology & disruptive procurement
Samantha Coombs on the challenges facing Millennials going into procurement
Is ethical fast fashion an oxymoron?
Professor Olinga Ta'eed on Turning Procurement Professionals into Agents of Change
Professor Olinga Ta'eed: Big Ideas For Helping Your CEO Understand Social Value
Winning the War for Procurement Talent with Social Media
4 Big Ideas That Transformed Procurement Technology
Help us to help you (and win 1 of 5 iPad minis)
Social influencer Tim Hughes: Big Ideas for the next Industrial Revolution
David Berry on Fixing the Innovation Supply Chain
5 of the deadliest risks facing your supply chain in 2015
`Our People Are Our Greatest Asset.` Erm… Really?!
Behind the supply chain curtain: 5 questions procurement needs to ask
Slavery in Supply Chains – A Modern Day Risk
Big Ideas 2015: How to be a Digital Delegate and get involved
What are the innovations transforming supply chains & biggest trends right now?
4 technology trends we'll tackle at Big Ideas 2015
Big Ideas that changed the world: Communication
Why we're talking managing talent at Big Ideas 2015
Who are procurement's most influential thinkers?
The digital delegate and rise of the virtual summit
Join the world's first digitally-led event for procurement professionals