After the tragic death of at least 58 people in the Grenfell Tower fire, confusion remains over whether the decision to use combustible panels in its construction was in accordance with British building regulations.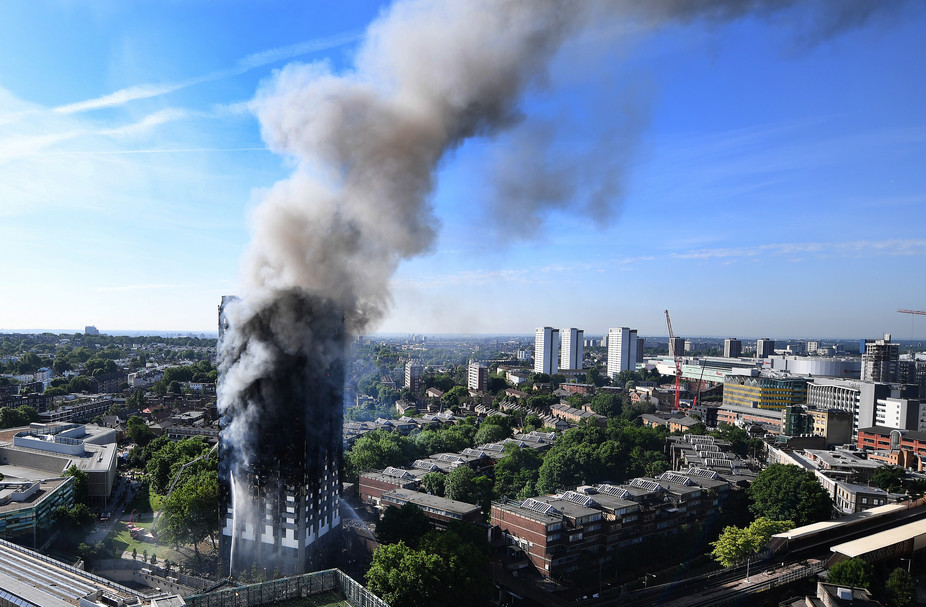 The Guardian and the BBC have both reported that Reynobond panels with a combustible polyethylene (PE) core were used in a refurbishment of the 24-storey Grenfell Tower, completed last year. This has yet to be independently confirmed by investigators, although it would explain the frighteningly rapid spread of the fire. The thermoplastic material is known to melt and drip as it burns, which spreads the fire downwards as well as upwards.
Manufacturer's own warning ignored
A Reynobond brochure from 2016 shows that PE cores are only suitable for buildings up to 10 metres in height, while panels with a fire-retardant (FR) core should be used up to 30 metres. Grenfell Tower is 60 metres tall, for which Reynobond recommends their A2 model, with a non-combustible core.
The Guardian's report states that the Reynobond PE cladding supplied to the companies refurbishing Grenfell Tower was £2 cheaper per square metre than the alternative Reynobond FR.
Confusion over legality of PE panels
While media outlets have pointed out the PE panels are banned in the U.S. and Europe, there remains some confusion as to whether they are legal in the U.K. or not.
Two Government ministers have said that "in their understanding", the use of the cladding is against British building regulations.
Treasury chief Philip Hammond told BBC News: "My understanding is that the cladding in question, which is banned in Europe and the US, is also banned here. So there are two separate questions: one, are our regulations correct; do they permit the right kind of materials and ban the wrong kind of materials; and the second is were they correctly complied with, and that will be a subject the inquiry will look at and will also be a subject the separate criminal investigation will look at."
Trade Minister Greg Hands told Sky news: "My understanding is that the cladding that was reported wasn't in accordance with UK building regulations. We need to find out precisely what cladding was used and how it was attached."
Vague building codes
A Reuters report found that British building regulations documents did not specifically say PE-core panels should not be used, yet that doesn't mean builders are clearly permitted to use them: "British safety regulations across many industries are usually principles rather than rules-based."
This means the law often requires companies to act safely without giving a specific definition of what this would involve. Firms are instead expected to be able to prove in court that they "behaved in a way that their industry would consider safe, given current knowledge and technology".
The Fire Protection Association (FPA), an industry body, has reportedly lobbied for years for the government to make it a statutory requirement for local authorities and companies to use only fire-retardant material. 
Paper trail
Lawmakers have urged the Government and the police to immediately seize all documents relating to the building's renovation to prevent the destruction of evidence that could show criminal wrongdoing.
"The Prime Minister needs to act immediately to ensure that all evidence is protected so that everyone culpable for what happened at Grenfell Tower is held to account and feels the full force of the law," said Labour lawmaker David Lammy. This means that all emails, minutes of meetings, correspondence with contractors, safety assessments, specifications and reports, must be kept intact.
The Government is reportedly carrying out an urgent inspection of other tower blocks in Britain to assess their safety. There are roughly 2,500 similar apartment towers throughout Britain.