As the 2016 Olympics kick off in Rio, ongoing corruption and slavery scandals threaten to overshadow the event.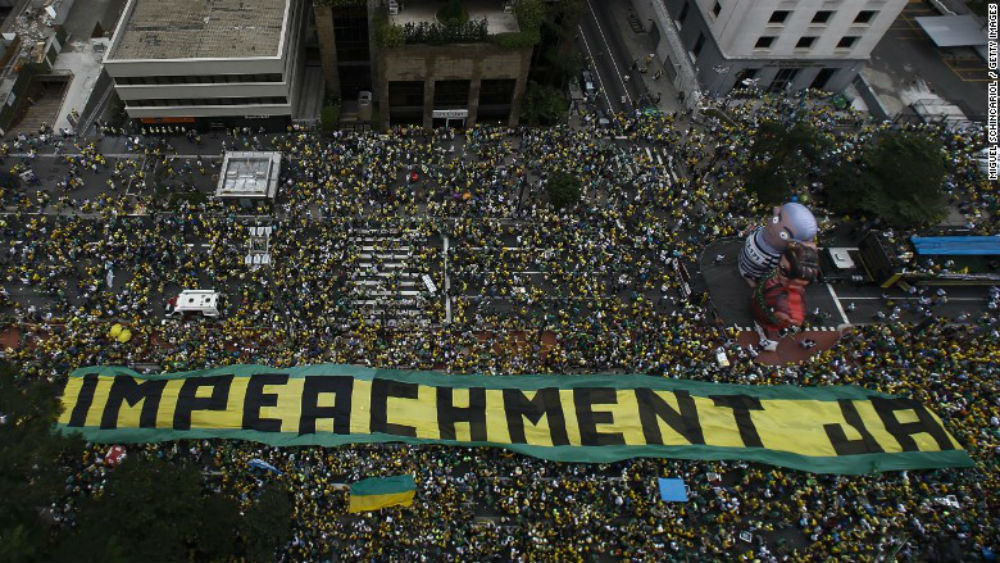 The 2016 Rio Olympics opened on Friday evening with a lavish opening ceremony, watched by a global audience of billions. Over the next two and a half weeks, 10,500 athletes from 207 countries will compete for medals in 28 sports.
However, the Olympics could be overshadowed by corruption and slavery scandals currently engulfing Brazil.
Corruption Scandal Widens
There has been widespread criticism of the money being spent to hold the Olympics in Rio. Much has focused on where money could have been spent to tackle poverty and social issues present in the city.
However, one scandal that has rolled on for over a year relates to massive corruption in the awarding of contracts. Petrobras, Brazil's national oil company, and it's ruling Workers' Party (PT), are at the centre of allegations of one of the largest corporate frauds in history.
Petrobras was nationalised between 2002 and 2010, with the PT appointing its own candidates to high-level executive positions. These executives secretly diverted funds, valued at up to 3 per cent of all new oil contracts, to the PT and its coalition partners.
Senior Politicians Implicated
The corruption probe, nicknamed "Operation Carwash", continues to widen. Plea deals have now implicated more than 480 politicians and executives.
It is alleged that these individuals received over $6 billion in bribes from a cartel of Brazil's biggest builders. The money was traded in exchange for at least $50 billion in Petrobras contracts.
Suspended President Dilma Rousseff has been found guilty of budget fraud by a senate committee. Her predecessor, former President Lula da Silva, has been ordered to stand trial by a federal judge for money laundering and hiding assets.
Rousseff's campaign strategist, Joao Santana, was also arrested for allegedly receiving $7.5 million in bribes from Petrobras. However, due to delays in Brazil's legislature system, it could be a while before these cases are heard.
Slavery Rife in Brazilian Cities
Alongside the corruption and fraud in Brazil, new figures released this week suggests that slavery is still a major issue in the country.
The Walk Free Foundation has reported that there are an estimated 161,000 people working in slavery conditions in Brazil. This figure is up nearly 4 per cent from 2014.
Brazil has seen an influx of immigrants over the past decade from other Latin American, and African, countries. The issue is most prevalent in rural areas, but instances are occurring in major cities too. There have been more slavery cases reported in urban areas than countryside since 2014.
Official statistics show the mining sector accounts for 31 per cent of slavery cases discovered in Brazil, followed by construction (18 per cent) and agriculture (15 per cent).
"Blackballing" Companies
However, the Brazilian Government has earned some positive press in the way it is tackling slavery. They have created a "dirty list" of 300 companies who could lose access to public contracts as forced labour has been found in their supply chains.
The list was briefly suspended in March this year, although it was reinstated in May. The dirty list, and strategies that go along with it, have helped to free over 50,000 people from slavery conditions between 1996 and 2013.
At a time when the eyes of the world are on Brazil, and Rio, the ongoing work to free workers caught in forced labour conditions represents a glimmer of hope in an otherwise bleak political climate.
Are you in Rio for the Olympics? Or have you been involved in procurement or supply chain for the Games? We'd love to hear your experiences and showcase them on the Blog.
We've been collating all the major headlines from the past week to keep you up to date…
UK Interest Rate Cut Bad For Savers & Pensions
The Bank of England announced a decrease in UK interest rates to 0.25 per cent, the lowest rate ever.
It comes at a time of lower than expected growth in the UK economy.
The cut heaps further pressure on pension schemes already facing huge deficits from the shrinking economy.
It also means that a greater number of accounts, including business accounts, are expected to not see any form of interest on savings.
Read more on The BBC
Mercedes-Benz Vans to Open New South Carolina Plant
Construction on a new plant began last week in North Charleston, South Carolina, to produce Mercedes-Benz's iconic Sprinter Vans locally.
The move will significantly cut lead-times for the German automotive giant. Previously US-based plants only assembled vehicles from 'kits' sent over from Germany.
Parts suppliers including the Auto Truck Group and the Knapheide Manufacturing Company, are expected to establish production sites in the region.
Mercedes-Benz reported delivery of approximately 28,600 vans to US customers last year.
Read more at Automotive Logistics
Brexit Leads UK Retailers to Source More Home-Grown Products
Fashion industry publication

Just-Style

reported that one-third of British retailers predict they will source more from domestic suppliers following the Brexit vote.

Research published by Barclays has found that 52 per cent of retailers also expect to increase supply chain activity in India.

43 per cent of British retailers have indicated they anticipate a reduction in goods sourced from the EU.  

Despite the Brexit vote, European manufacturing actually improved over July. According to data firm

IHS Markit's Purchasing Managers Index,

 figures rose to 53.2 in July from 53.1 in June.
Read more at Just Style
Phone Battery Life Could Be Used to Track Users
The battery status API, introduced in August 2015, has been found to be capable of tracking individual users online.
API allows site owners to see the percentage of battery life left in a device, as well as the time it will take to discharge or recharge.
Although currently being used to enable low-power versions of websites, researchers have proved that it could be used to spy on users.
Privacy campaigners have argued that companies could use this data to also monetise battery levels, with users making different decisions when faced with a low battery.
Read more at The Guardian