The top 5 software sales claims may seem familiar – but what do they really mean, and what questions should you fire back?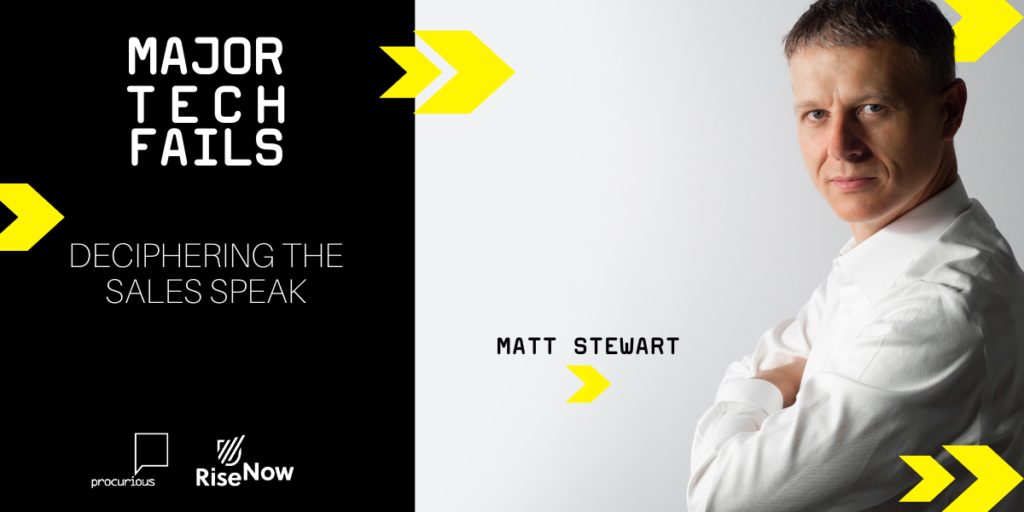 ---
As procurement pros, we like to think of ourselves as experts who can cut through the fluff of the sales pitch and get down to what we think really matters.
But let's face it . . . some salespeople are so darn good that even the sharpest of us can't quite sort the wheat from the chaff. And with procurement software sales teams often being some of the best in the business, well, we have our work cut out to decipher their code for ourselves.
I have had more than a few years of experience trying to work through this myself and though practice may not always make perfect it definitely gets us closer to where we need to be. So, from my years of experience in being involved in more than 500 software evaluations, and being the one who has to make it all come together as the implementer, I want to help you navigate through the language and the catchphrases that we often hear from software sales teams.
Here are my top 5:
1. 'The integration is easy'
One of the most common things we hear from sales teams that are trying to speed their way to a sale is that "Integrations are easy." Getting the system to do what it's supposed to while talking to other systems is pretty straightforward. We all want to believe it, but as you find out when you are involved in an implementation, there is real work that must be done that is not easy, and someone has to do it.
I always laugh when I hear this stated in front of my clients IT teams. You see, IT knows the work that is involved in a project like this and are certain that the word "easy" does not belong in the same sentence. They also know that anyone that does call it "easy," is most likely someone who has never attempted to do this type of work.
When you hear this it's a good idea to have your questions ready, including:
What business objects are typically in scope in a project like this?
If you have multiple ERP's, will each of them need to be interfaced with? Who will be responsible for transforming each file?
Who will be doing the field level mapping?
Is there a middleware or any prebuilt connectors that can be leveraged?
Where has this middleware or connector been used before?
Do they have similar volumes/scale/complexity?
What system dependencies are there?
What systems have you integrated with – even what version of systems?
No question is too basic here – in my experience keeping it direct and to the point works best.
2. 'Your suppliers are already connected to our network'
A word can mean different things to different people and the secret to understanding the sales-speak here is to work out what 'connected' really means. It can mean your suppliers have participated in a sourcing event or once received a PO from another customer.
It can also mean that they have log-in information and have received all of the really great welcome emails that new suppliers are bombarded with that they have no idea what to do with. Or it can mean they are actually transacting through the system and are receiving POs and payments from other customers in the manner in which you intend they start doing for you.. In that case, they'll know exactly how to work out what they need to do to make your life and theirs easy as you get your new system implemented.
Ask lots of questions here, especially when it comes to your big suppliers, the ones that would spell chaos for you if things didn't go to plan . . . it's not a bad idea to ask them where they're at in the process of being enabled with other customers and identify any potential issues you may have before you get too far.
3. 'Training and change management aren't needed for your end users and suppliers'
We all love digital technology – and sites such as Amazon and Google are designed to make it pretty easy for us to use them without the need to be trained. But we can probably all agree that many systems built for the enterprise seem to struggle to bridge the gap on major process and use case changes that take someone out of their comfort zone. Even if it appears easier. Especially when their job does not involve them being in the platform all day, every day.
Here's where it is important to put yourself in the role of the user and see the system through their eyes. It's even better to get them involved early and ask them how much change they anticipate for their department/region/etc and what type of support they will need to be successful.
Don't let the salesperson, or an enthusiastic user, convince you that you don't need any change management resource. You can work out how much is needed – and, if your salesperson is right, it might not be that much. But it's always a smart move to let your stakeholders and suppliers know what is happening, why and how it is going to impact them. If you get any resistance, you will be thankful you have change experts at the ready to address it.
4. 'You don't have to have clean data prior to starting implementation'
You don't have to follow a recipe when cooking something for the first time. But it will help – unless you like surprises and don't need them to be good ones. Your sales team will say this because, honestly, who wants to spend time on boring stuff like data cleansing . . . especially when we all know it can take 4 to 12 months to clean up if you're lucky? And they're smart enough to know that too much time and effort upfront without real results can kill the deal. While we all want to get on with the really cool analytics, there's a reason you need to do your groundwork.
If and when you hear this one, go ahead and ask the question we all know: What about the saying 'Garbage In, Garbage Out'? You never know: your sales team may be able to share some new things they have tried where data cleansing hasn't been needed. And they might have some examples of where this has worked before – and that's definitely worth finding out about. If not, put a plan in place now for how your data will get cleansed and adjust what modules you purchase, sequence of rollouts and your implementation plan accordingly.
5. 'Don't worry about transforming your processes as the technology has best practices already built in'
'Leverage', 'optimise', 'game-changer' . . . It's only a matter of time before your salesperson drops the gold standard of corporate buzzwords in – 'best practice'. While the phrase can be meaningful, most of the time it's a sales pitch to get us over the line. We can implement a new system and get to best practice at the same time? Sign me up! But best practice means different things across organisations, industries and sectors.
When you hear this, two things need to happen. Firstly, take a look at your implementation plan and make sure it includes a review of all of your direct and related processes. And secondly, take a look at the 'best practices' that are included. They may be right for you, and now is is a great time to update and improve dated processes. If not, you'll have done your review and know that what you have ended up with is the best thing for your business.
So when you hear these or similar claims as part of a sales pitch for software, remember what they typically really mean. Be prepared with questions for the sales team to ensure that the tech solution you sign up for really is a good fit for your organisation.
Did you know that Matt has just teamed up with Procurious to launch 'Major Tech Fails' – a series looking at everything from implementations to getting buy-in. Register here