How can procurement professionals make disability work in the workplace?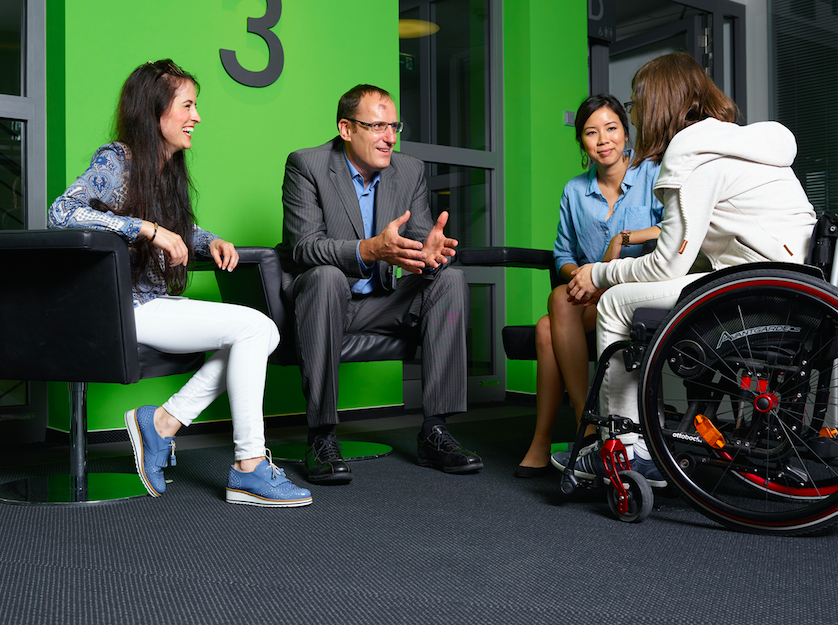 This blog was written by Julie Gerdeman, General Manager, SAP Ariba. 
---
One of the greatest joys of my work at SAP Ariba is the opportunity to wear more than one hat; not only heading up our payments business but also serving as the executive sponsor of our diversity and inclusion efforts. At the core of our D&I strategy is an aspiration to build an inclusive culture around the customer, innovation, and employee experience to enable us to become the most diverse company in the cloud.
Recently, I had the honor of hosting SAP Ariba's popular Diversity and Inclusion luncheon at Ariba Live Amsterdam. This year's theme, Rising Above the Impossible, focused on the importance of disability inclusion and leveraging accessible technology for better business outcomes because SAP Ariba recognizes them as important to the future of the workplace. For the event we assembled disability inclusion experts from different parts of the globe, and I had the great pleasure to get to know a group of phenomenal and courageous women, including our keynote speaker Nicky Abdinor (Nicky's Drive) and panelists Lesa Bradshaw (Bradshaw LeRoux), Tania Seary (Procurious), Susan Scott-Parker (BDI), and Stefanie Nennstiel (SAP). I'd like to share with you three nuggets of wisdom from my discussion with them that has left a lasting impression:
1. "If You've Got the Drive, the Destination Is Up to You."
I will never forget Nicky Abdinor, a clinical psychologist, who touched our hearts and minds as she challenged all perceptions around ability with her core message to focus on what you can do versus what's you can't. She graciously shared her personal story of overcoming her disability by focusing on her ability to create sustainable change in her attitude, beliefs, and emotions to achieve the possible. She shared her mantra with the audience: "If you've got the drive, the destination is up to you." I thought this was a great takeaway we can all relate to and apply in our lives because no matter if the disability is visible or invisible, we all have the power within us to choose to achieve the possible.
2. "Make Disability Work in the Workplace"
The talent pipeline and impact on the future of procurement is top-of-mind for our Procurement professionals. I see now more than ever that a diverse workforce is imperative for a business to survive in the digital era and is a topic that all our audiences want to discuss.
Our panelists were candid and offered some practical advice for all to use when they returned to their businesses, particularly around "making disability work in the workplace." Companies must commit to building an inclusive culture that allows all employees, not just the perceived majority, to thrive at work. This begins with recruiting and retaining diverse talent.
At SAP Ariba, we are building our strong foundation by empowering employees to uncover their unconscious biases, which we all carry as human beings, and learning to eliminate bias from decision-making for better outcomes with our Business Beyond Bias training program. In addition, the panelists encouraged the audience to ensure their companies develop a disability and inclusion strategy to empower managers to make intentional decisions around reasonable accommodations that allow everyone the same opportunity to perform their job responsibilities. For example, SAP Ariba has made the intentional decision to participate in the Autism at Work Program because we value neurodiversity and are seeking a specific set of skills to enhance our workforce to widen our perspective on the business. Our disability and inclusion strategy enables our managers to go beyond traditional sources of talent, and this has made a positive impact in our overall employee morale.
From experience, we know that innovations often originate from unlikely sources.
3. Accessible Technology Can Make a Real Difference
Another critical component that enhances the success of disability and inclusion efforts is accessible technologies. The benefits extend from the home to the workplace, as accessible technologies transform the way people with disabilities contribute and thrive. They serve as a tremendous equalizer leading to retention, development and advancement. At SAP Ariba, we are deeply committed to ensuring that accessible technologies are integrated into our business.  We are amplifying this approach by promoting the importance of accessible technologies among buyers and suppliers and buyers on the Ariba Network.
The Important Role of Procurement
Procurement leaders play an important role in bringing visibility to the value of a supplier diversity strategy that can increase competitive advantage through an inclusive supply chain, offering opportunities to underrepresented suppliers. By now, we are all familiar with the research that shows companies that embrace diversity are more profitable. If you haven't already, I recommend reading The 2018 Delivery Through Diversity Report by McKinsey for the latest data and insights.
As I reflect on my wonderful experience learning from our knowledgeable disability and inclusion experts, I feel hopeful and encouraged with the opportunities available to procurement professionals to make a positive contribution toward building an inclusive workforce and a diverse supply chain. Ultimately, as we embrace business with a purpose, the ability to contribute toward the greater good of society fuels my passion for leading and implementing diversity and inclusion within procurement.
Julie Gerdeman is GM and Global Head of Payments & Financing at SAP Ariba. 
Procure with Purpose
Procurious have partnered with SAP Ariba to create a global online group – Procure with Purpose.
Through Procure with Purpose, we're shining a light on the biggest issues – from Modern Slavery; to Minority Owned Business; and from Social Enterprises; to Environmental Sustainability.
Click here to enroll and gain access to  all future Procure with Purpose events including exclusive content, online events and regular webinars.