Addressing 800+ delegates at SciQuest Next Level 2016, Stephen Wiehe's enthusiasm for design, disruption and innovation is infectious.
Stephen Wiehe, CEO at SciQuest, is clearly a man who likes to 'make stuff'. A tinkerer, a designer, an ideas-man, maybe a little bit of a tech-head.
Opening Next Level 2016 with a take on 'Procurement's Future in the Era of Disruption', Stephen starts with some alarming, if increasingly familiar, facts and stats:
We are experiencing the fastest technological change the world has seen
Interest rates are at their lowest since records began
Market volatility has doubled
We are seeing unprecedented, rising geo-political instability
40 per cent of companies will be extinct in 10 years
It's not long, however, before he pivots towards his passion for design, innovation and customer connectivity.
Stephen points to GE's First Build R&D facility as an example of how businesses are going straight to the customer for their next great innovation.
A darling of the corporate crowdsourcing movement, First Build aims to invent new home appliances by creating a community of home enthusiasts, designers, engineers, and makers who share ideas, try them out, and build real products.
"Once upon a time, R&D facilities were hidden and process driven," says Stephen, "Today, GE have flung open their doors to anyone who has a good idea. Customers with an idea can quite literally walk-in, use the machines and GE will help you build it."
No Industry is Immune to Disruption
As a London local and 4.8 star rated Uber user, it still comes as a surprise when I meet someone who has never used this global phenomenon before. For me, Uber has transformed the way I move about the city, track payments, and even the amount of cash I need for a night out.
So when Stephen flicked up a slide of yellow taxi cabs, I must admit my first thought was, "Ok, here we go, Uber. Heard this before."
But Stephen takes the analogy much further: "Uber is not a technology story, it's a procurement story.
"The whole process of getting an Uber is really a procurement process. First you request an Uber – not dissimilar to filling out a requisition form. Next, there's a sourcing event – Uber drivers, armed with your passenger rating, your location and destination, bid to win the job.
"Then, the passenger accepts the job, confirming they are happy with the driver's rating and location. A contract is formed – we accept the job and the mode of payment is agreed. And finally the AP process occurs seamlessly and conveniently with your stored credit card details."
Uber in a Traditional Procurement Lens?
Uber even provides a handy Spend Management Tool allowing the user to see their complete driving, payment and 'performance' history. Particularly handy for parents of teenagers, as Stephen points out!
The penny drops. I've not thought of Uber in this way before – a fully automated Source-to-Settle process.
But Stephen pushes us to go one step further. "Imagine if Uber had approached their business from a traditional procurement lens.  We'd have the lowest vehicles, more passengers per vehicle and cheaper drivers."
True – Uber's open network has flipped the transport industry on its head. Stephen explains that Uber looked at the cab industry from the customers' perspective and wondered what total transparency, real time data, and an open and connected network could deliver.
And I for one am thankful they did.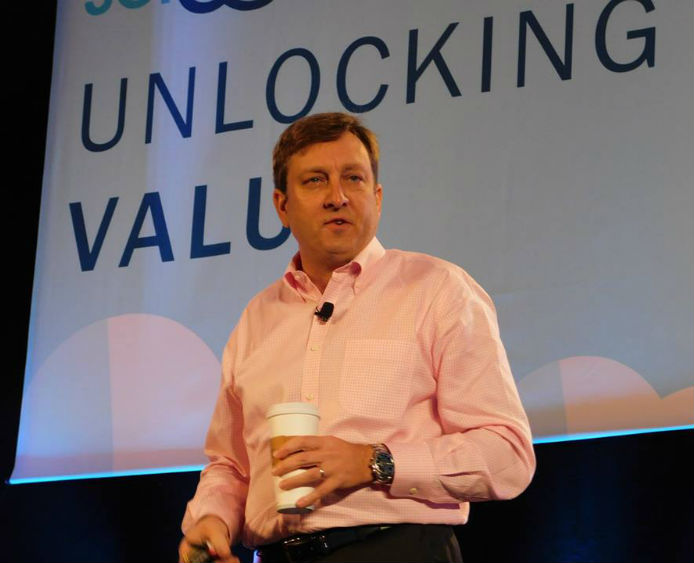 The Disappearance of the Back-Office
Just like Uber, which has automated the entire administration process of booking and paying for cabs, Stephen predicts the concept of procurement administration will disappear in coming years.
The issue for most businesses is that they are trying to do the same things over and over, and (not surprisingly) seeing only incremental value delivery.
Stephen told delegates that businesses will only see a step change when they start to simultaneously use procurement automation, collaboration and insights to drive decision making.
When it comes to procurement, our customers want a simple, straight forward way to connect with suppliers, get what they need, and make a payment. Fairly or not, Procurement is all too often accused of being slow, cumbersome and hard to deal with. Not the ideal adjectives for a 'Business Partner'.
Maybe Stephen is right. Maybe the key to unlocking innovation and value will come from the customer. Just like Uber and GE, is it time to put sourcing in the hands of the customers and people who need the products? It's certainly time to think differently.
SciQuest Next Level takes place from August 21 – 24 2016. For more information on procurement and disruption please visit www.sciquest.com or Tweet SciQuest via @SciQuest.
Lisa Malone, General Manager Procurious, is reporting live from SciQuest Next Level 2016 this week.