The "Don't Argue" is a classic move in the often-brutal game of Australian Rules Football. While we wouldn't recommend shoving your colleagues in the office, there are plenty of lessons to be drawn from the world of elite sport.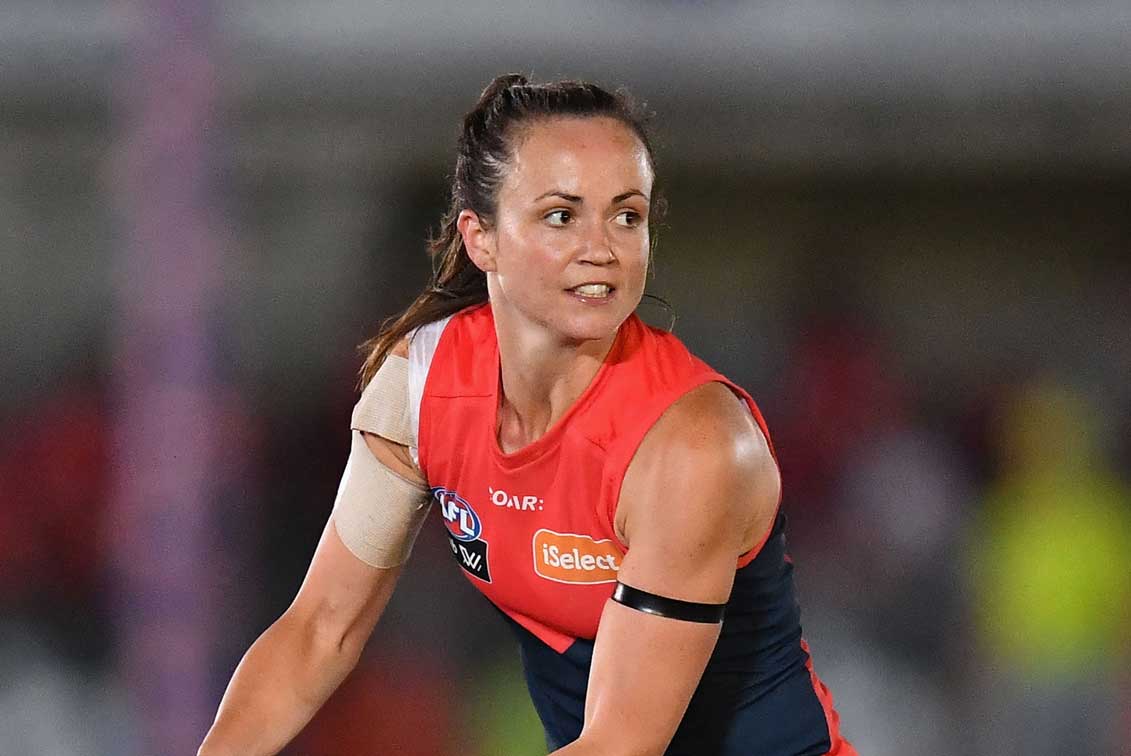 It's always interesting interviewing sportspeople for a business-related publication. Before the interview, I usually have my doubts that I'll be able to find something in their story that is relevant to the audience I'm writing for. Five minutes in, however, I've filled pages of notes about the many insights professionals can glean from elite performers.
This was the case with Daisy Pearce, AFLW star and captain of the Melbourne Team. In the space of 30 minutes, she provided links between her on-field performance and business agility, advice on how women can thrive in a male-dominated profession, and finished up with some leadership-related gems.
Daisy and the "Don't Argue"
The theme of this year's 10th Asia-Pacific CPO Forum (taking place on 17–18 May in Sydney) is "Pivot". Why Pivot? Because in an era where flexibility and agility are seen as essential leadership attributes, the profession's top practitioners must be able to pivot at a moment's notice to gain commercial advantage from disruptive forces, including new technology. In essence, this means having the ability to rapidly and intelligently adjust short-term strategies to ensure you can achieve your organisation's long-term objectives.
When I mentioned this term to Daisy, she immediately drew a comparison with the "Don't Argue" move in football. "When you've got the ball and someone comes to tackle you, a "Don't Argue" is when you send them off – push them away – and keep moving. Basically, you give them a shove with your arm, quickly change direction, and keep going."
For non-Australian readers (and non-footy fans), here's an explanatory video from the AFL:
So, what are the parallels between a "don't argue" and a business attempting to PIVOT?
Your short-term strategy may change but the overall goal remains the same: although Pearce may suddenly need to run in a different direction to her original course, she's still focused on the goal posts at the end of the field.
It happens fast, it's immediate, and it's often instinctive: CPOs often don't have much time to plan and react to a disruptive force (an enormous footballer bearing down on you at high speed makes a great analogy). Decisions have to be made fast.
There's no time to argue: Depending on the nature of the disruptive force, you won't have time to initiate a long, internal debate about what to do. Instead, a fast decision could enable your company to mitigate the damage of a disruptive force, or even profit by it.
Thriving in a male-dominated profession
While the AFL (men's football) has been around since the 1850s, women's football in Australia has only officially existed since 2013.
"When I was 14, the rules were that I had to stop playing football with the boys in my hometown", said Pearce. "I didn't know back then that there was going to be a Women's League, and thought my football career had finished. I turned to volleyball instead, before being drafted in the AFLW in 2013.
"I wouldn't say I've had to overcome many barriers to become a footballer. Then main barrier, I'd say, would be that I simply didn't consider football to be a career choice. The real barriers existed for talented women who wanted to play professionally before 2013."
Pearce has more than one string to her bow – she's entered the world of football commentary (also dominated by men), started a career on the speaker circuit, and has also worked as a professional midwife. "The opposite is true for midwifery", she says. "There may be young men considering a career as a midwife, but are daunted by the female domination of the profession. My advice is to go for it – if you're passionate about something, and it's what you really want to do, there's nothing stopping you."  
Leadership on the field:
As captain of the Melbourne AFLW team, Pearce has plenty of leadership insights to share:
"My main piece of advice for leaders is to first, have a really good understanding of yourself and about how your behaviours impact others. Secondly, make an effort to understand the people on your team. Appreciate that everyone has different strengths, and will respond to different things.
"Invest in your relationships with team members and build rapport. In the long-term, it will help enormously when you need to have tough conversations. You can be both supportive and tough at the same time – people need to know you're coming from a place of care rather than disinterest."
Daisy Pearce will wrap up day two at PIVOT: The Faculty's 10th Annual Asia Pacific CPO Forum.
Photo:  Getty Images