They have been a staple in the Easter diet for many children (and adults too!) for decades. But just how does Cadbury make the Creme Eggs we enjoy so much?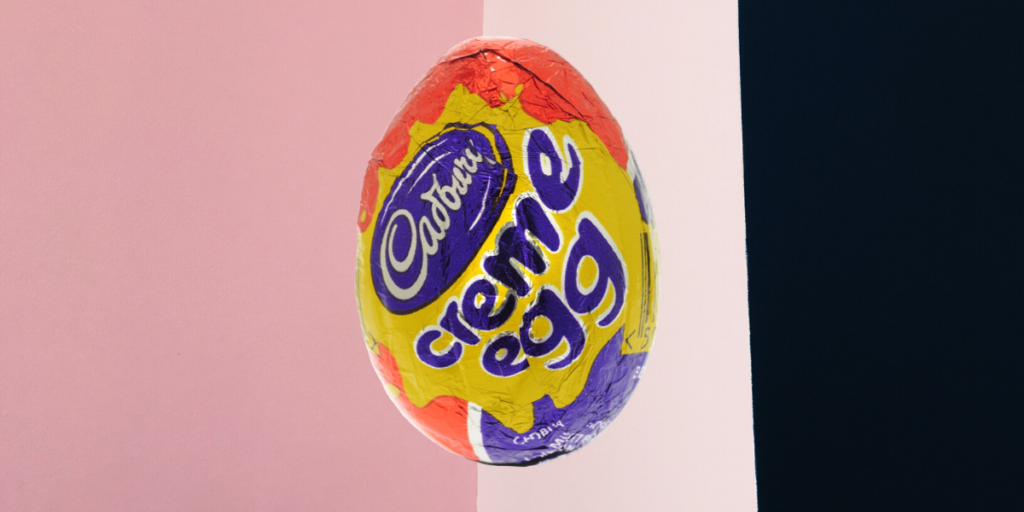 ---
The humble Cadbury's Creme Egg has been an Easter staple since its launch nearly half a century ago. Global sales of the eggs are over 500 million per year, with the UK alone accounting for approximately 200 million per year (that's around 3 each per year in the UK), with the majority of these manufactured in Birmingham, UK.
The Creme Egg brand has a value in itself of £55 million, which certainly isn't bad for a confectionery item that's only available between January and Easter each year.
Like them or loathe them, Easter just wouldn't be the same without the instantly recognisable purple, red and yellow packaging (or green, blue, red and yellow if you happen to live in the USA). It's no small feat to produce the volume of eggs to satisfy global demand, at such a specific time of year to take full advantage of the condensed sales period.
Before we delve into the supply chain and production process, some facts about this famous egg…
All Gone a Bit Egg Shaped – Fun Facts!
In fact, all Cadbury-manufactured chocolate is banned in the USA, Creme Eggs amongst them. The Hershey Company has the rights to manufacture all Cadbury chocolate in the USA and the move was to limit competition with imported items.
This is down to the recipes being altered slightly to adjust to different tastes, as well as to account for some ingredients that are banned in certain countries.
More on this below, but let's just say that it did not go well…
Not only are the Eggs themselves shrinking thanks to 'shrinkflation', but in 2015 the multipacks dropped from six to five eggs. But that probably helps with the next fact…
Each egg contains around the same volume of sugar as two bowls of really sugary cereal. And at around 6 teaspoons of sugar, it's what the American Heart Association considers to be a full day's worth of sugar.
Raw Materials
The Creme Egg that we buy and eat today has been in production since its introduction in 1963. It's recipe has been the same since this time, using the same key ingredients. There was a brief period in 2015 when Mondelez, who currently own Cadbury, and Kraft, their parent company, changed the recipe. This involved changing the use of Cadbury's Dairy Milk chocolate for the egg's shell to a cheaper, cocoa-based shell.
And much like the ill-fated New Coke recipe, the outcry was much the same. After much protest the recipe was changed back, but not before the organisation had seen a loss in sales estimated at £6 million in 2015. FYI, for those of you outside the UK, don't get a Brit started on what their feelings are on Cadbury's chocolate in general since the firm was taken over by Schweppes and then Mondelez!
The key ingredients we're looking at here are, of course, cocoa and, in Cadbury's own words, "a glass and a half of milk in each bar". The majority of the milk in the UK, over 50%, is supplied by dairy farm co-operative, Selkley Vale farmers, from Wiltshire and Gloucestershire.
The cocoa is a bit more complicated and, in the past, a lot more controversial. As with most chocolate manufacturers, Cadbury sources its chocolate from countries with high volumes of cocoa production – Ghana, Cote d'Ivoire, Indonesia, the Dominican Republic, India and Brazil. Previously fully affiliated with Fairtrade, Cadbury drew criticism of practices and its supply chain when it dropped this in 2016 in favour of a new scheme, Cocoa Life.
The scheme, which is, as of 2019 working in close partnership with Fairtrade, aims to use over $400 million to aid 200,000 cocoa farmers worldwide. Not only will this mean that more Cadbury chocolate is made from sustainably sourced cocoa, but farmers will still have benefits in line with Fairtrade goals, such as improved income, competitive pricing and tailored investment suited to their needs.
Cadbury has been able to leverage its supply chain well in recent years to provide a solid and stable foundation for its production in the UK, Canada and the USA. How do they go from that to the magic end product?
The Production
Ever wondered how Cadbury manages to get the very unhealthy, yet absolutely delicious, fondant filling into Creme Eggs? Had discussions over whether it's an injection mould for the outer shells and then the fillings? Then wonder no more!
It's actually quite simple really. The two halves of the shell are made separately and then filled with the fondant to create that 'fresh egg' look inside. The halves are then shut in a book mould to create the final product, that is then wrapped for sale. If you want to see everything in action, there's a great video on YouTube (and below…) from Bloomberg on the full UK production process.
Probably the most bizzare thing in the whole production process, apart from the fact that there's someone working for Cadbury whose job title is 'Easter Shift Manager', is that all of this happens in winter. Supply chains are year-round anyway, but production processes need to be done in such a way that the hundreds of millions of eggs are ready for shipping for the 1st of January.
There you have it – a brief history of, and the not-so-secrets behind manufacturing one of the pillars of Easter. Now, I don't know about you, but we're off to the shops for a few Creme Eggs before they disappear for another year…!