What do you get when you put two award-winning women of procurement together?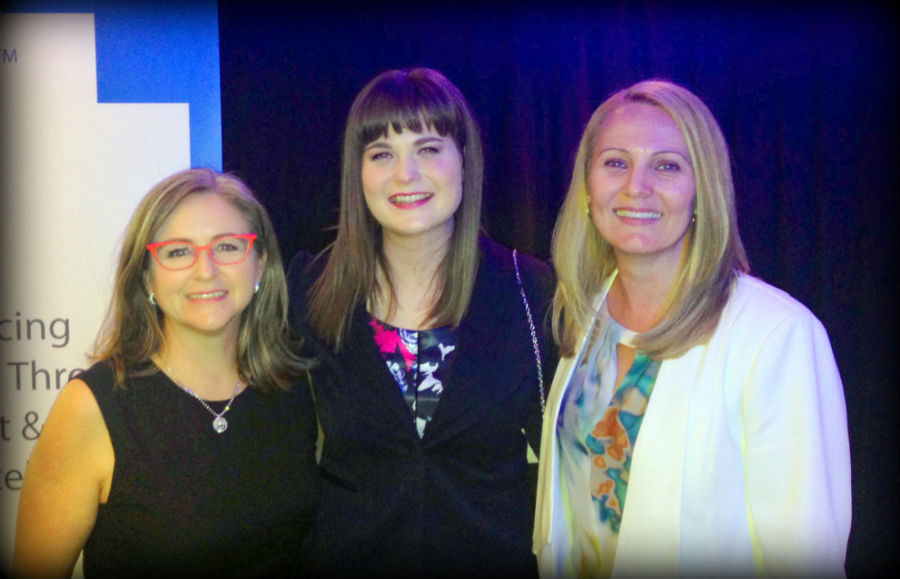 Inspired by the Women in Procurement panel at the 2013 CIPS Australasia Annual Conference – four women blazed a trail for a new breed of mentoring program. Just under a year later the Australasian pilot of the global Women in Procurement has become a reality – the program has been designed to connect future procurement leaders (both female & male) with female role models they don't necessarily have access to in their sector or region. There is also hope that it will address some of the disparity found in the percentages of women in procurement roles, into the future.
Those  four motivated women were Linda Eames (Head of Group Procurement, NRMA), Sommer Baxter (Director Procurement, PwC), Carrie McCafferty (Category Manager, Westpac), and Sarah Collins (CPO, Roads and Maritime Services).
With this fresh in mind, enter Billie Gorman (Manager Procurement Excellence at Thiess), who connected the 2014 Young Procurement Professional of the Year with another award-winner – Visna Lampasi (The Faculty's CPO of the Year).
Bree Pitcher won the CIPS Young Procurement & Supply Chain Professional Award at the recent 2014 CIPS Procurement Awards in Sydney – she will be mentored by Visna Lampasi over the next twelve months.
Procurious talked to both women following Billie's introduction, quizzing them on their wins, the future, and importance of the mentorship program.
Procurious asks: Let's talk the power of networks – why do you invest time in growing your network?
Visna answers: Skilful networking, which these days is far more than shaking hands and introducing yourself, is a powerful marketing approach which can accelerate the access to opportunities as well as sustain success.  From a business perspective, it provides me with the ability to identify and tap procurement talent for future hiring, as well as bringing ideas and people together that would have not otherwise crossed paths.
If fact, it was Billie Gorman (Procurement Excellence Manager at Thiess) from my network who had introduced me to Bree Pitcher at the recent CIPS Procurement Professional Awards dinner in Sydney, Australia and suggested the potential mentoring opportunity.
Procurious: What impresses you about young people starting out careers in Procurement?
Visna: These days, young people have far more resources available and they are utilising them. They are also establishing and leveraging their networks, actively seeking out Mentors (more than one in many cases) and often have a career path already mapped out for themselves which they regularly review and adjust.  When I first started in procurement, there were not many courses available in Australia.  Fortunately, the companies that I had worked for were multi-nationals which gave me access to programs offshore.
Procurious: Why mentor? What are the benefits to you? 
Visna: Mentoring gives me the ability to share my knowledge and experience, which hopefully are useful insights to assist someone with navigating the organisational landscape.   It also gives me the opportunity to give back to the procurement profession, as well as the satisfaction that I am helping someone to achieve their professional goals.
Procurious: Do you have any top tips for others wanting to position themselves as a great mentor?
Visna: Outside of being qualified on the relevant subject matter and interested in the development of others, a mentor needs to display the highest of ethical standards, be a good listener and be able to steer, guide and inspire the mentee rather than direct and control.
The American author William Arthur Ward said it best – "The mediocre teacher tells. The good teacher explains. The superior teacher demonstrates. The great teacher inspires".
Procurious: How has mentoring changed since you first started your career?  
Visna: Mentoring is utilised more nowadays than in the past.  Many organisations and professional bodies offer formal mentoring programs which are well structured.  For example, it would not be unusual for the two individual's to enter into a Mentoring Agreement, along with having documented Mentoring Action Plans which are reviewed periodically throughout the relationship to ensure that they are on track.
Procurious: Did you have any mentors on your way up?  Do you still now? 
Visna: Fortunately for me, I did have a number of senior male mentors during my career who took me under their wing. This was particularly important to me, as the majority of my career had been spent in male dominated industries. Up until most recently, I also had a female Executive Coach assigned to me by my previous employer as part of their senior executive leadership program.  Whilst I am in between mentors at the moment, I still keep in contact with those that have helped me throughout the different stages of my career.
Bree Pitcher
Procurious asks: What does it mean to have CPO of the Year as your mentor?
Bree answers: I am very fortunate to have Visna as a mentor. It is clear that she has achieved so much in her career to date and I look forward to spending time with her and learning from her wealth of knowledge and experience. The opportunity will greatly assist me in developing further as a young professional which in turn will help me to progress my career and achieve my future goals.
Procurious: How did you get into Procurement?
Bree: I, like many others in the field, stumbled across the procurement profession. As a soon to be university graduate I by chance met a representative from the Queensland Government Procurement Office at a careers fair held on campus. As soon as I heard about what was involved I knew it was the career for me. I applied and was successful in obtaining a placement in the Queensland Government Procurement Professional Graduate Development program placed at Government Owned Corporation Tarong Energy now Stanwell Corporation.
7 Years on, I feel so very fortunate to be part of such an exciting profession. I enjoy the challenges of my role each and every day and thrive on the opportunity to make a measurable impact and difference in my organisation.
Procurious: As a millennial do you see a change in this new generation of procurement? 
Bree: It is truly exciting to see so many young, capable and passionate professionals involved in the procurement profession. From my own perspective, I am never afraid of a challenge, continuously question the norm and strive to think outside the box, all important and distinctive traits in which I see very often in many of my millennial peers. For this young and enthusiastic generation the profession really does present so many exciting challenges and opportunities to make a difference. The foundation and ever increasing profile for procurement which experienced CPO's like Visna have worked so very hard to build and foster within business means the opportunities are plentiful and for me, procurement really is the "career of choice".
Procurious: Networking and making contacts is a valuable career investment! To that end, how are you investing in your network?   
Bree: I cannot stress more the importance of building and fostering a professional network. I am very fortunate to be involved in professional associations such as the SCLAA and CIPS where I have had the opportunity to meet and liaise with likeminded and passionate individuals who are happy to share their knowledge, offer guidance and provide introductions to others in industry. In fact it is through my network that I was fortunate enough to be introduced to Visna.
For me the investment in my network is essential in my development as a professional, however it is equally as rewarding to give back and share my own knowledge and experience with my peers.
Procurious: How did the mentoring opportunity come about?
Bree: I was fortunate to be introduced to Visna at the 2014 CIPS Australasia Awards Dinner through the wonderful Billie Gorman, a procurement professional whom I connected with through my own professional network. Visna was delighted with the announcement that I was the winner of the CIPS Australasia Young Procurement and Supply Chain Management Professional of the Year award for 2014. She kindly offered to mentor me and we have since begun to connect. 
Procurious: What do you hope to get out of the mentoring experience?
Bree: I look forward to working with Visna to help identify areas in which I need to build upon my current skillset and experience to enable me to further progress in my career. My ultimate goal is to one day become a successful CPO leading and inspiring others to make a difference and deliver valuable outcomes for business. I know Visna as the successful professional and CPO of the year that she is will be able to share her knowledge and guide me further with my own career path.
Procurious: And finally, can you provide any tips on finding a great mentor?
Bree: Finding a great mentor and someone who is the right fit for you is not always a short and simple task. There is great potential to meet your next mentor through your professional network connections. I would also encourage those interested in finding a mentor to become involved in professional associations. In particular a number of associations (including the SCLAA) now offer formal mentoring programs whereby mentors and mentees are paired and connected. The important thing to note with regards to mentoring is that you personally have to know what you want to achieve from the experience. Your mentor is there to guide you however you only get out what you put in to the opportunity.
Procurious thanks both Visna and Bree for their time.
If you are interested in registering for the Women in Procurement program you'll need to complete the registration survey by clicking here.