5.6 million U.S. manufacturing jobs didn't move to China and Mexico – they simply disappeared with the march of technology. And that's the flaw in America First!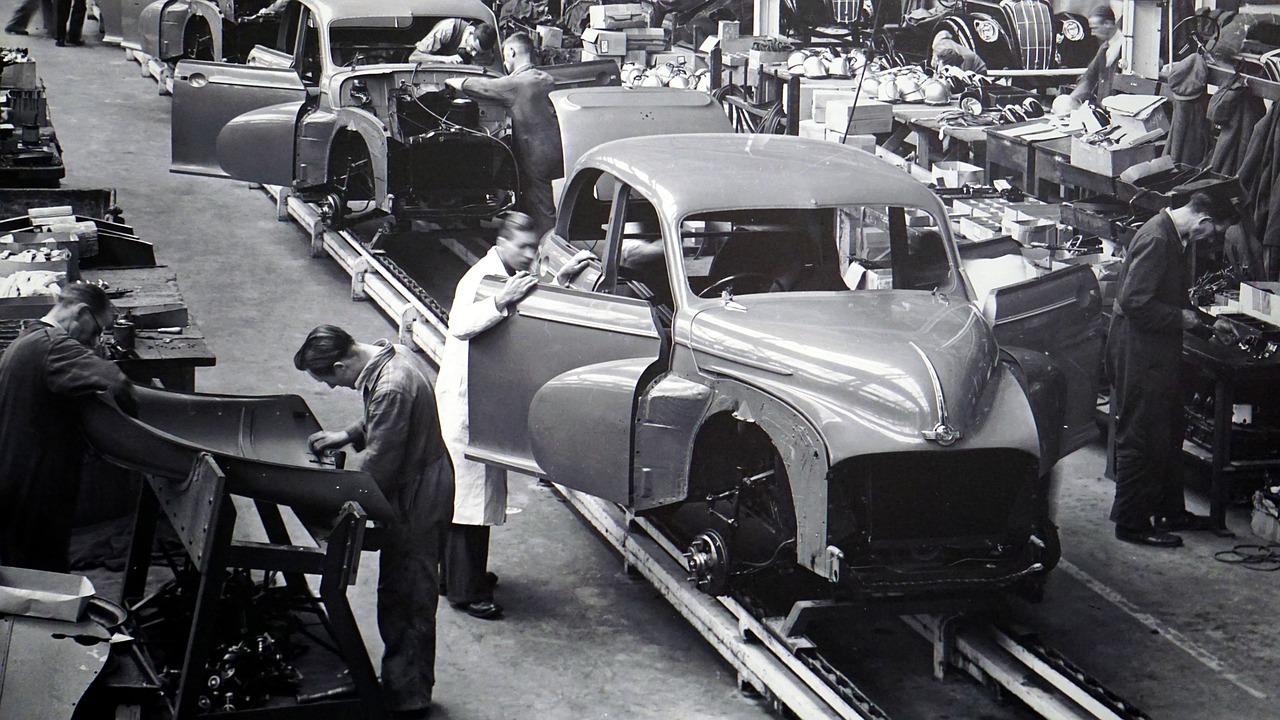 Trump's stunning election win has been linked to his successful portrayal as both a friend of Corporate America and a champion of the working class. His business-friendly policies include large-scale deregulation, slashing tax rates and a huge infrastructure spend, which (in theory) are designed to boost jobs through trickle-down economics.
But the support of Corporate America isn't enough to remain in power. In order to retain the presidency for another four years after the 2020 election, Trump will have to deliver on the key promise that won the support of the disillusioned working class – bringing industry home and reviving jobs in America's once-thriving industrial rust belt.
However, there's a miscalculation at the heart of the rhetoric around bringing jobs back from overseas factories.
Robots, not overseas workers, have taken 85% of manufacturing jobs
A recent study from the Centre for Business and Economic Research at Ball State University found that:
Employment in the manufacturing sector fell by 5.6 million between 2000 and 2010.
Productivity growth (automation) accounted for more than 85% of jobs lost in manufacturing in this period.
Only 13% of the overall job loss resulted from trade (including Chinese imports).
Meanwhile, U.S. manufacturing output has risen steadily, growing 17.6% between 2006 and 2013.
Simply put, American factories – and factories worldwide – are producing more goods with fewer people. Automation is rendering millions of low-skilled jobs redundant, yet Trump's key policy aim to "bring back jobs" seems to be mistakenly focused on increasing trade protectionism.
Protectionism could backfire by further accelerating automation
ABC's business editor Ian Verrender writes that even if Trump "slaps massive import duties on Chinese goods and forces his country to start producing everything at home via the magic of 'America First'", it risks leading to a domino effect where business will be forced to find efficiencies in order to survive.
The loss of access to low-cost labour would drive up the cost of consumer goods, meaning Americans would find themselves unable to afford the goods to which they've become accustomed.
This lack of affordability would spark demands for wage rises.
Firms would respond by pushing even further into automation, using robotics and AI to cut costs.
Verrender comments: "Where once corporations scoured the globe for low-cost labour, and duly shifted their operations, they [would] now seek ways to eliminate labour altogether, particularly in manufacturing."
Accelerating automation is inevitable
The loss of jobs to robots is only expected to broaden and accelerate. A report from two Oxford researchers found that an incredible 45% of U.S. jobs, across all sectors and professionals, are vulnerable to being automated within the next 20 years.
For example, self-driving technology alone could lead to the unemployment of 1,000,000 truck drivers in the U.S., along with approximately 160,000 Uber drivers, 230,000 taxi drivers and over 600,000 bus drivers.
Some of the big names to comment on the coming social disruption include Stephen Hawking, who wrote last year: "The automation of factories has already decimated jobs in traditional manufacturing, and the rise of artificial intelligence is likely to extend this job destruction deep into the middle classes, with only the most caring, creative or supervisory roles remaining."
In February, Elon Musk asked the audience at the World Government Summit in Dubai: "What to do about mass unemployment? This is going to be a massive social challenge. There will be fewer and fewer jobs that a robot cannot do better [than a human]. These are not things that I wish will happen. These are simply things that I think probably will happen."
Bill Gates commented: "You cross the threshold of job-replacement of certain activities all at once. Warehouse work, driving, room clean-up – there's quite a few things that are meaningful job categories that, certainly in the next 20 years, [will go away]."
What's the answer?
Marc Benioff, chief executive of Salesforce.com, warned the World Economic Forum in Davos of the "digital refugees" that would be created by AI. "This is the moment … when we have the highest level of anxiety because we can see advances in AI that are beyond what we had expected," he said. "It's happening at a rate and a capability that we are worrying about how it will impact the everyman, the broad range of workers around the world . . . There is no clear path forward".
One hopeful sign is that a public discourse on the disruptive effects of automation has begun. Thought-leaders have already put forward some solutions, although they may seem politically unpalatable at present. Elon Musk recommends that the U.S. adopts a universal basic income (such as that being trialled in Finland) to keep the economy going and guarantee a standard of living for the millions of workers expected to be displaced by automation. Bill Gates has suggested taxing robotic workers to recapture some of the money displaced workers would have paid as income tax. Education, too, will need to transform to equip future generations with the skills needed to find work in a highly-automated future.
Although Trump appears to be currently focused on the wrong job-stealing "villain" (China), there is hope that leaders will listen to the likes of Bill Gates and Elon Musk and start planning ahead for the social upheaval of what has been dubbed the fourth industrial revolution.
In other news this week:
France passes "duty of vigilance" supply chain law
Last week, France passed a law that pushes for accountability for multinational companies sourcing from global supply chains.
The "duty of vigilance" law requires companies to establish safeguards designed to ensure that labour rights and other human rights are respected in the production sites they source from.
The law requires large companies based in France to create a document that sets out their procedures for evaluating suppliers and mitigate human rights abuses. Violating the "duty of vigilance" law can lead to a penalty of up to €10 million.
Read more at Supply Chain Dive
Trump seeks historic increase in military spending
President Trump's first budget seeks to boost military spending by $US54 billion. The US currently spends about $US584 billion annually on defence.
If passed by Congress, the 9% increase will be funded by cuts to non-defence spending, including environmental programs, diplomacy and foreign aid.
Last year, the rest of the world combined spent a total of $US317 billion on defence. The highest-spending countries under the US were China ($US146 billion), Saudi Arabia ($US82 billion), Russia ($US66 billion) and the UK ($US56 billion).
Read more at ABC News