Don't be seduced by a sleek user interface or fancy bells and whistles – it's the solutions ability to address your most critical spend categories, use cases and suppliers that really matter in the long term.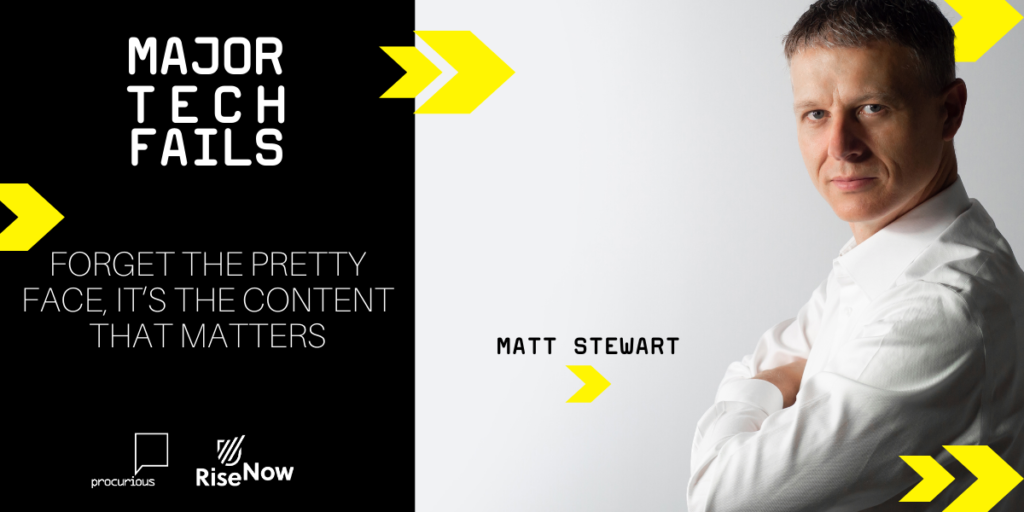 ---
It's easy to be taken in by the shiny exterior of a product, it's pretty packaging, isn't it? As we all know, companies use clever product branding and marketing to draw us in and boost their sales. And the pretty-packaging strategy is no different when it comes to tech solutions.
Think about the last tech solution you or your organisation purchased. More than likely it had an appealing design, intuitive user interface, and web 2.0 look and feel. Or maybe you were drawn in by the way the system looks in mobile or app form? These are all design features intended to lure in a tech buyer.
But is design really what matters most when it comes to making a success of your tech implementation?
Success Requires More Than Just a Pretty Face
Once you've decided to purchase a new tech solution, you pull together your shopping list of requirements. Key stakeholders add to your list of requirements and then each requirement is stack ranked based on need. "Must-haves" vs. "nice to haves" are thrown together into an RFP. Tech vendors check all the boxes and impress you with their demos. By the time you see the third or fourth vendor, you start to believe, any one of these vendors can meet our requirements and help us achieve the success we desire.
Then the system demos take place and that pretty packaging comes into play. There's a risk that all the focus on the shiny new objects distracts from what really matters. So how do you stay focused and stick to your requirements and select a tech solution that's right for you?
Here are my three tips to keep your mind focused and ensure your head isn't turned by the razzle-dazzle of a great sales presentation.
1. Keep suppliers top of mind
One of procurement's key relationships is with the suppliers that we use. Choosing a solution that puts the suppliers' user experience at the top of your priority list is pivotal to making your tech implementation a success.
Your business case probably includes reducing supplier-related work. As far back as 2015, Hackett Group research estimated that e-invoicing could cut costs by 31 percent and supplier enquiries by 24 percent – big wins for you and the team if you get the implementation right.
But this goes beyond making it easy for suppliers to transact efficiently, it includes making it easy for suppliers to keep their content up to date. Supplier data, certifications, qualifications, financial info, and catalog info are just a few things that suppliers can keep up to date to make it easier on you and your team.
During your selection process, don't forget that suppliers are no different to any other user of new tech. They expect it to be free and easy to use or they, like your end users, will do all they can to go around the system.
Successful supplier adoption of new tech can be critical to making your implementation work. If buyers ensure that regularly used suppliers are onboarded correctly and ready to go at go live, then adoption will be a whole lot easier for your end users. Why? Because the suppliers they are used to transacting with, will be easily found in your new tech. Resist the pretty packaging and keep your supplier experience top of mind.
2. Ensure your new tech effectively addresses the categories that matter most
Imagine you have just installed your new tech and your end users engage the platform only to find that their spend categories are not enabled. It doesn't really matter how intuitive the user interface is or how much it looks like Amazon.com. If they can't engage with their suppliers and buy from the categories they typically buy, they will not adopt your new tech.
Buyers of tech can easily be persuaded to focus on the shiny new object. Don't be distracted, stay focused on what really matters for your end users. What spend categories must your new tech address to deliver the value your business case promised?
Make sure your new tech supports the categories and departments that are large spend areas, but are not effectively managed today. If your new tech can match the spend coverage you have today, while also positively affecting categories and departments that you have typically struggled to manage, you will see wider spread adoption and a significant increase in spend under management. Your end users will feel as though they have been heard and will appreciate that you are implementing a solution that appears as though it was built for them.
3. 'Keep the main thing the main thing'
In the razzle-dazzle of the tech demo, it's easy to lose track of the critical use cases that separate success from failure. Tech companies will want to show off their most fancy stuff, but that is not typically where success is found. In fact, many that focus on the shiny objects don't focus enough attention on the use cases that matter most.
For example, what's the real use of an Amazon-like procurement system when a very small percentage of your spend is actually "shopping" for items? It is also a very low bar for any system to shop for a laptop, put it into a shopping cart and route it for approvals. That changes though if your end users are shopping for MRO and/or research items where shopping is the norm.
We are also seeing a trend for organizations moving toward systems that are able to effectively address use cases for both direct and indirect. This is certainly an area that you don't want to assume your new tech can effectively address. Take the time to engage the right stakeholders and let their voice be heard. Bringing them in after contracts are signed is way too late.
Ask yourself – does the tech solution give me what I need? Are core functions as they should be? Is the user experience for suppliers and end users acceptable for your standards? Does the solution cater to your key categories and departments? You will find there is a big difference between updating your processes to fit best practices to minimize customization and feature requests with your new tech and trying to fit a square peg in a round hole on the other. Make sure you're clear on what your critical use cases are and the features that you will need to support them. Consider how much you are prepared to change processes to fit within your new tech and document everything so all parties are on the same page on what needs to be done. This will help clarify which tech is a better fit and which solution is better aligned to support your industry and organizational uniqueness.
It's great to have a tech solution that has a pretty face. But the lure of pretty packaging may lead you down a path that's just not right for you, your team or your business. Use my 3 tips during your selection process to ensure you get a solution that will deliver the outcomes you are expecting.
To go deeper on how to find your perfect tech match, download our e-book 'How To Select Source-To-Pay & Procure-To-Pay Systems That Deliver Results' and tune in to our series 'Major Tech Fails.'