Energy politics has reached fever pitch in South Australia, where an increasingly fraught situation has been disrupted by a single tweet from Elon Musk.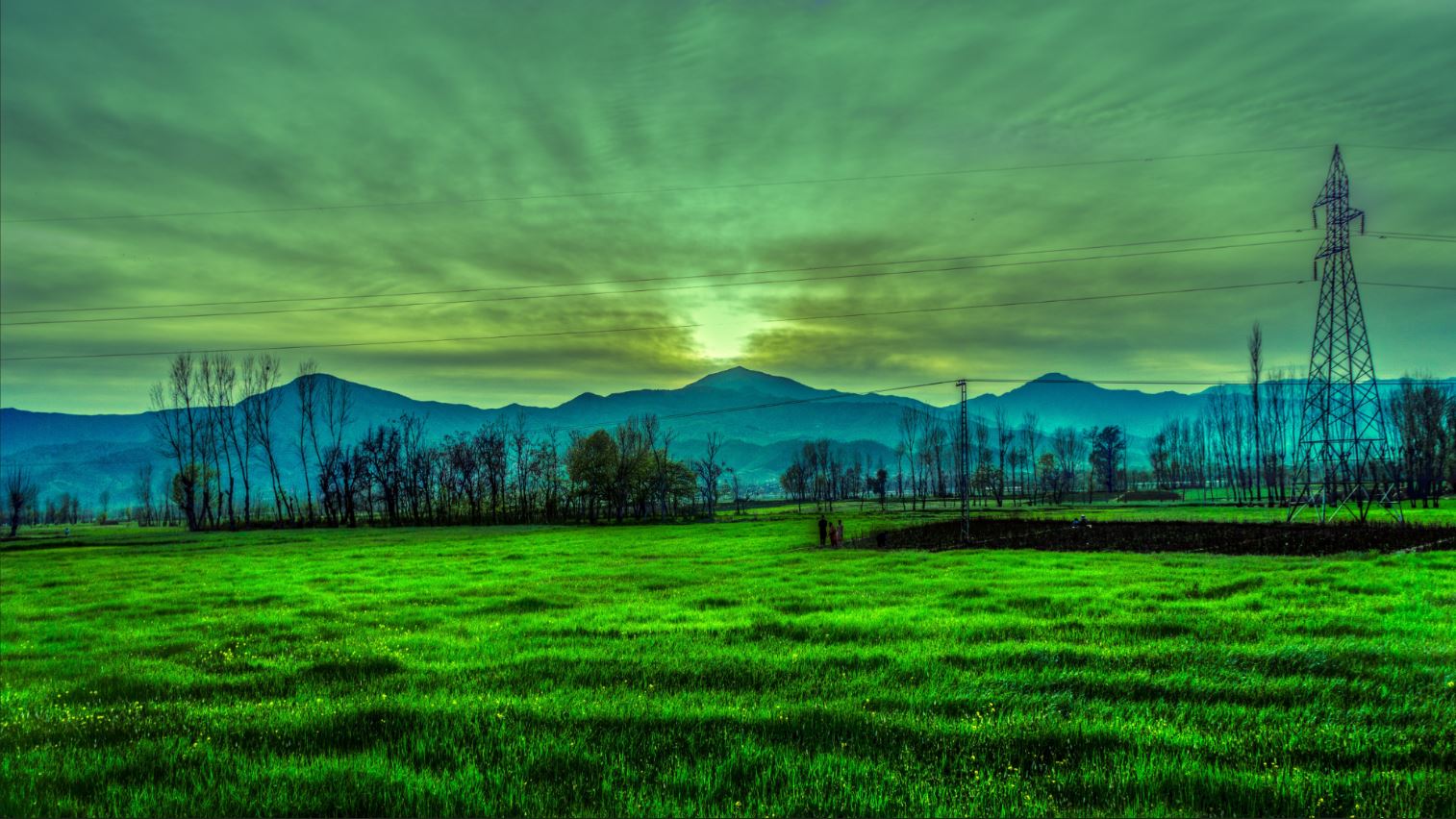 Take a moment to feel sorry for your procurement colleagues working in the Australian energy sector. Since former Prime Minister Tony Abbott's now-famous "axe the tax" campaign against a national carbon trading scheme in 2011, Australia has been without a clear federal energy policy, leading to very little certainty about future direction for the sector.
This is a problem, as power companies plan three to four decades ahead. A lack of bipartisanship on this issue means that even if a policy is put in place, any future change of government (from Coalition to Labor) would mean a rollback of the hard-won legislation of their predecessors. Power companies know that at some stage in the near future, a carbon trading or emissions intensity scheme will need to be put in place, but they don't know what form it will take, when it will happen and what the targets will be.
Compounding the issue, the Federal Coalition government is at odds with Labor-majority state governments around Australia on energy policy, culminating in this tense exchange last week between South Australian Premier and the federal energy minister, Josh Frydenberg. South Australia has drawn the lion's share of criticism from the federal government on its energy situation. The state has an aggressive renewable energy target of 50% by 2025, with a high reliance on wind power.
South Australia's energy crisis started in earnest on 28th September last year, when the state experienced a once-in-50-year storm event. Gale force and storm force winds, including tornadoes and 80,000 lightning strikes, damaged 23 pylons on electricity transmission lines. As a result of the initial damage and automatic safety features shutting down undamaged parts of the network, the entire state power grid cut out for at least three hours while emergency repairs were underway. 
Power gets political
Even before the power was switched back on, a number of politicians in the federal government commented on the crisis, linking the storm damage with the state's renewable energy target. Prime Minister Malcolm Turnbull said South Australia had paid "little or no attention to energy security", while the Deputy Prime Minister, Barnaby Joyce, told the ABC that "Wind power wasn't working too well last night, because they had a blackout". One Nation senator Malcolm Roberts took the opportunity to urge all government to "exit all climate change policies."
Much of the news cycle following the storm was dominated by a debate over renewables and energy security, and whether the storm damage or the state government's policy was to blame. The situation was compounded by a series of further blackouts while calls increased for an urgent review of energy security at the state and national level. The debate spilled over into the international media, with South Australia rapidly becoming a much-cited example of a failure for renewable energy. Renowned Danish wind farm expert Soren Hermansen, who helped create the world's first 100% renewable island, defended wind power by saying, "I'd have to go to Australia to deal with a blackout. We have a very powerful grid – we don't experience any failure."
Musk intervenes
Dropping unexpectedly into this politically-charged debate, billionaire co-founder of Tesla and SpaceX Elon Musk presented a game-changer with a single tweet earlier this month: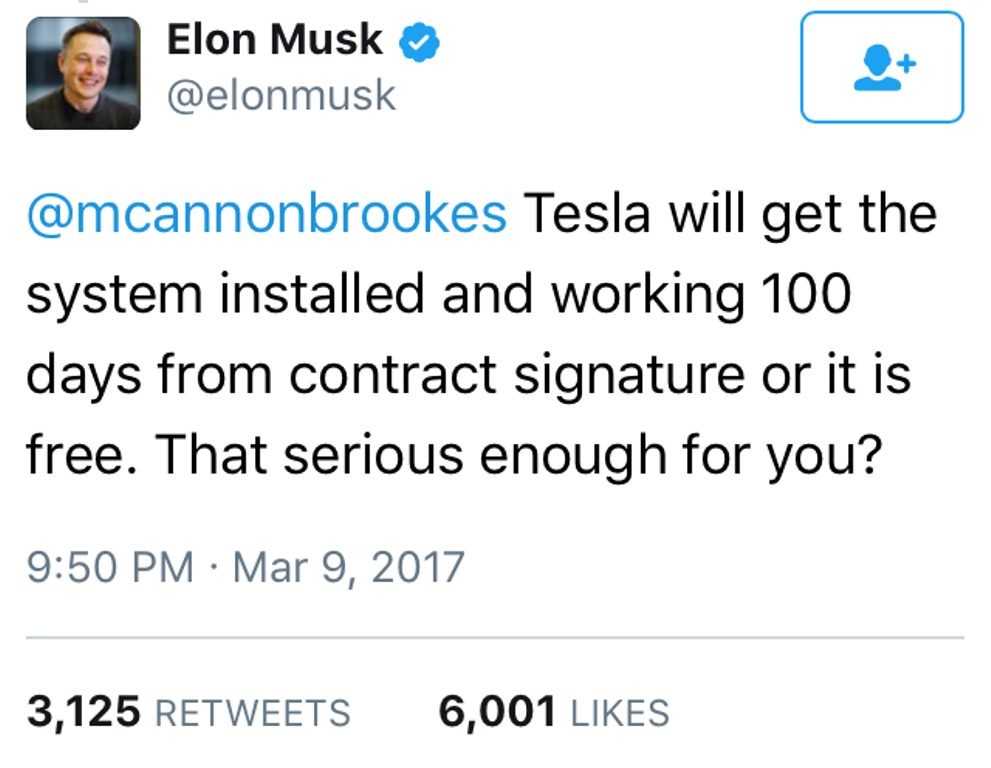 The offer was originally made by Lyndon Rive, Musk's cousin and Tesla's vice-president for energy products. Tesla has offered to install the 100 megawatt hours of battery storage that would be required to prevent further power shortages, price spikes and blackouts in South Australia. When pressed on Twitter by Mike Cannon-Brookes (Australian co-founder of Silicon Valley start-up Atlassian) on the seriousness of the offer, Musk himself doubled down with the pledge to "get the system installed and working 100 days from contract signature or it is free".
Tesla's confidence in its ability to deliver stems from the stepped-up battery production out of its new Gigafactory in Nevada, along with a recently-completed installation of an 80MWh grid-scale battery farm in southern California. The Californian project took 90 days to complete and cost US$100 million.
After a flurry of tweets and an hour-long phone call between Elon Musk and Prime Minister Turnbull, the debate around energy policy in Australia appears to have switched to an entirely new (renewable) direction. South Australia has announced a $550 million energy package, with:
$150 million for a 100MW grid-scale battery
$75 million in grants and another $75 million in loans to eligible projects which support private innovative companies and entrepreneurs
A $360 million state government-owned gas-fired 250MW power station to provide energy security when needed.
Meanwhile, Prime Minister Turnbull has unveiled $2bn expansion plans for the Snowy Mountains hydro-electric scheme, aimed to add 2,000MW to the scheme's 4,100MW  capacity, or enough power for 500,000 homes. In a sign that the tension between federal and state energy policies continues to play out, Turnbull told reporters that the hydro-electric scheme will provide 20 times the capacity of the South Australian battery system.
Encouragingly, in the past month the national debate seems to have shifted away from the decades-long opposition between renewables and coal, to the state and federal governments trying to outdo each other on renewable projects. Cannon-Brookes wrote the following in a series of tweets that capture this shift:
"The national energy conversation seems to palpably have changed. We're debating lithium ion vs flow vs pumped hydro storage solutions … whether 100MW is enough [or whether] 2GW is too much. $150m [investment in grid-scale batteries] in South Australia, $30m in Victoria, $2bn Federally. I'm confident there will be a series of good bids [for battery storage tech providers] in South Australia. Super funds, power operators, HNWs and many individuals wanting to invest. Most importantly, Australian people and the tech community and speaking up, loudly, that they want change."
In other news:
Heavy construction equipment manufacturers waiting on Trump's infrastructure plan
Executives in the construction industry are concerned that President Trump has not yet invested time to win congressional backing for his $1 trillion spending plan for large road, rail and bridge projects.
Equipment manufacturers have experienced low activity from farming, construction and mining clients in recent years, and are reportedly impatient for information about what form the investment will take.
The administration has indicated that an infrastructure plan would come after Congress deals with complex health care and tax reform.
Read more at The Wall Street Journal.
Kids @ Work: Children crash professor's live interview with BBC
In a now-famous video interview, Professor Robert Kelly's children burst into his room while he is discussing the impeachment of South Korean President Park Geun-hye with a BBC anchor.
The interview was interrupted first by his daughter, who dances into the room to join her father, then a baby in a bouncer and finally by his wife rushing in to herd the children out of the room.
Read more about incorporating your children into your work day on the Procurious blog.