Dying to move on? Then try lying. Don't worry, you won't be alone if you lie to get a job…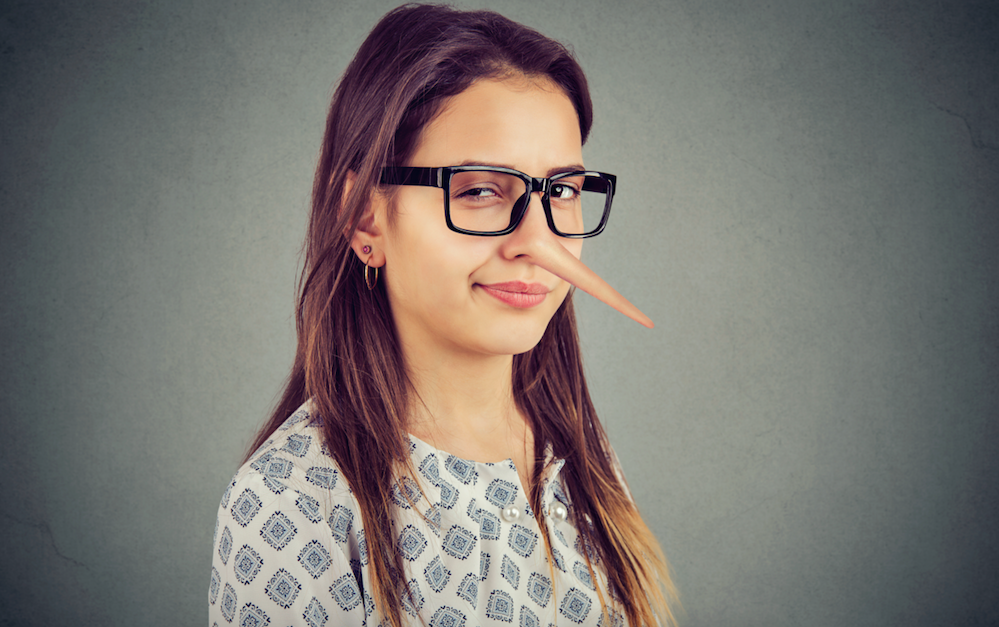 More than half of us confess to not telling the whole truth on our CVs and one in ten people have even managed to land a new role as a result. However, there are certain do's and don'ts to take into consideration.
Embellishing experience
This is the most common untruth according to research from The University of Law, with nearly one in three confessing to lying about past experience on their CV – and that's because it is easy to get away with a few exaggerations, provided what you are saying is based on facts.
Careful wording is key. So, "experience of leading a team" is fine even if you have only done this once or twice. "Experienced team leader", however, is probably a step too far.
Avoid any claims that are easy to check. You can be vague on dates (for example, 2015 to 2016 – is a way to get around a very short time in a job that lasted just a few months from November to January), but listing your title as "Operations Director" when your LinkedIn profile/the company website clearly states "Manager" is asking to get caught out.
Giving your skills a boost
This is another aspect of our CVs where we are more likely to lie. Skills are easier to exaggerate than qualifications (which are easy to check) and as such you are more likely to get away with a few embellishments.
With many CVs now scanned electronically make sure you include the exact words listed in the job spec to ensure you get through to the interview stage. Most of us can give examples of when we have been "target driven" or have shown "great attention to detail" so think of how you have shown these skills (just in case you are asked to prove your claims).
Hyping your hobbies
This is often the most difficult part of a CV to write. If you own up about spending your free time in the pub playing pool and drinking pints, it doesn't do you any favours. No wonder one in five say they would be most comfortable lying about their interests (but don't forget to do your research – interviewers often ask about hobbies to break the ice).
Keeping quiet about things you want to hide
This is not exactly lying. Around one in ten of us feel pressure to lie about our age. Why bother? The Equalities Act makes age discrimination illegal. As such you are not required to put your date of birth on your CV and should not even be asked about your age. The same applies to marital status, religion, gender and sexuality. In fact, if you feel uncomfortable lying follow the "if in doubt, leave it out" approach.
If all else fails…. own your failings
If you don't quite meet the job spec, don't worry. Talent shortages mean that many employers are now looking for someone with potential rather than holding out of a candidate that can tick all the boxes. The world of work is changing so quickly, that the job you are doing today will inevitably change over the next five to ten years.
As such adaptability and reliance along with soft skills such as relationship building, communication and organisation skills are more important than experience for many hirers. So, don't forget to add these to your CV.
But when it comes to tech… don't blag it
You may be able to demonstrate your soft skills by giving a few examples, but one area you are likely to get caught is with tech. Some employers may even give you a skills test or ask you to give examples of how you have used a particular piece of software.
James, 35, a Project Manager from London, and one of those surveyed by the University of Law, shares this cautionary tale: "Earlier on in my career I applied for a job that was out of my reach in terms of experience, but the money was good, and the company was one I'd always wanted to work for, I thought, why not try my luck? To help me secure the role, I exaggerated on my previous roles and claimed to be able to use a software I hadn't even heard of (how hard could it be to learn on the job, right?).
I landed an interview but didn't expect them to go into a detailed discussion about the software, asking me how I've used it to help run my projects and report effectively. I tried to guess my way through it, but they definitely knew I had no idea what they were talking about. Safe to say they didn't call me in for the second round."
So better to be safe than sorry….and if you are going to lie, don't lie about being able to do things you can't.
Want to get your wheels turning towards a supply chain career one could only dream of? Then don't miss our upcoming Career Boot Camp with IBM – a free 5-part podcast series with some of the very best of the best. Check it out here: https://www.procurious.com/career-boot-camp-2019