92 per cent of respondents believe that by 2030, procurement will look very different to today's profession. But what exactly will this evolution look like, and how do we get there? Download the Procurement 2030 Report!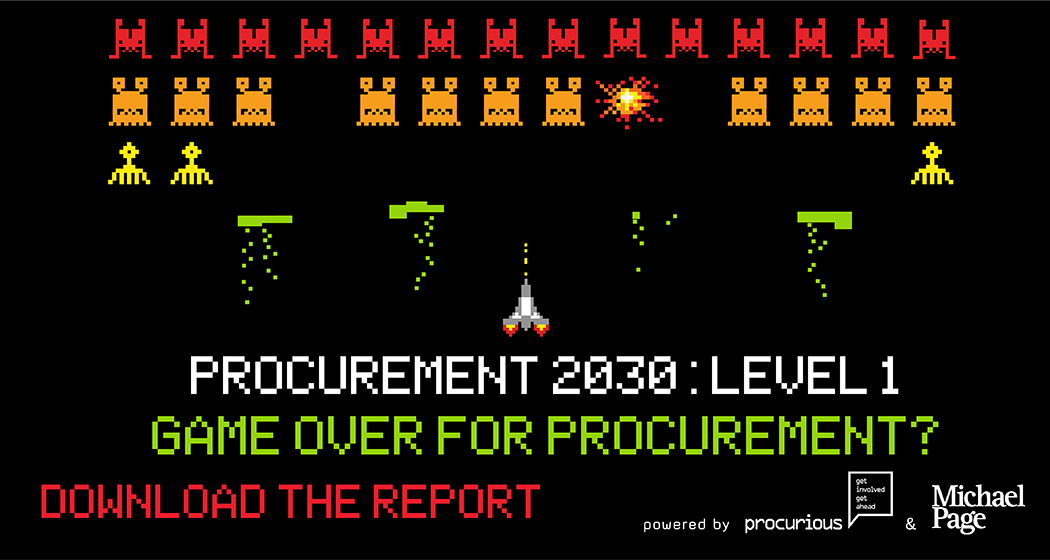 Procurious and Michael Page UK recently surveyed 590 procurement and supply management professionals from around the globe to uncover the facts about the outlook for the profession, the threats and opportunities facing procurement, and perceptions of procurement. Here's what we uncovered in our new report, now available for download.
Procurement is expected to evolve
All but 8 per cent of survey-takers roundly rejected the suggestion that procurement in 2030 would be similar to today. This stands to reason, given the transformation the profession has undergone in the past 10 to 15 years from back-office function to an influential and highly-visible part of the business that's increasingly focused on driving innovation and generating value.
Here's the result when we asked respondents what they expect procurement will resemble in 2030: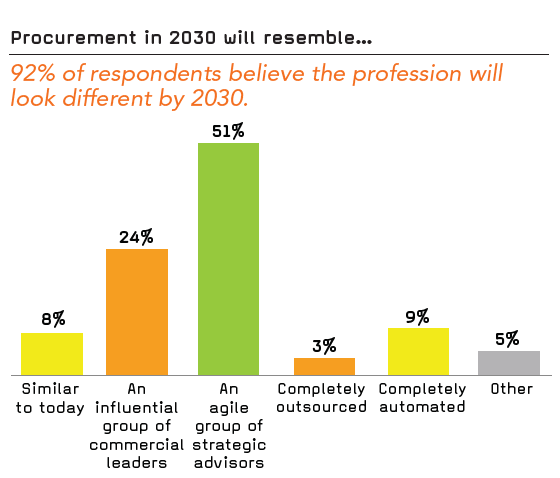 Just over half of our respondents believe procurement will evolve into "an agile group of strategic advisors". But what does this actually mean? It could refer to Agile (with a capital A) work practices that are sweeping through many of the world's top organisations, or perhaps it means that procurement will evolve into a high-value team of experts who will move around the business to give advice at the highest levels and solve specific challenges.
To use an analogy from the gaming world, this evolution is a bit like moving from a Space Invaders-style "mission-control" approach where you are dealing with a never-ending stream of issues from the bottom-up, to the approach taken in 21st-century games such as Fortnite or Call of Duty, where a highly cooperative group of professionals with different areas of expertise parachutes into a certain area to solve a problem before moving on to the next mission.
The word "strategic" is also key here. This report discovered that an incredible 49 per cent of procurement's current workload is regarded as "tactical". Filtering by role and seniority revealed that:
Survey-takers with "junior" roles identified 59 per cent of their workload as tactical in nature.
Analytics professionals have the most tactical tasks (57 per cent), followed by supply chain professionals (56 per cent).
The tactical workload of category managers sits at 46 per cent.
Concerningly, 57 respondents who identified as Chief Procurement Officers indicated that 40 per cent of their workload is tactical on average, despite having what is regarded as a highly strategic role.
It's also worth noting that two persistent concerns about the future of procurement have also been dismissed by survey-takers. Only 3 per cent believe the profession will be completely outsourced, while 9 per cent believe procurement will be completely automated by 2030.
Positive forecast
Procurement professionals remain optimistic about the profession, despite the rapid development of ever-smarter AI and media coverage of white-collar job losses to automation. In fact, optimism about the future has climbed by four points since this question was first asked in 2017.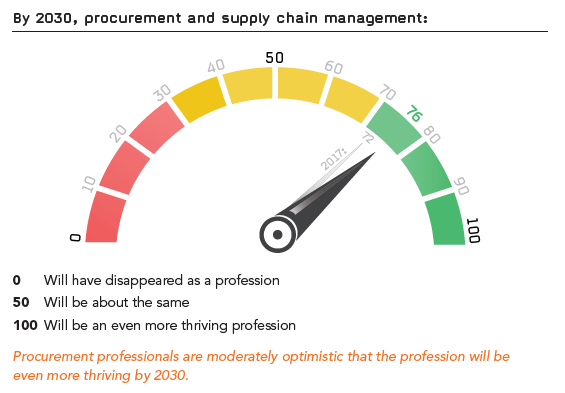 Similarly, job security is relatively high. Only 9 per cent of respondents report a lack of confidence that they'll be able to keep their role of the next 24 months.
While the profession itself is confident about its future, the task at hand is to broadcast this positivity to the wider organisation, other functions, and to suppliers. Building upon the brand of procurement will enable us to:
change the face of the profession from the inside out
overcome outdated stereotypes, and
educate others on the full value-offering of the profession.
Threats and opportunities
When we asked survey-takers to nominate the greatest threats and opportunities for procurement and supply chain management, we were surprised to discover that the top two threats are also seen as the top two opportunities.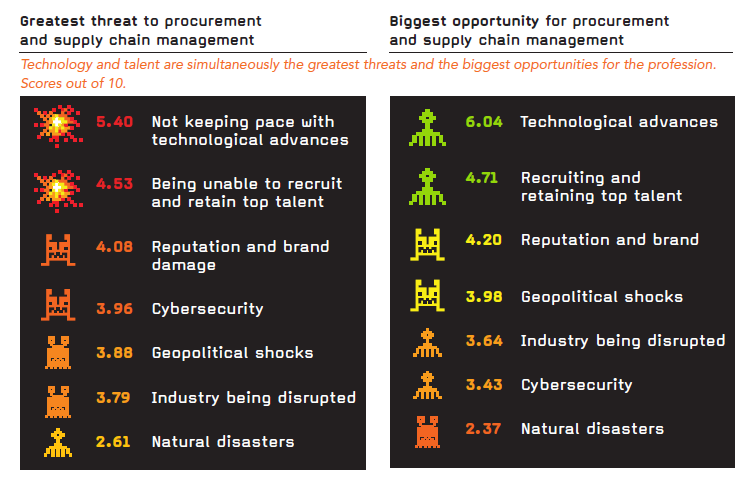 "Not keeping up with technological advances" is seen as the biggest threat, while technological advances are also seen as the number one opportunity.
Being unable to recruit and retain top talent is seen as the 2nd-biggest threat, while recruiting and retaining top talent is also seen as the 2nd-biggest source of competitive advantage.
Organisations must therefore retain their focus on investing in top talent, even while they are investing heavily in technology. It also follows that procurement functions with leading-edge technologies will be more attractive to top-tier candidates.
Prisoners of our own perceptions?
We know that the profession wants to evolve into an agile group of strategic advisors by 2030, but what's holding us back? In one word: perception.
Less than a quarter of respondents say their organisations have a strong understanding of procurement's value, while 21 per cent have "little understanding" of procurement's value-offering.
Procurement's own perception of its purpose needs to change if it is to expand its value offering and transform into strategic advisors and commercial leaders. At present, 38 per cent believe cost reduction is procurement's main purpose, followed by risk management.
The good news is that by 2030, the main purpose is expected to shift to two high-value tasks: "driving supplier innovation (29 per cent), followed by "driving sustainability" (25 per cent). Both of these revised areas of focus will also support procurement's core capability of cost reduction.
CLICK HERE TO DOWNLOAD THE REPORT.
But wait, there's more:
This content-packed report also contains links to heaps of relevant thought-leadership from  Procurious and Michael Page UK,  including videos, blog articles, podcasts and webinars.
And don't forget … parts 2 to 4 of the Procurement 2030 report will be released in the coming months!
Part 2: Preparing for Industry 4.0: September 2018
Part 3: Human vs AI Skill Sets: October 2018
Part 4: Procurement Makeover: November 2018
CLICK HERE TO DOWNLOAD THE REPORT.