Mind the Gap? We most certainly do but will it finally start to narrow?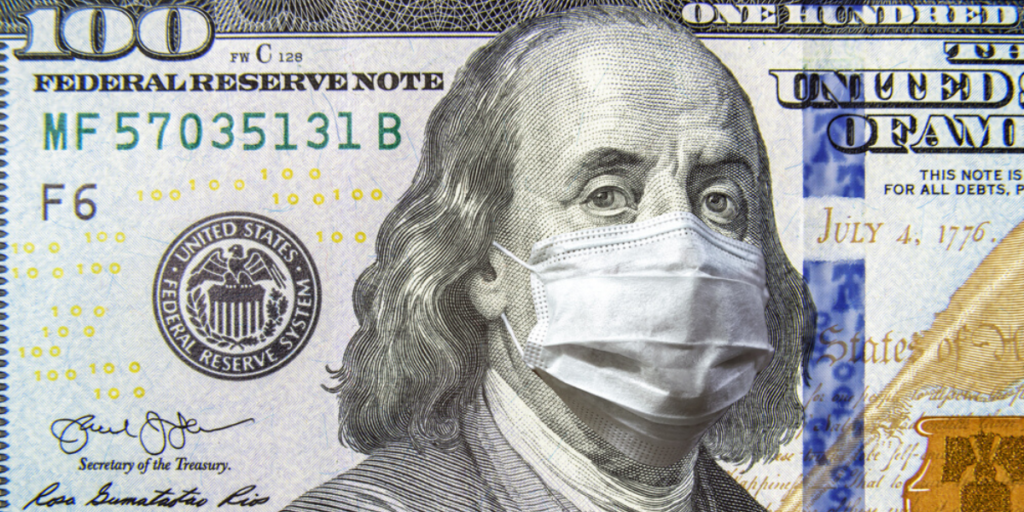 ---
Funny memes, inspiring posts and far too much fake news – we are being inundated with information to entertain, amuse, inform and frighten us while we are in lockdown or self isolation. However, one post that really caught my eye was about the value of people's work – it reflects a sea-change in attitudes towards excessive executive pay.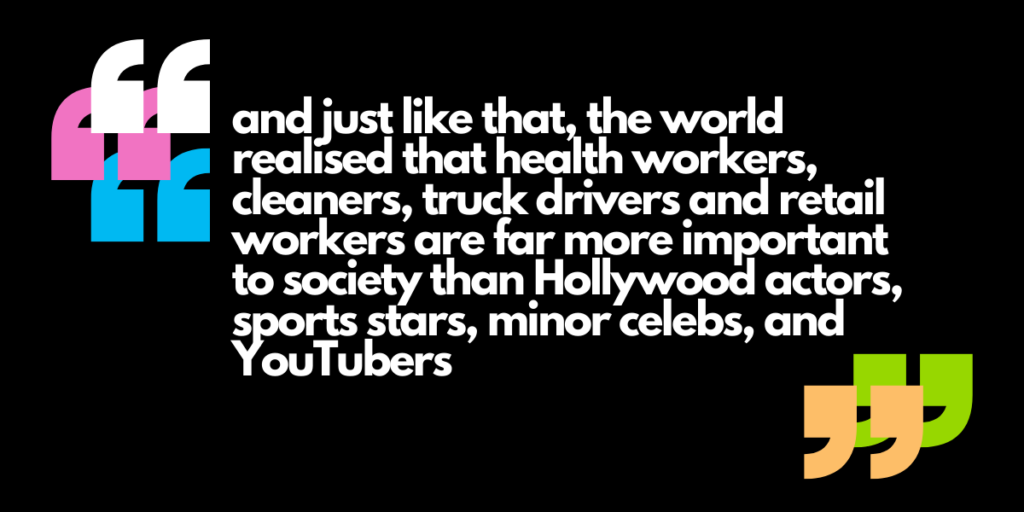 ---
To give them their due credit, a significant number of sports stars are taking pay cuts, several celebrities have announced vast donations to Covid-19 relief efforts and even Lady Gaga is giving a percentage of profits from her beauty brand to support food banks.
Mass altruism is a global phenomenon.
But what about businesses? Corporate Social Responsibility (CSR), it seems, is just a way to brand businesses as caring. So far, they are doing little sharing.
With footballers deferring 50% of their pay and tennis ace Roger Federer donating 1 million Swiss francs to vulnerable families, why aren't we seeing CEO after CEO lining up to do something similar?
While "ordinary" employees are being laid off or furloughed, most of the C-suite seem to be keeping quiet on pay.
WE WILL REMEMBER THOSE WHO GET THIS RIGHT – AND THOSE WHO DON'T
There are few exceptions… and they will not be forgotten. Those executives who are sharing the pain are doing a fantastic PR job for themselves and their businesses.
Take the CEO of hotel group Marriott Worldwide, Arne Sorenson, who will not be taking any salary for the balance of 2020 and whose executive team will take a 50% cut in pay. While Ford's top 300 executives will defer 20% to 50% of their salary.
However, considering the vast pay packets these top execs earn, a cut (or a lesser sacrifice of a pay deferral), seems pathetic compared to the generosity of sports personalities and stars of stage and screen.
Yet as more and more leadership teams follow suit, other boards will be under pressure to make similar sacrifices on salaries – or they could fall foul of public opinion.
When News Corp Australia announced that the executive team would take a "significant" pay cut in response to Covid-19 – showing that those at the top of the pay scale are sharing the pain of those at the bottom – it also added that executive perks such as entertainment and travel events were also being halted. It doesn't look good to be seen to be enjoying the perks of a private jet at a time like this.
It shows just how mindful organisations are of public opinion.
There will come a point when bosses who haven't budged on pay and bonuses will start to stick out…and it will be noticed.
THE BALANCE OF OPINION IS SHIFTING – AND IT'S GREAT NEWS FOR SOME ORDINARY WORKERS 
At the other end of the scale, there is beginning to be more appreciation of those in essential but poorly paid roles. Take Food City supermarkets in Chattanooga, Tennessee making headlines for giving its 16,000 employees a total US$3 million bonus reflecting their hard work ensuring people can still buy food at this difficult time.
In Singapore, frontline healthcare workers – who are at a higher risk of contracting Covid-19 – will be given a special bonus of up to one month's pay.
Across the world, there are similar stories of those at the bottom of the pay scale finally receiving some appreciation (in the form of hard cash).  
MIND THE GAP? WE MOST CERTAINLY DO BUT WILL IT FINALLY START TO NARROW? 
With trillions of dollars wiped off the value of the global economy – and the G20 pledging to inject $5 trillion to blunt the economic impact of the coronavirus pandemic – any exec whose remuneration package is based partly on performance is in for a big financial hit.
This could finally do something to narrow the phenomenal gap between pay at the top and bottom of organisations.
CEOs in the USA earn 265 times more than the average worker according to Statista, while in S&P 500 Index firms this increases to is staggering 361 more for the top boss than the average rank-and-file worker. 
Yet back in the 1950s the typical CEO made only 20 times the salary of the average employee.
SHAREHOLDERS MIGHT WIN THE DAY – AFTER SUFFERING SUCH HIGH LOSSES 
Shareholders have suffered some catastrophic losses. So they are likely to put significant pressure on executive remuneration committees to bring salaries back in line.
Or, as global advisory firm Willis Towers Watson puts it: "there are reasonable expectations to see directional alignment in the change of realized executive pay relative to shareholder value".
BUT AT THE END OF THE DAY – IT'S PUBLIC OPINION THAT REALLY MATTERS 
In the UK new regulations requiring certain UK companies to disclose their executive pay ratios are also designed to shine a light on inequality. And it's quite timely that the first reporting is this year. So, the requirement could not have come at a worse time for overpaid executives.
With the UK's Corporate Governance Code asking boards to create a culture which aligns company strategy with purpose and values – and explicitly requiring remuneration committees or RemCos to explain how pay policies for executives are appropriate in their annual reports – 2020 was supposed to be the year when the value of CEOs was brought into question.
According to the Chartered Institute of Personnel and Development (CIPD) in the UK for every CEO appointed, another 100 candidates could just as ably fill the position.
In a world where you cannot find 100 nurses or doctors or first responders to fill every vacancy, it is going to be hard for these RemCos to justify pay excess. And it is not just an issue in the UK. As with the coronavirus, this is a global issue and very much one that will dominate the corporate world in 2020. 
Want to join in on the coronavirus discussions? We have procurement and supply chain professionals from all around the world crowdsourcing confidence in our Supply Chain Crisis: Covid-19 group.