Amazon has been keeping us on our toes throughout the last fortnight. There have been rumours about their intention to open hundreds of bookstores, not to mention the white bald eagles that are being trained to keep control of the company's drone deliveries.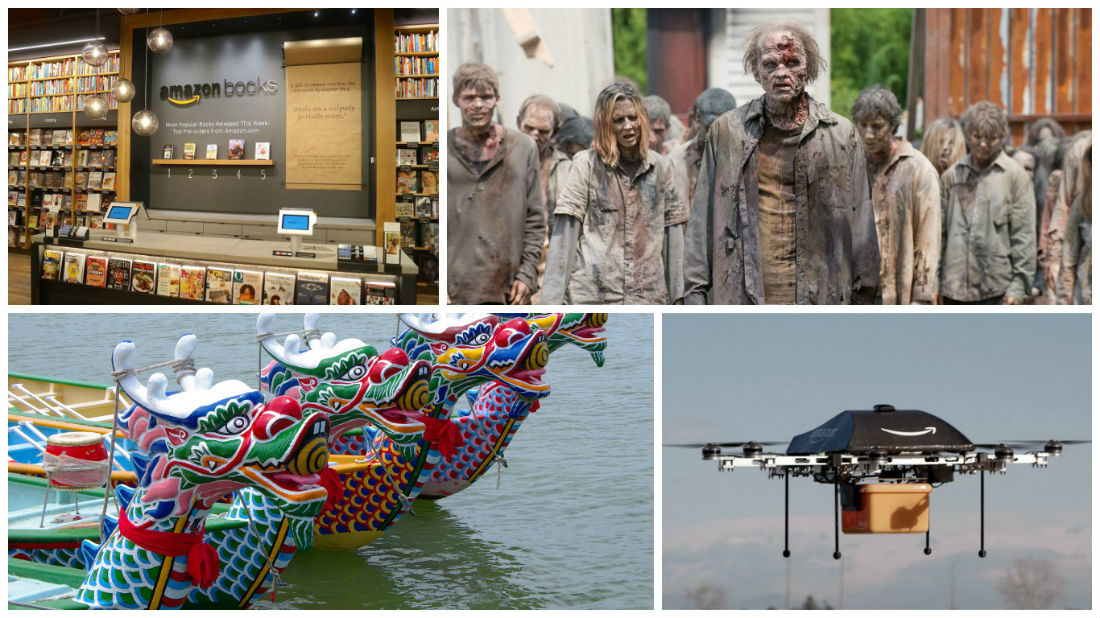 However, I'm not sure any of us could have predicted that the next Amazon news story to hit headlines would entail self-preservation in the event of a zombie apocalypse.
The retail giant also plans to build a global shipping business to rival those of UPS and Fedex.
Amazon Terms of Service
Amazon made an intriguing alteration to its terms of service this week following the release of its new Lumberyard Materials development tools.
Lumberyard is a game engine and development environment designed for professional developers. It supports the development of high-quality, cross-platform games, which can be run on Amazon's AWS servers.
Clause 57.10 of the organisation's Terms of Service, which refers to Lumberyard, states that the Materials tools should not be used with systems such as nuclear facilities, manned spacecraft, or military use in connection with live combat.
Fortunately, there is one, potentially useful, exception. The clause states that "this restriction will not apply in the event of the occurrence of a widespread viral infection, transmitted via bites or contact with bodily fluids, that causes human corpses to reanimate and seek to consume living human flesh, blood, brain or nerve tissue, and is likely to result in the fall of organised civilisation."
So, if you think that you can utilise a game engine to your advantage in the event of a zombie apocalypse, you're in luck. But, as The Guardian rightly points out, we've learnt from Shaun of the Dead that a cricket bat to the head works best of all.
Global Shipping Business
Bloomberg News revealed this week that Amazon plans to expand its 'Fulfilment By Amazon' service to directly rival FedEx and UPS, a claim that the company has repeatedly denied in the past.
The service, which could potentially launch a global shipping and logistics operation later this year has been named "Dragon Boat".
Bloomberg claims that there are documents detailing Dragon Boat as a "revolutionary system that will automate the entire international supply chain, and eliminate much of the legacy waste associated with document handling and freight booking."
'Fulfilment By Amazon' currently oversees storage, packing and shipping for third-party merchants on the site. Dragon Boat, however will enable these sellers to use Amazon to deliver products from warehouse to customer.
There are also plans to remove further intermediaries from the shipping process, theoretically simplifying things and further reducing prices in Amazon's supply chain.
This move will put Amazon in the position to rival Chinese e-commerce powerhouse Alibaba, as well as Fedex and UPS.
Colin Sebastian from Baird Capital commented, "Amazon may be the only company with the fulfilment/distribution sophistication and scale to compete effectively with incumbent service providers [UPS, FedEx]." His thoughts reinforce what most of us already believe, if anyone can do it, Amazon can.
We've been keeping up to date with the other top procurement news stories from the past week. Check out what's been going on.
Deloitte Global CPO Survey 2016
Almost two-thirds of CPOs do not believe their teams have the skills and capabilities to deliver their procurement strategy according to Deloitte's 2016 CPO survey.

The survey profiles the views of senior procurement leaders from around the world on key issues facing the procurement function.

The survey, involving 324 responses from 33 countries, also found 45 per cent of CPOs reported a rise in procurement related risk, such as volatility in emerging markets and geopolitical uncertainty affecting supply chains.

CPOs are primarily focusing on consolidating spend, increasing supplier collaboration and restructuring existing supplier relationships to deliver value over the coming year, the survey found.
Read more at Supply Management and check out the full CPO Survey 2016 here
Lord Carter Review Promotes Procurement Transformation
A report on Productivity in the NHS, published by the UK Department of Health, has highlighted the need for procurement transformation across NHS Trusts.
Lord Carter, the report's author, that although some trusts are doing well, others "still don't know what they buy, how much they buy and what they pay for goods and services".
The report recommends the implementation of a new Purchasing Price Index (PPI) for all NHS Trusts in England from April 2016
It also recommends that Trusts collaborate more to "aggregate sourcing work and reduce variety"
Read more at Future Purchasing
Pentagon Reduces Aviation Procurement Budget
The Pentagon has reduced aviation procurement by 7.2 per cent to $45.3 billion in its fiscal year 2017 budget submission.

This lower funding level buys eight fewer fixed-wing aircraft, and 35 fewer rotorcraft for the US Army and Navy.

The budget has been designed to offset perceived threats by Russia, China, Iran, North Korea and global terrorist organisations that are running amok in Iraq, Syria and now Libya.

Deputy Secretary of Defence, Robert Work, says in crafting the budget, the Pentagon focused on shape, not size, and modernisation versus readiness for today's conflicts.
Read more at Flight Global
The ICC Academy Announces Speakers
The International Chamber of Commerce (ICC) Academy has announced its keynote speaker lineup for the 4th annual Supply Chain Finance Summit in Singapore on 9-10 March.

The Summit will gather over 50 speakers and 150 participants from across Asia, and will focus on topics such as supply chain financing in Asia, and the global growth of supply chain finance.
This year's speaker lineup features leading players and industry experts from some of the largest organisations in the region, including ANZ and Standard Chartered Bank.

The ICC have said that the speakers have been selected to reflect "the progress of the industry, and provide unique insights into the trends, opportunities, and challenges affecting supply chain finance".
Read more at ICC