Procurious Groups are where it's at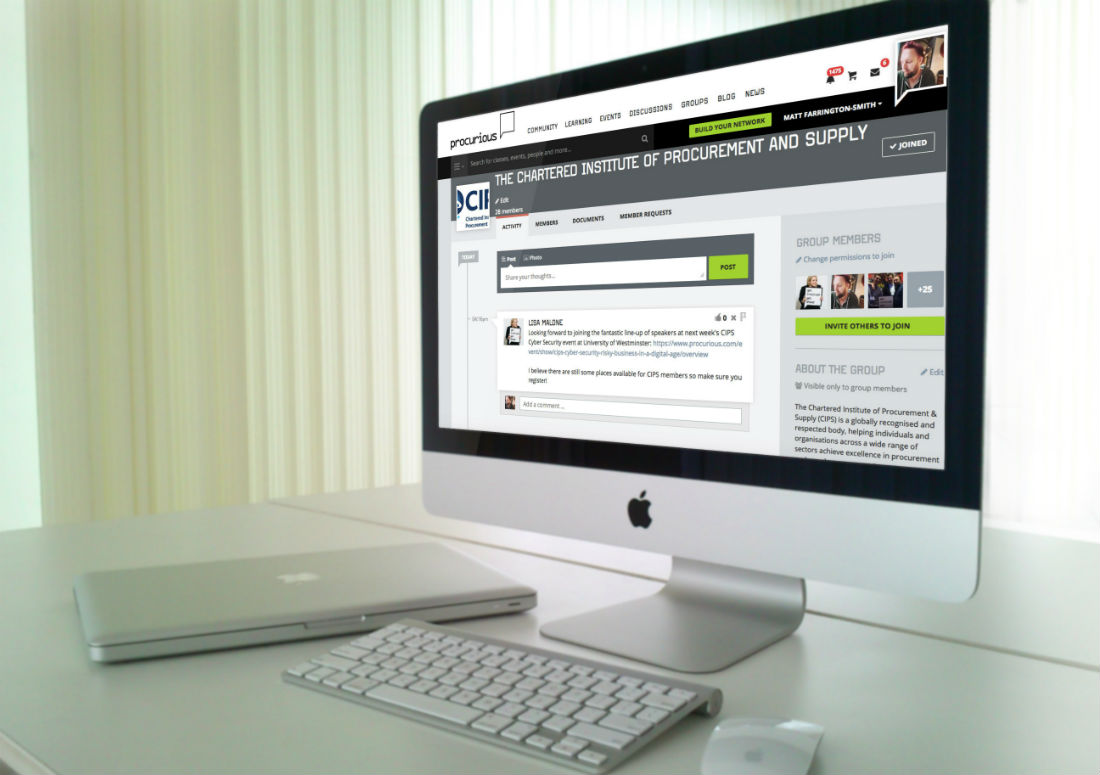 When we quietly granted Procurious members the power to create their own Groups back in January we didn't expect the reaction we received…
Suffice to say Groups have proved a popular addition to the site, so it's only appropriate for us to cover them off in more detail.
Groups are the perfect haven for hanging out with likeminded professionals – each have been created around a core theme, so the key here is to join the ones that take your fancy.
In the blink of an eye one of our earliest (and vocal) supporters, Sergio Giordano – took it upon himself to set up The Italian Procurement Professional Community, before others caught on and followed. Sergio's little piece of Italy is now almost 100 members strong.
When asked, Sergio had the following words for the Procurious community: "Italian professionals are beginning to understand that to achieve reputation you must first demonstrate your competence by helping colleagues and proving to be an expert in a specific field… However I think that the first interest in joining  the group is the uniqueness of Procurious: we all felt a great need of a specialistic network like yours or, let me say… like ours." Sergio has brilliantly encapsulated the ethos of what Procurious is about, and we hope [that in time] all members will think of the network as theirs.
It's easy as pie to join a Group. Just navigate to the 'Groups' page by following the link (it's nestled between the Discussions and Blog items), and choose a Group from the list that takes your fancy. Depending on the membership options set by the Group owner you may have to wait a short while for them to approve your request to join.
Once you've pledged allegiance to a Group (or Groups) what's next?
Think of a Group like a specialised Community Feed (but with useful extras). Dig into the Group page and you'll see tabs for 'Activity', 'Members', 'Documents' (and if you're an Admin, 'Member Requests').
The default view is that of the Feed – here you'll be able to see posts by the Group's other members, be they text or image-based. You can also insert URLs, but you won't be able to tag other Procurious members in your updates.
The 'Members' tab is where you'll be able to see who else has joined the Group. If they're not yet part of your personal network you can send them an invitation to connect here.
'Documents' is slightly misleading as you can happily add any file with the following file-type:  jpg, jpeg, png, gif, pdf, doc, docx, xls, xlsx, ppt, or pptx. There's also a maximum file size of 20MB so keep your PowerPoint presentations to a reasonable length! All we ask is that you use your common sense and don't share material of a sensitive or confidential nature. Group Admins have the power to delete any file(s) they deem not in-keeping with the Group's interests.
If privacy settings allow, Group members are also free to invite other Procurious members to join the Group. Suffice to say only send invites to people in your network you think will be interested, you don't want to accused of spamming anyone!
Some Groups you might have missed
CIPS
CIPS (Chartered Institute of Procurement and Supply) have found an official home on Procurious. Join this Group to keep abreast of official news, content and ideas straight from the Institute. Visit the Group
FAPPE
We were first made aware of the excellent work FAPPE (Faster Adoption of Public E-Procurement in Europe) were doing during Procurement Week in Cardiff earlier this year. We suggest you join to discover more. Visit the Group
Portuguese Procurement Community
Procurement is taking off in Portugal! This is an opportunity to share insights and opportunities with other members within the region. Visit the Group
UK and Europe Public Procurement
Work in the UK or Europe and interested in all things Public Procurement? We have just the Group for you! Visit the Group
Procurement in Asia Pacific
Proving that regional Groups are popular, this Group is for procurement professionals to openly discuss and explore Procurement and supply chain issues in the Asia Pacific region. Visit the Group
Global Sourcing
John Zhang describes this newly created Group as a platform to discuss global sourcing challenges and opportunities mainly in emerging markets. Visit the Group
Irish Procurement Professionals Forum
This Group has sprung up in the last few days and we're eager to help Ross grow it. So if you do business in Ireland there's no excuse not to join. Visit the Group
Why create?
Whether you're thinking of running a Group for a series of events, or maybe you want to fly the Procurement flag for your country – there are many good reasons to carve out your own little slice of Procurious.
To start a Group of your own just click the green 'Create Group' button on the Groups homepage.
More details can be found here: Want to start your own Group on Procurious?
Want us to write about your Group?
Drop us a note and tell us in 150 words why your Group deserves the attention.