Are you a #procurement value-creator, or a cost-reducer? Perhaps you're neither of these – or both? Procurious member Remy de Lavergne has created a new matrix that shows, among other things, just how far the profession has come. 

"Procurement is the process of finding, agreeing terms and acquiring goods, services or works from an external source, often via a tendering or competitive bidding process. The process is used to ensure the buyer receives goods, services or works at the best possible price, when aspects such as quality, quantity, time, and location are compared." (Wikipedia)
This definition is clear, but it is not enough for me – and probably not enough for you, either.
I have been purchasing for 20 years now in different countries and industries and I often read and hear very interesting things about procurement issues, but not enough to give me a global picture about the profession's objectives and  best practices.
So, using PowerPoint, I've spent some time brainstorming and have created a one-page puzzle about procurement, keeping two strong ideas in mind:
What does buying mean ?
How can you be a good buyer ?
After selecting and analysing more than 35 key words (SRB, Networker, Communicator, Excel, …) I settled on  a clear and simple definition :
A buyer is both a value creator and a cost reducer for clients.
It is possible to classify buyers into four separate categories according to their contribution to client value creation and cost reduction.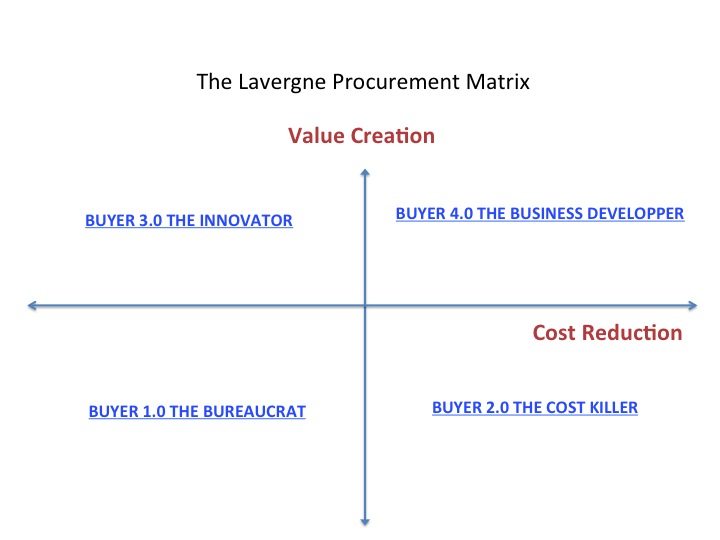 And with the keywords added: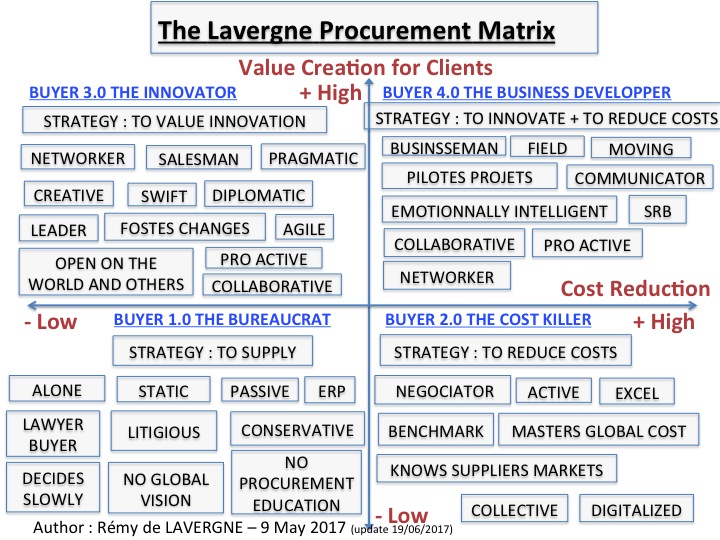 1. The Bureaucrat:  does not effectively reduce costs or generate value for customers.
Profile: The Bureaucrat prefers to work alone rather than cooperating with internal or external contacts, and often waits to be asked to act rather than taking proactive steps on their own. This professional has no insight into the company, customers, trends, or innovations and prefers to preserve the status quo rather than embracing change.
The Bureaucrat Buyer is likely to be an endangered species, since this person is less and less sought after by organisations. Four solutions are available to address this population of buyers:
upskill to one of our other types of buyers,
change jobs,
retire,
remain in place without changing until a planned or negotiated departure.
2. The Cost Killer achieves significant cost reductions but does not generate value for customers.
Profile: The Cost Killer knows supplier markets, has mastered Excel and relevant software, and can create effective supplier cost models. This buyer is proactive, but can be sometimes brutal and act without enough team consultation. Additional skills include intense benchmarking and efficient negotiation.
There are many Cost Killers, largely corresponding to certain types of enterprises. This kind of buyers is unlikely to disappear, even if they become a shrinking percentage of all buyers in the organization. If you are a Cost Killer, consider acquiring new skills to broaden your value to the organization, especially if you want to evolve professionally. Study the skills associated with Innovative Buyers and Business Developers.
3. The Innovative Buyer generates considerable value for clients and sometimes reduces costs, but cost is not their top priority.
Profile: The Innovative Buyer is a natural networker (external and internal) and is always looking for new ideas and information. This professional has both 'sales' and leadership skills, which they use to bring together colleagues with very different profiles to build, validate, and implement projects. Innovative buyers adapt well to a number of situations, and are diplomatic in their efforts to maintain good relationships with all stakeholders. Additional skills include an ability to deal with crisis situations, interest in identifying and testing futuristic concepts, and an open mind to the ideas and approaches of others.
The population of Innovative Buyers is still relatively small. These purchasers are particularly useful and adapted to the needs of companies where purchases account for a small part of the total turnover of the company (- 50%) and/or in which rapid innovation is a vital necessity. Given that the pressure to innovate is greater in some industries than others, even for global leaders (such as Nokia), the Innovative Buyer is in high demand.
4. The Business Developer simultaneously creates customer value and cost reduction.
Profile: In addition to having all the qualities of an Innovative Buyer or Cost Killer, this professional also has skills that are not always found in either other desirable type of buyer. They are determined to create value for customers and wealth for the business. The Business Developer is 'hands on' and regularly meets with the people who produce, sell, use or benefit from the services, materials, products or services purchased on behalf of the company. This professional likes to communicate in order to establish relationships with people from multiple levels in the company (CEOs, Managers, or Individual contributors) and functions (engineering, sales, finance, legal).
To succeed in their mission, the Business Developer must be emotionally intelligent (i.e. have the ability to adapt to their context). As often as possible, this person works in close collaboration with business colleagues and employees. The Business Developer knows how to define a strategy, how to share it effectively inside and outside of the company. This professional knows how to drive complex projects (in rapidly changing environments with precision and agility, even under pressure. Additional useful human qualities include listening, empathy, humility, availability, humour, persistence, persuasion, intuition, rigour, agility, creativity, resistance to stress, and sociability.
If you'd like to know more about the Lavergne Procurement Matrix and/or use it in your school or company, do no hesitate to contact me via [email protected]
The Lavergne Procurement Matrix is protected by copyright.