It's time to 'Show Your Colours' to the world!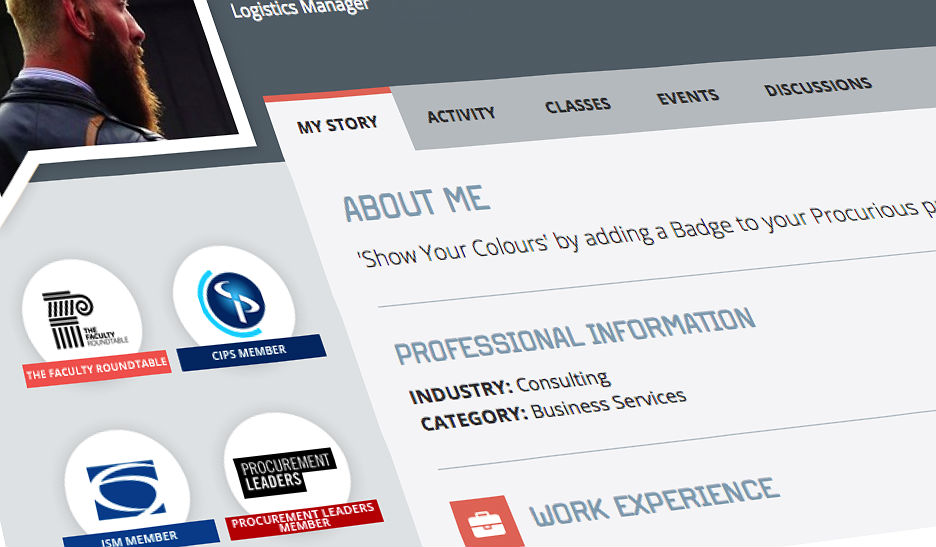 At Procurious we've long been encouraging you to share a profile picture with your network.
Today we're going one step further by announcing our new 'Membership' feature – support your professional membership and demonstrate your qualifications by adding a Badge to your profile.
Why? We want you to be proud of your achievement, promote the association and show your accreditation off to other Procurious members.
Vicki Oliver, Marketing Manager at Chartered Institute of Procurement and Supply, commented on the value of Professional Associations: "Networking is a crucial activity in any professional's career and being part of a global platform, sharing your knowledge with others and benefitting from the experience of other professionals and business people is immeasurable.
"Display your CIPS credentials with pride to the procurement community and beyond, so key contacts can connect with you and others will join this fast-growing movement."
If you hold a membership with CIPS, ISM, Procurement Leaders, The Hackett Group or The Faculty Roundtable you can go ahead and add your Badge right away. 

How to add your Badge
It's very easy to add a Badge to your Procurious profile. Simply visit your 'Edit profile' page and scroll down to the 'Memberships' section.
Locate your association from the drop down menu found under the 'Which memberships do you hold?' prompt.
All done? Just hit the green 'Save' button to make your changes. You'll be able to see your new Badge in all its glory by visiting your profile page.
New members will also be given the opportunity to complete this step during the registration process.
FAQ
"I'm a member of xxx, can I add a Badge to my profile?"
At the time of writing Badges from the following Associations are available: CIPS, ISM, The Hackett Group, Procurement Leaders and The Faculty Roundtable. We will notify you when more are made available.
"How many Badges can I add?"
We haven't set a limit, so you are able to make multiple selections. But we encourage you to only add Badges to those associations that are applicable/you belong to.
"Can you add a Badge for my association?"
Of course. We're always very interested in talking to other associations who show interest in being added to Procurious and having badges developed. To discuss please email: [email protected]