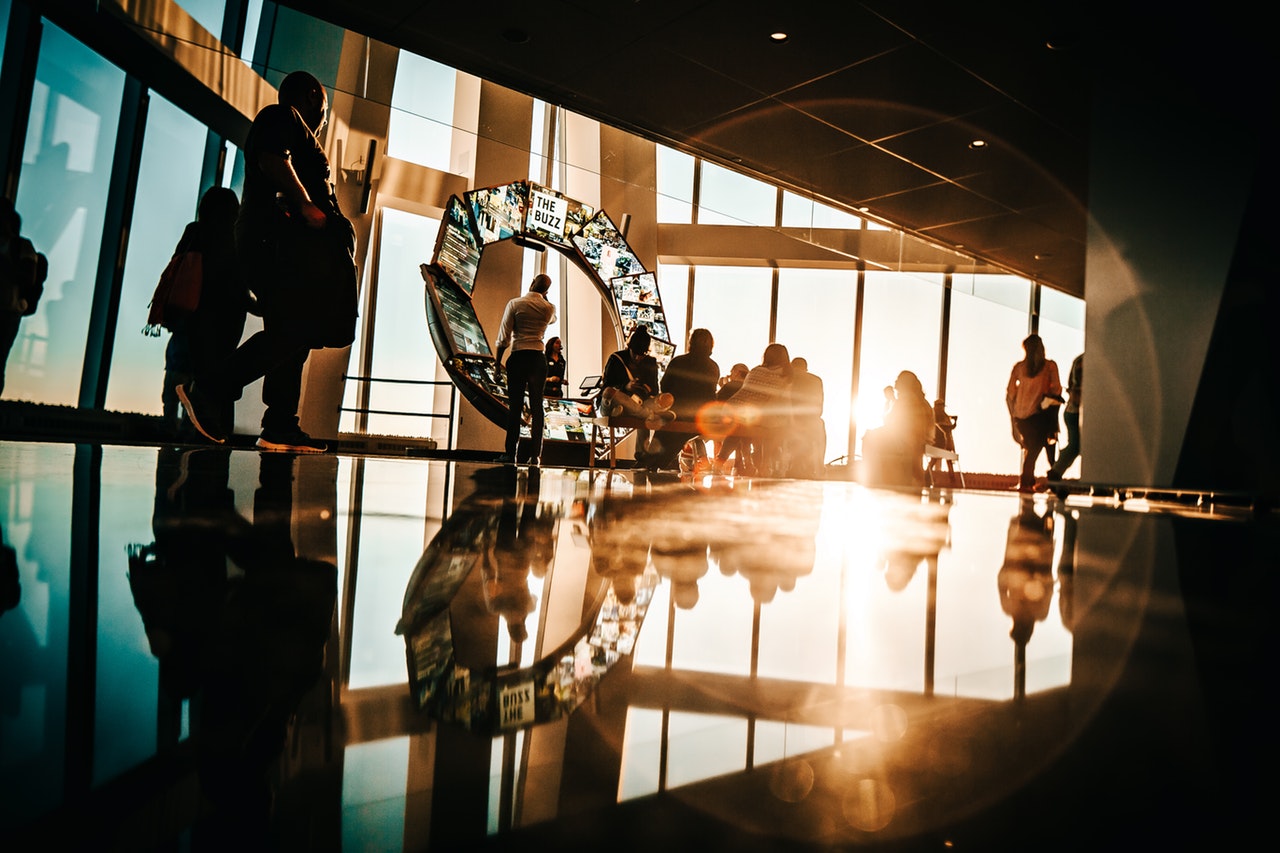 This article is part of a series about Hugo's visit to ISM2015 in Phoenix, Arizona. Here Hugo swaps sweeping desert for expansive conference floor…
First impressions? The Phoenix Convention Centre is spectacular, both on the inside and outside. Architecturally stunning like most of downtown Phoenix, the building looks like it could easily absorb ISM2015 three times over with room to spare, though I'm yet to see what it's like with every delegate crowding into the building. The Exhibit Hall remained tantalisingly closed today while the exhibitors set up their displays, so I wandered around the accessible areas with my lanyard around my neck and showbag full of procurement-related goodies in my hand. I even stepped into the neighbouring performing arts centre to get a glimpse of the concert hall but was hustled out by security.
As a guest blogger, I have a 'media' badge attached to my lanyard, which I think is pretty cool. I'd like to stick it in the ribbon of my hat the way reporters wore their press IDs in old movies, but a) people might think I'm strange, and b) I don't have a ribbon on my hat. I've been invited to the press room tomorrow morning, which I envision as filled with tobacco-smoke and weathered reporters tapping furiously on noisy typewriters (I know, I watch too many old movies). It's more likely to be a plain room with PowerPoint capabilities and a handy Wi-Fi connection.
The crowd waiting for the first keynote speaker was buzzing with chatter, making me appreciate that aside from the huge line-up of events, perhaps the single most important aspect of this conference was the networking. ISM has put plenty of time aside to dedicate to networking – there's a welcome reception tonight, two networking breakfasts, two "dessert receptions" over the lunch hour (I like the sound of that) and networking receptions in the exhibitor hall at the end of each day, for which I am the excited holder of two complimentary drink vouchers. Everyone in the crowd before me is chatting – and I mean everyone. No one is standing by themselves looking lost or awkward, which can be attributed either to the fact that everyone in procurement knows each other, or perhaps they've all been to ISM conferences in the past, or maybe it's just the convivial American temperament that makes it so easy to meet new people. I can pick out a few different languages and accents in the crowd – a fair number of Chinese attendees, some UK accents, French and Spanish speakers and the full spectrum of regional accents from all over the States. I haven't picked up any Aussie accents just yet, but I'll keep my ears open tomorrow.
One of the most difficult parts of attending ISM2015 is the sheer volume of events that run concurrently. For example, if I attend a two-and-a-quarter-hour "Signature Session" tomorrow morning, I'll be missing out on no fewer than twenty-four other sessions – just incredible. It demonstrates the sheer size of this event and makes selection a hand-wringing process, but ISM comes to attendees' assistance by offering Learning Tracks and audience levels. The Learning Tracks create a clear pathway through the bewildering array of sessions that you can choose to follow, or to mix and match as I have done. The Tracks are:
High Performing Value Chain Management
Best Practices in Procurement
Strategic Partnership
Risk Management
Leadership Strategies
Delivering Financial Results
Strategic Profitable Growth
Each event has a Learning Track listed against it and also a recommended audience level:
Essentials (for professionals new to supply chain management)
Experienced (next level up)
Leadership (professionals in executive and leadership positions with more than ten years of experience).
ISM has also created a handy App to select events, create a schedule, give feedback and other features. I'll definitely need it tomorrow when I'm dashing from session to session all over the massive convention centre.
ISM in the spotlight
ISM knows how to put on a show. Even though the grand opening is tomorrow morning and the conference crowd is not yet at full size, this keynote speech is the first official event of the conference. The lights suddenly dim in the cavernous hall (massive, but not even the biggest in the building), the crowd falls silent and a single figure stands on stage in a spotlight. "The future demands us to innovate!" he begins, sharing a vision of the future for procurement. He is followed by five other illuminated figures, all beginning with the formula "the future demands".
This is the theme of the conference. ISM turns 100 this year, but the CEO Thomas Derry tells us that the organisation is looking to the future. Derry introduces the crowd to the innovative snap poll system where we used our phones there and then to vote on a question put to the audience. As a researcher I was very impressed to see the bar graph on the big screen rapidly changing as responses flowed in to the question: "What global threats are most likely to disrupt your business or supply chains?" Results were:
Economic collapse abroad: 39%
War or terrorism: 5%
Direct or indirect cyber-attacks: 30%
Natural disasters: 20%
Other: 6%
The surprises for me here were the low score for terrorism and the high score for cyber-attacks – a flick through the program confirmed there's an entire conference session devoted to protecting against cyber-attacks, so this is certainly front-of-mind in the procurement world.
After a few more preliminaries, the audience bursts into applause as the familiar figure of Robert Gates, former Director of the CIA and US Secretary of Defence, steps onto the stage. It's not often you get to hear from someone who has directly shaped the history of the modern world, and he didn't disappoint.