Procurious headed to Kings Place to take in the sights, and hear from a wealth of insightful speakers at the biggest procurement event of the year – the 2014 CIPS Conference and Exhibition.
Having survived the global economic crisis, this year's theme (unsurprisingly) focused on 'standards, ethics and innovation' within what CIPS calls 'a new procurement future'. 
With Craig Lardner chairing proceedings, delegates were treated to a packed day full of talks, break-out sessions, and a distinguished guest from the world of broadcasting.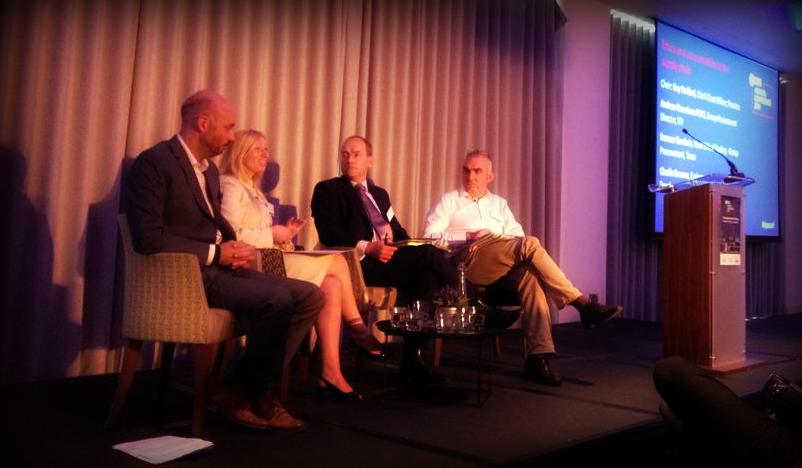 Some of our highlights from the day included:
Dr John Glen's opening session was an early highlight of the day. John is an economist for CIPS, and lectures at the Cranfield School of Management. If you've ever struggled to grasp economics, the good Dr offered a brilliantly accessible half hour. He also suggested that the next big challenge for supply chains would be to adopt the business model that's made Uber into such a success story.
IKEA's Environmental and Sustainable Development Manager – Charlie Browne, revealed how the business has reduced supplier count in a bid to maximize effectiveness. Sustainability is also in IKEA's blood – with the retailer's efforts dating back to 1990s.
Tesco's Frances Goodwin offered her thoughts on the role of ethical trading in procurement. She left us with a surprising nugget around procuring a banana – in that the supply chain is (on average) 5 layers deep.
Rita Clifton – President of the Market Research Society and former Chair of Interbrand presented a light-hearted session on the power of branding. Rita distilled the ingredients that make a strong brand, and revealed some of the brands that she thinks have got it right. She also confirmed something we've been saying for a while: Procurement has an image problem. Do a Google Image search for procurement and see what we mean…
In what was possibly the biggest announcement of the day – Babs Omotowa, Managing Director and Chief Executive Officer of Nigeria LNG Limited was announced as the incoming CIPS President. Babs will take the mantle from Craig Lardner four weeks from now.
Our favourite break-out session was delivered courtesy of Clive Lewis – Founder and Managing Director of Illumine Training. Clive guided us through 5 different methods to help boost creativity, and approach problems differently.
Elsewhere, Bord Bia (the Irish Food Board) and Selex ES talked about building strong supplier relationships. The latter having previously been crowned the overall winner at CIPS Supply Management Awards 2014 for their work with Research Electro-Optics (REO).
To cap a busy day off, influential food writer (and occasional TV personality)  – Jay Rayner, provided a thought-provoking (and at times, hilarious) commentary on food supply chains. With insights like: full service supermarkets cannot compete with discounters – and in the end it's the suppliers that suffer. We suspect he may have also snuck a few plugs for his book in there too…
Twitter also provided some key takeaways – here is what some of the other attendees were saying: