Understanding how procurement can cope with, and ultimately benefit from, the disruption brought into talent management by the Millennial Generation.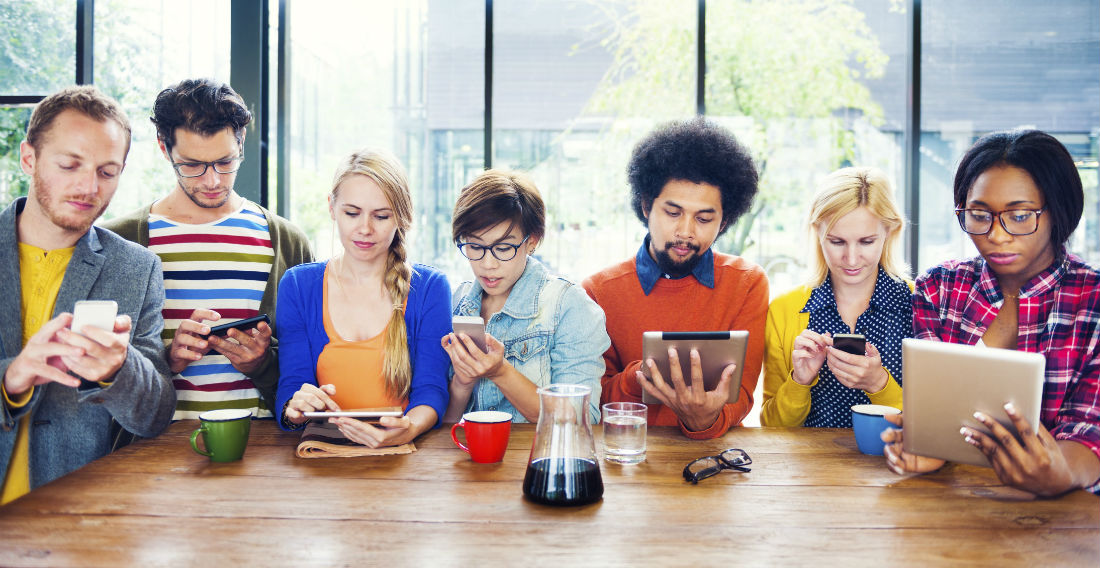 Hackett's 2016 Procurement Key Issues Study shows that talent management remains one of the top 3 of objectives as a critical or major area of focus for virtually all procurement organisations.
Looking deeper, organisations are targeting three specific areas to transform talent: improving leadership skills, honing business acumen, and building specialist procurement skills. The two perennial favourites, category management and strategic sourcing, make up the other top reported objectives.
The research also showed that the Millennial Generation represents one of the greatest potential impacts and challenges to managing talent in the next year or two. Additionally, most procurement organisations (especially those in Europe) continue to experience higher levels of staff churn and difficulty attracting great talent.
What do we mean by Millennials?
When we refer to the Millennial Generation, we are referring to those born in the 80s and now moving into management positions, or early 90s who are leaving graduate school to join the workforce. This workforce demographic is characterised by different attitudes, desires and motivations than earlier generations. Generations X and Y came to be known for their independence, interest in work/life balance, technical proficiency, and measuring success in both financial and social terms.
Millennials, on the other hand, are the first generation of digital natives – i.e. they've truly grown up with the internet and social consciousness.  They have high career expectations, desiring both immediate and high impact opportunities, flexibility in terms of schedules, embracing remote working and diversity in assignments (e.g. culture, fun and collaboration).
They plan for rapid advancement as well as frequent job changes. Case in point: 90 per cent of Millennials plan to stay in their job for less than 3 years. They are high touch, and expect frequent feedback. In summary, the millennial generation wants more from work than just a career at a good company.
How can procurement address the critical skills gaps?
Research conducted by the Hackett Group in the past on procurement talent management, has shown clear gaps in the essential business skills required for most procurement jobs. These are: strategic thinking and analysis, group facilitation, and relationship management skills.
When considering specialist skills, enhanced SRM and market intelligence expertise were identified in need of development for most roles, with supply risk, innovation and SCM expertise needed for specialist roles.
How do we respond?
As procurement leaders this situation poses challenging questions:
What procurement value proposition will be the most appealing?
Will higher attrition become the new normal for procurement?
Is now the time to invest in knowledge capture and transfer?
How can we create flexible work schedules and collaborative environments?
Do we need to rethink the importance and type of training we provide?
In all cases, training strategies need to be modernised to reflect this accelerated reality, as well as changing learning styles and preferences. Strategies that get people up to speed faster, use more interactive, workshop and team based formats should be preferred. The 70-20-10 approach to learning is based around the idea that 70 per cent of learning comes through experience, 20 per cent from social learning with colleagues, and just 10 per cent through formal learning involving training or online courses.
This framework will see larger elements of learning being on-the-job, collaborative and workshop based, action orientated to better align to leaders and manager day jobs and current issues, and complemented with self-directed learning elements and social learning (e.g. LinkedIn, Yammer).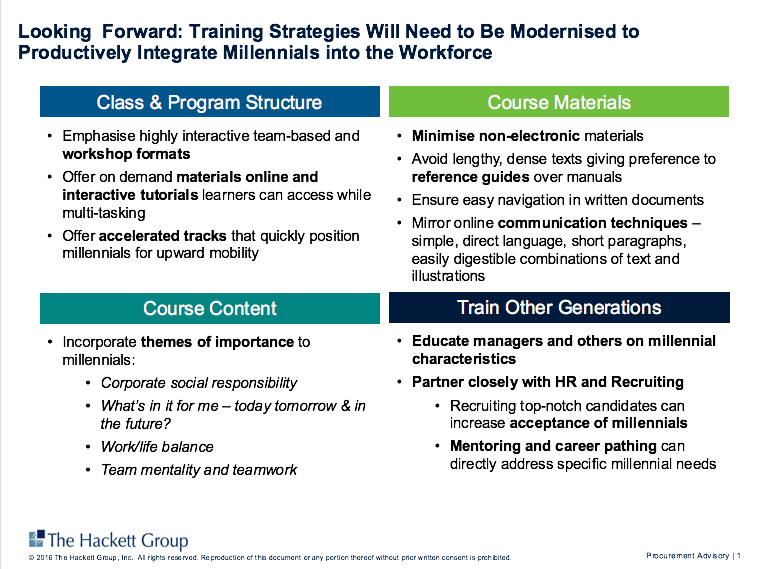 Course materials need to be user friendly, but at the same time to support multi-tasking and access to on-demand, on-line tutorial content. Course design should incorporate the themes seen as important to younger generations – how procurement connects into CSR and sustainability, work/life balance, and career advancement.
The older generations of Baby Boomers and Gen X will need support and even training to adapt to this shift in to mentality and culture.
About Hackett's Procurement Key Issues Study
The results of this annual study are gathered from executives from over 180 large and global companies operating in the US, Europe and rest of the world, with annual revenue of $1 billion or greater.
Find out more by visiting the Hackett website.
Chris Sawchuk is a keynote speaker at the Big Ideas Summit on April 21st. Chris will be talking about how procurement is applying key agile capabilities in the areas of leadership, talent, service placement and information-driven performance.
If you're interested in finding out more, visit www.bigideassummit.com, join our Procurious group, and Tweet your thoughts and Big Ideas to us using #BigIdeas2016.
Don't miss out on this truly excellent event and the chance to participate in discussions that will shape the future of the procurement profession. Get Involved, register today.