In a far off world, our intergalactic cousins may have a procurement systems panacea, but in my world I've yet to see it.
Of course they can help manage the process flow, speed up the approvals, assist contract management and supplier performance. Some even claim to manage relationships. (Really? Systems manage relationships? – that's news to me!)
Of course, systems have their place and are a necessity in most organisations. I am not suggesting a reversion to having no procurement systems in place. It would be folly in today's ever-global world, with increasing expectations on corporate governance, to do so. My issue is not with procurement systems, per se, my issue is with systems being used as an excuse for under performance.
The 'Panacea' Menu
A commonly held view is that the system's deficiencies are a core reason of procurement's inability to deliver the business' requirements, and a conclusion is drawn (sometimes hastily, sometimes protracted) that a new procurement system is needed.
Procurement software companies pitch for the new and the panacea, complete with all manner of whistles and bells is selected. Rather like my own children at a pancake house selecting from the menu, this is their most fun part, seduced by all manner of options – it is often all downhill from here.
Having made the significant investment commitments, the intricacies of software become known and the integration of the selected system panacea hits trouble and is scaled back, perhaps even being stacked alongside or on top of previously selected 'panacea' systems.
Often bells and whistles become either un-implementable or unaffordable. The panacea has turned in to a pancake; or moreover, a large stack of pancakes complete with sickly, unpalatable toppings upon which the consumer looks and questions why such a large, unappetising feast was ordered. Appetite quickly disappears and nausea kicks in. When half of the stack is consumed, cries of "I'm full" resound.
Make Systems work for you
In a previous article, I set out my thoughts on procurement personnel too often remaining in their comfort zone, failing to challenge themselves or their stakeholders.
My point in this article is simple – expecting a procurement system to play too large a role in any procurement transformation is madness. Systems are only systems. Systems are nothing without the people who use them. Buyers who dislike the old system will, in time, learn to dislike the inevitable deficiencies of the new system.
The skilled buyer needs to master their system and make their system dance; using the system to assist, not hinder, meeting the most strategic requirements of the business; to not be constrained by its imperfections. During implementation care needs to be taken to not impose distractions on to the business which reinforce any misconceptions that procurement is only interested in cost cutting.
Clever configuring of almost any well maintained (up to date) reputable system can deliver necessary controls without the unnecessary frustrations and costs of a wholesale re-implementation. Systems should save time for the procurement team and for the business users. Systems should perform for us, not the other way around.
I hope that it is needless to say, that of course, systems need to be maintained, developed and users professionally trained to extract value from the system, not be constrained by it. I simply urge all who are considering a procurement transformation not to over-estimate the criticality of their system, and to correctly consider the manner in which its personnel use existing tools. Systems can become the rule by which we are measured, but they should never become our ruler, nor our excuse.
The scarce resources of your organisation are at stake, and along with it the reputation of the department. Previously, I have contended that buyers are too narrowly focussed in their practised skills – I simply favour investing in the flesh and blood that use the systems ahead of investing in the systems themselves.
Read more articles from Jim here.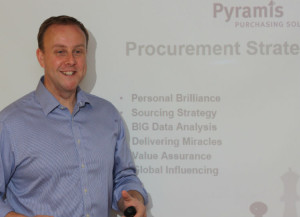 Jim Willshaw (MBA, MCIPS, MIIAPS) is an experienced procurement professional acting as a consultant, speaker, coach and trainer to leading organisations all over the globe.