That is the question that Deloitte's 2014 Global CPO Survey posed…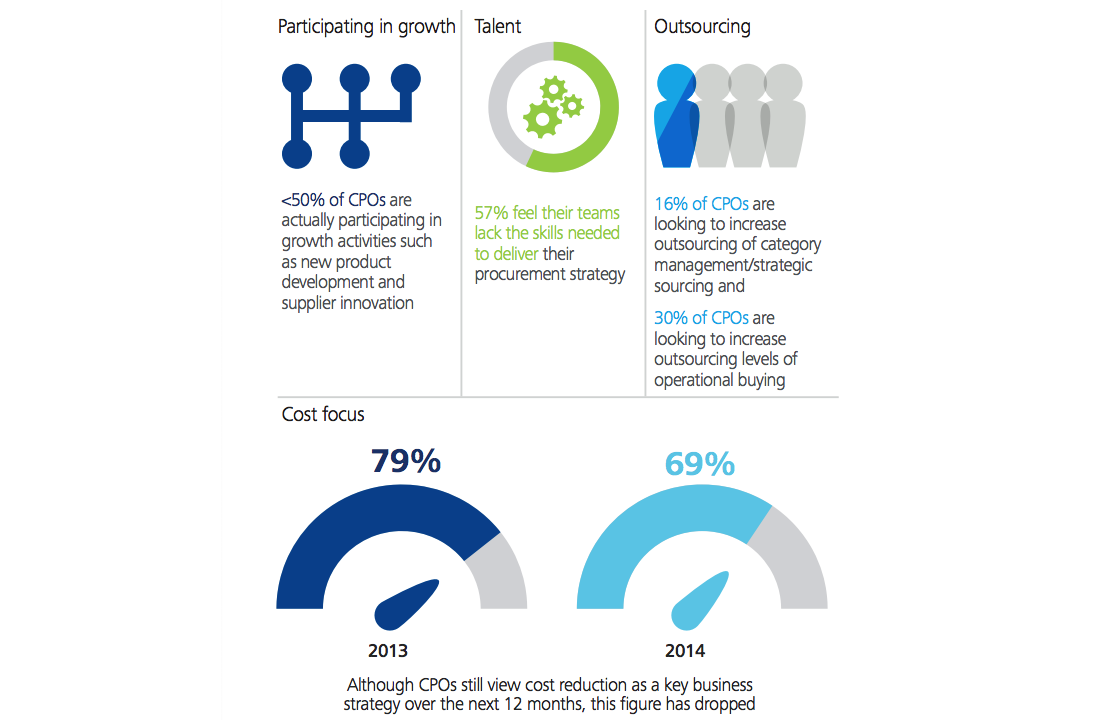 Something of a annual staple, the Deloitte Global CPO Survey report reflects the views of 239 chief procurement officers and company directors from 25 countries around the world.
Of those CPOs polled, almost six in ten think their existing teams lack the necessary skills to successfully deliver their organisation's procurement strategies. The skills most lacking? "Leadership, influence, communication and relationship building."
To further exacerbate matters 57 per cent also have issues with their own processes and technologies. Not an altogether pretty picture is it?
Happier news comes out of the UK with Deloitte chief economist Ian Stewart suggesting the fair isle will enjoy decent growth through 2015:
"Chief financial officers expect 2015 to be a year of investment and of recovering real earnings… Going into each year, from 2008 to 2013, finance chiefs' main concern was the state of the UK economy. Now the risks are seen as lying elsewhere."
Paul Feechan, office senior partner at Deloitte in Newcastle expanded on these 'risks' and provided some context: "The central challenges facing the UK's largest companies as they enter 2015 are policy uncertainty at home and economic and geopolitical risks overseas. Rising levels of uncertainty have caused a weakening of corporate risk appetite which, nonetheless, remains well above the long-term average."
Indeed, out of the respondents one in four CPOs felt threatened by geopolitical risks (citing recent events across the Middle East and in the Ukraine).
These risks are felt the world over… The Financial Times invites top economists to weigh-in once a year with their thoughts on the year ahead. Looking towards 2015, a majority of its respondents indicated that the threat from political uncertainty would likely affect business and in-turn consumer confidence.
But 2015 won't be all doom and gloom: "Corporates believe that the long consumer squeeze has ended" – so says Paul Feechan, Senior Partner at Deloitte LLP.
"CFOs expect 2015 to be a year of investment and of recovering real earnings in the UK. Corporate and consumer spending look set to lend the UK economy important support, suggesting the UK will post decent growth through 2015."
Feechan concluded: "CFOs are also predicting a buoyant year for business investment, with an average growth of 9 per cent forecast for 2015. Following growth of 8 per cent in 2014, this would put the UK at the top of the league for investment growth in the major industrialised nations and, if realised, will take the share of UK GDP accounted for by business investment to a 15-year high by the end of 2015."
James Gregson, UK head of sourcing and procurement at Deloitte, said:
"The businesses they [CPOs] are serving are changing. Expectations are rising year on year and relatively small-sized procurement functions with a traditional set of skills are no longer the panacea answer to serving that broader agenda."
"We are seeing a greater level of specialist skills being created in procurement functions. Rather than a very dominant category management structure, which has been the main quest over the last 10 to 15 years, I think people are starting to challenge the category management organisation and look for specialist skills in certain areas, and looking at partnering with other organisations or looking at shared services that can deliver these things more quickly."
Gregson further commented: "Traditional blocks around category management are no longer the organisation structure of norm."
And as for procurement 'moving through the gears' – Gregson offered:
"What is clear is this whole principle of procurement having to go through the gears, creating different means of delivering the value proposition. That multitude of different levers they are having to pull, the agendas they have to serve is putting a huge strain on the traditional procurement organisation."
What of these so-called 'procurement levers'? Those polled cited the following areas as attracting the most interest:
Consolidating spend – 40 per cent
Increasing competition – 37 per cent
Increasing the level of supplier collaboration – 34 per cent
Restructuring existing relationships – 34 per cent
You can view the full report here http://www2.deloitte.com/uk/en/pages/operations/articles/cpo-survey.html