Can we tempt you with a sticky, sugar-coated treat?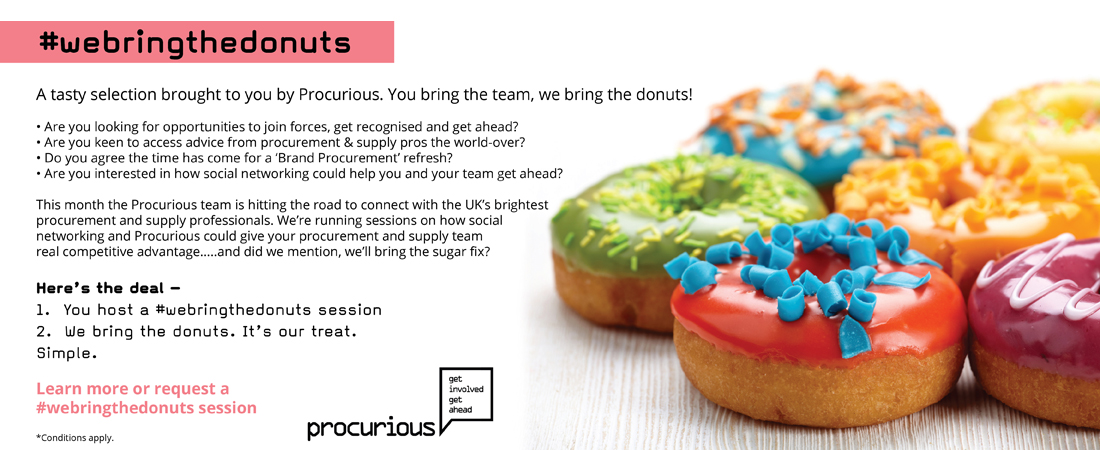 What's not to love? (Apologies to all those diabetes sufferers out there).
We hope you're enjoying Procurious so far, and benefitting from the discussions, learning resources, news, comment, not to mention the members who make-up this insightful, friendly community.
There are already a number of ways to introduce new people to the network, [here are a few handy reminders] but if you're looking for an introduction on a bigger scale then our #webringthedonuts campaign could be just the ticket…
We appreciate how hard it is to commit to something (yet alone a new social platform), and actively engage in a community you have little-to-no knowledge of, that's why our campaign acts an introduction to the network (and if it escaped your mind… mmm donuts).
Yup we're hitting the road… Procurious is travelling the length of the breadth of the UK to connect with procurement teams (and those of a curious disposition), to brief you on the benefits of jumping onto the site and engaging with your peers. We'll also provide you with a primer on social media, so you won't be diving head-first into the unknown!
A few caveats apply: your team/department must be a minimum of 15 people strong, and availability of sessions will be subject to change (as will flavours of donut. Sorry).
You should allow 45–60 min for us to present and answer your questions.  A giant screen is always helpful too! But there's no charge for our visit, so don't worry about that.
So if you're thinking of requesting a session, obviously we'd love to hear from you. Just drop our relationship managers a line, gather your troops, and we'll #webringthedonuts.  See you there!
Donut make plans for 2015
But the Procurious roadshow won't end in the UK… We want to come out and see as many of you as possible (in such cases donuts may be substituted for a local delicacy). So don't feel left out, get in touch and we'll adjust our sat-nav accordingly…