After two smash-hit Summits in London and Chicago, we're bringing Big Ideas 2018 to Sydney, Australia! Find out how you can get involved.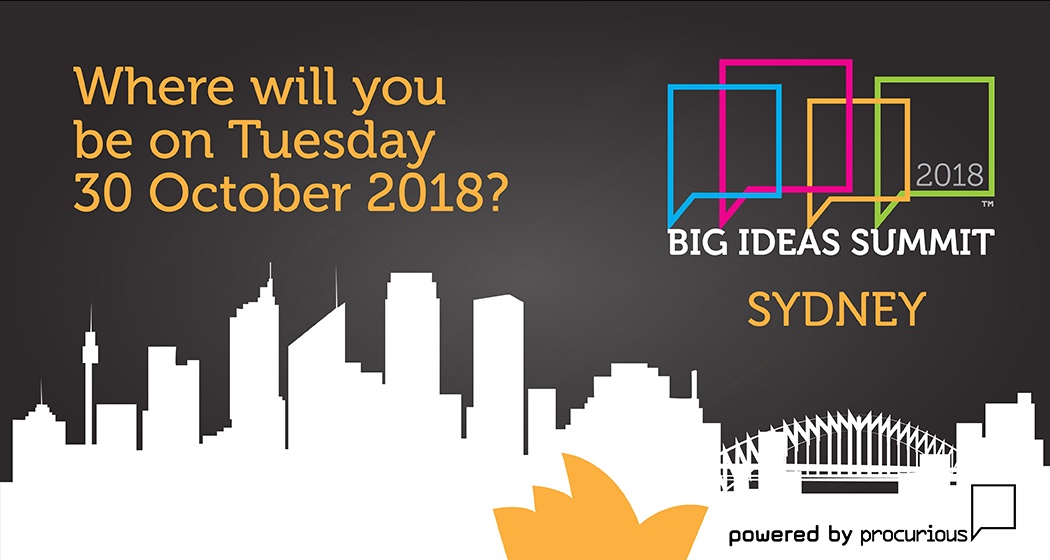 Did you hear the one about the time an expert on influence, a clinical psychologist and a digital transformation guru walked into a bar?
…  Unfortunately we don't have the punchline for you, because it hasn't happened yet. But it WILL happen on Tuesday 30th October at the conclusion of the most exciting #procurement event to hit Australian shores – the Sydney Big Ideas Summit.
Julie Masters, Nicky Abdinor and Gus Balbontin are just three of the incredible speakers that will take the stage in Sydney. Let's check out the agenda:
Innovate and Disrupt
Adapt and Perservere
The Procurement Evolution
Surviving a toxic workplace
How do I get involved?
Attending in-person: If you're within cooee of Sydney, this is your opportunity to be in the room! The Sydney Big Ideas Summit is suitable for highly motivated, forward-thinking, tech-savvy future leaders. If you fit the bill, join us at the Australian National Maritime Museum on October 30th, but be quick – places are strictly limited.
Click here to reserve your seat: http://www.bigideassummit.com/big-ideas-sydney
Become a Digital Delegate: The Sydney Big Ideas Summit will light up social media, spark vigorous discussion and crowd-source ideas for the future of the profession via our Digital Delegate group here on Procurious. Sign up (it's free!) to follow the action, including live-streamed speaker presentations, speaker interviews and blog articles without ever having to leave your own desk.
Click here to become a Digital Delegate: https://www.procurious.com/big-ideas-summit-sydney