Procurious is hitting the road (well sky…) throughout the month of November, and we want to see your faces!
Donuts down under
Lend us your ears, open your minds, and get ready to download key learnings that can help give you a competitive advantage in the procurement marketplace.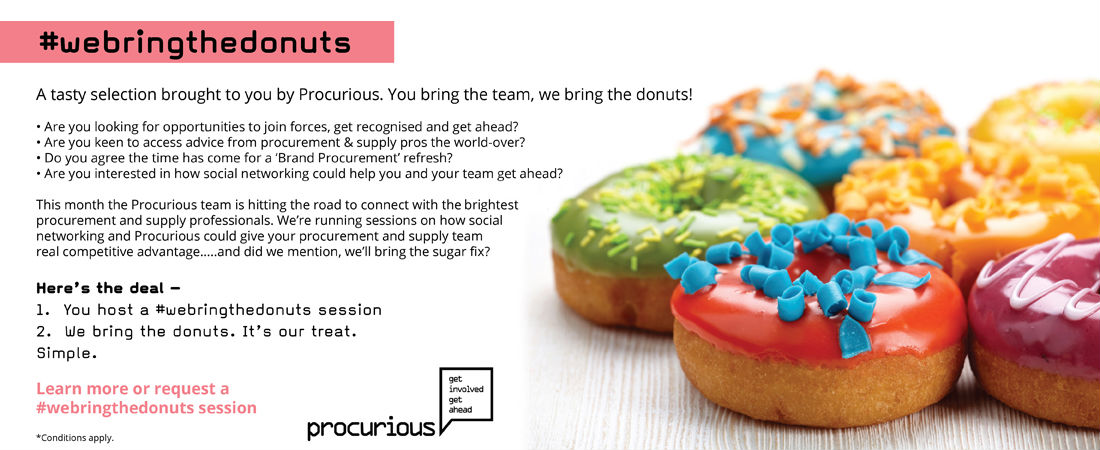 Who's going?
Procurious' very own tech wunderkind Jack Slade – Product Manager, social media guru, and entrepreneur,  is coming along for the trip. Also joining Jack is Lisa Malone – who not only serves as our fabulous European General Manager, but can talk to you about developing your personal brand and tackling procurement's outdated image problem.
Procurious will also be meeting with The Faculty Roundtable members in Melbourne, Perth, Brisbane and Sydney to discuss how social media is impacting procurement and the benefits of online collaboration.
You can Tweet along with us during the session using the hashtag #webringthedonuts
Social Media and Procurement – Leadership & Networking Procurement Breakfast 
Alternatively, why not do breakfast?
Come along to a networking breakfast to learn about opportunities for procurement to achieve its agenda using social media; networking with Roundtable members, FLiP Alumni and other procurement professionals.
We'll be in Melbourne – Friday 14 November, 8am
Where: The Faculty, 502 Albert St
And also Sydney – Thursday 20 November, 8am
Where: Sydney CBD – TBC
To register to attend the Leadership & Networking Breakfast email Belinda Toohey [email protected]
Anything we've forgotten?
We expect each session to last between 45 – 60 minutes. That should allow us plenty of time to discuss:
Digital procurement and how everything is connected
Benefits of connecting and collaborating online for procurement; suppliers; to drive social value; personal branding and Employee of choice
What is Procurious? An Introduction and how to get the most out this network
Discussion: Smart  social media behaviors
Q&A
Availability of sessions will be subject to change.
So mark a date in your diary, gather your team and get Procurious in for a session,  remember #webringthedonuts!