The global conversation begins now! Register for the Big Ideas Summit on April 21st on Procurious and join procurement leaders as they share their insights.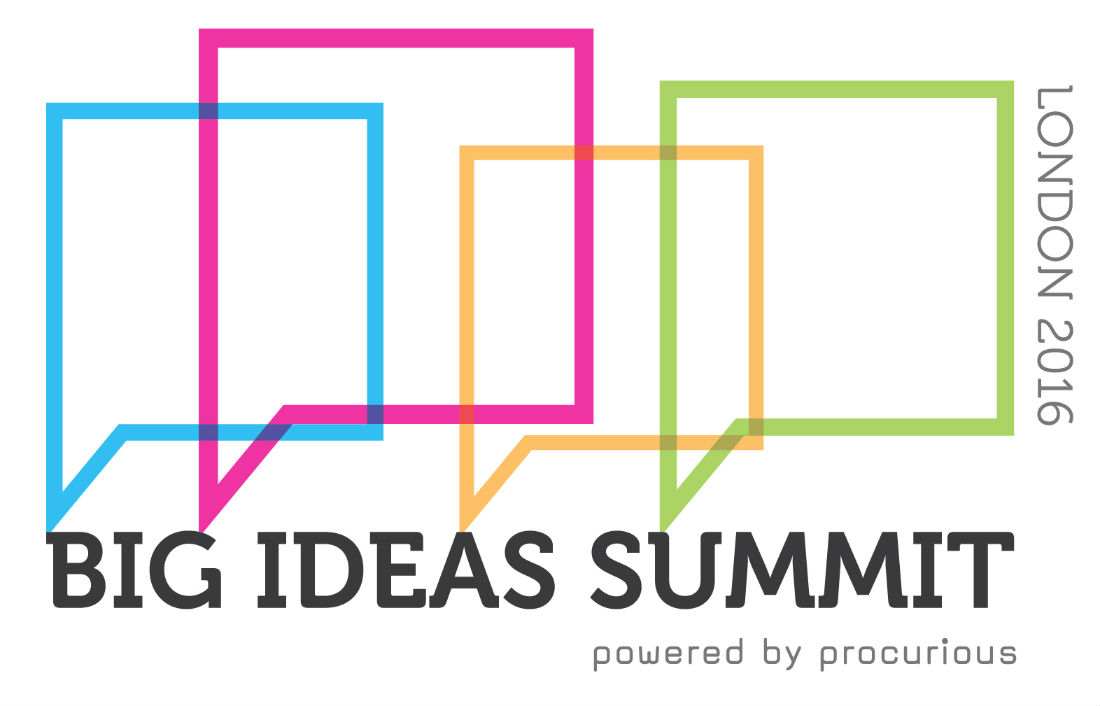 From drones to social networking, what new technologies and trends will transform procurement/supply management, and how can today's leaders harness them to drive innovation?
Virtual Think-Tank
On April 21st 2016, 50 of the world's most influential procurement and supply chain thinkers will tackle these questions and more during the annual Big Ideas Summit, the world's first digital forum focused on procurement, powered by Procurious.
Through this virtual, think-tank event, Procurious' 12,000+ members will have the chance to interact with these senior executives, thought leaders and CPOs, and gain insights into the future of procurement. All are invited to participate by registering on Procurious, the leading free online business network for procurement and supply chain professionals, and then joining the Big Ideas Summit group on the platform.
"Our goal is to inspire a new generation of business intrapreneurs—people who can think outside the box — who will lead change even in times of ambiguity," said Tania Seary, Founding Chairman, Procurious. "By giving the global procurement community a place to connect, discuss and learn together, we hope to seed an innovation movement that knows no boundaries."
New Era for Procurement
Sponsored by the Institute for Supply Management (ISM), The Hackett Group, IBM and Coupa, the Summit will feature several provocative sessions on the trends that will take procurement into a new era:
Thinking the Unthinkable: How the global business environment is changing, how to spot trends and disruptions, and the "unthinkables" that organisations are already preparing to handle.
Rethinking the Possible: What is the "true cost" of doing business in the fashion industry? How are drones and 3D printing morphing the way we work? Presenters will address today's mega-trends, from ethical supply chains to the Internet of Things.
The Conversation Century: With social media breaking all boundaries for collaboration and influence, the profession must master new "rules of engagement." Learn how to use this channel to attract and retain the best and brightest talent, and to maintain a career edge.
Procurement's Blind Spots: Benefit from real-life examples of how procurement is applying key agile capabilities in everything from leadership to information-driven performance. Then be part of a CPO debate about procurement's blind spots, and how risk mitigation will prepare the profession for the future.
Thoughts Leaders and Experts from a range of high-profile, global organisations, taking part in these discussions include:
Tom Derry, CEO, Institute for Supply Management
Christopher Sawchuk, Principal & Global Procurement Advisory Practice Leader, The Hackett Group
Gabe Perez, Vice President of strategy and market development, Coupa
Elizabeth Linder, Politics & Government Specialist, Facebook EMEA
Lucy Siegle, Journalist and broadcaster, The Observer
Peter Holbrook, CBE, Chief Executive, Social Enterprise

Dapo Ajayi, Chief Procurement Officer, AstraZeneca
Get Involved
The Summit is more than a one-day event – the conversation has already begun. Members of Procurious are being invited to challenge the speakers – and each other – with hard questions, contribute to Discussions on the event's key themes and topics, submit their own Big Ideas for consideration by their peers, and read exclusive, advance insights from keynote speakers and influencers.
It doesn't matter where you are in the world, Procurious wants the global procurement profession to help shape the agenda. On April 21st, members will be able to exchange ideas about the proceedings, shared by video, and get involved in real time via social media, on Twitter, LinkedIn or Facebook, using the hashtag #BigIdeas2016. Members will also be able to access more rich content in the days and weeks after this gathering.
The first annual Big Ideas Summit, which debuted in 2015, brought 5,000 virtual delegates together, and generated more than one million tweets. Join the global movement now. Visit bigideassummit.com and register today.
Tweet this: Join the global conversation with your Big Ideas for #procurement at the @procurious_ #BigIdeas2016 Summit, April 21 www.bigideassummit.com
About Procurious
Procurious is the world's first online business community dedicated to procurement and supply chain professionals. It's a hub to advance your career, develop your skills and expand your global professional network. With 12,000+ members across the globe, Procurious aims to empower procurement leaders to connect, collaborate and take a more innovative professional outlook.
Think of Procurious as a professional network, news and knowledge hub, learning and career center, all in one place. Join now at www.procurious.com – it's free to register and participate.