Planning your next holiday email marketing campaign and struggling to stand out? Here are some top tips to help you steal the show.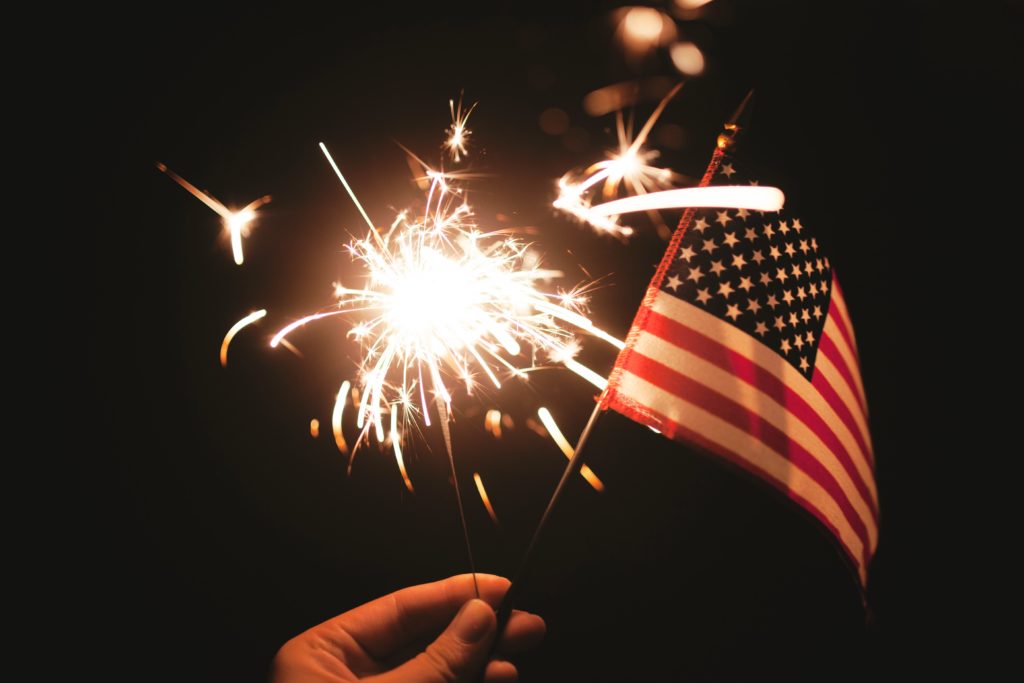 Holiday email marketing campaigns can make or break a business. A study by Experian performed a couple of years ago shows that emails promoting special offers and incentives sent during the two weeks before the 4th of July resulted in dramatically increased open and transaction rates.
The best rated strategies included the following in subject lines: free shipping, vouchers and other cash incentives, 4th of July discounts and coupons, and 4th of July clearance sales.
Here is a prime example from Nasty Gal: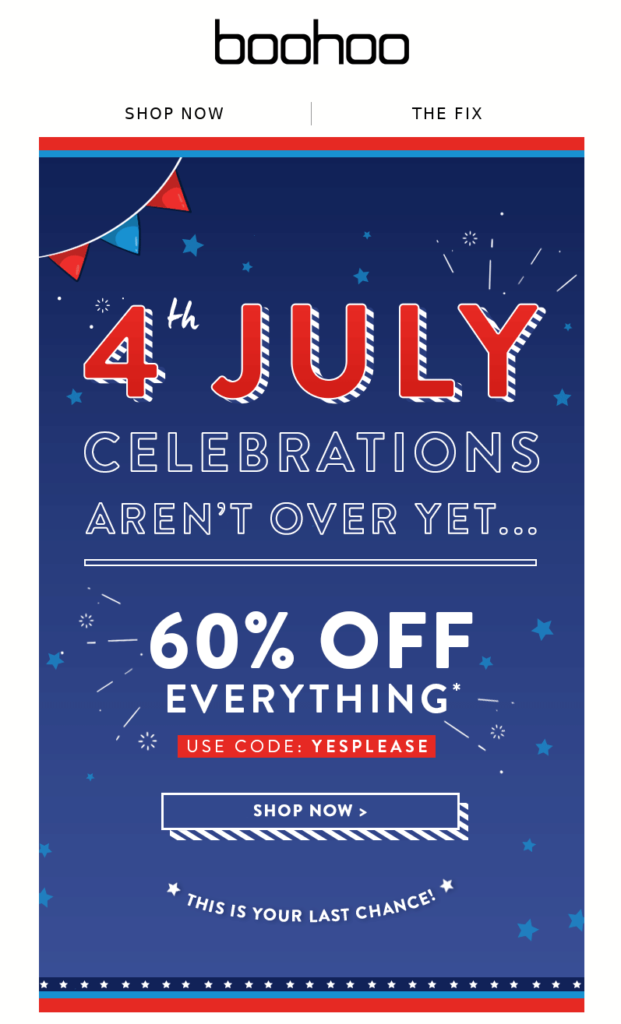 Email Marketing – A Strategy for Every Business
There are a number of approaches. The best one depends on the sender, the offer and the message a business wants to send across. First of all, it is important to remember that this particular holiday appeals to people's patriotism.
Contrary to popular belief, Americans tend to spend a lot ahead of the holiday. According to the National Retail Federation, people spend considerable amounts of money on food, clothing, party props and décor. The percentage stands at 93 per cent for young people aged 18 to 24. If your business caters to younger audiences, there is definitely room for increased transaction rates around the holiday.
Even if that is not the case, a proper strategy will inspire customers to consider the offer. Coupled with the above-mentioned incentives, a clever marketing campaign will offer a little something to everyone. Here are some ideas on how to go about the 4th of July email marketing campaigns.
Animate the Audience
Holidays do tend to inspire partying, so adding animation to the emails is a good choice of action. A picture featuring fireworks or similar will boost the mood and make your offer more tempting. Here is an example from Nicole Miller: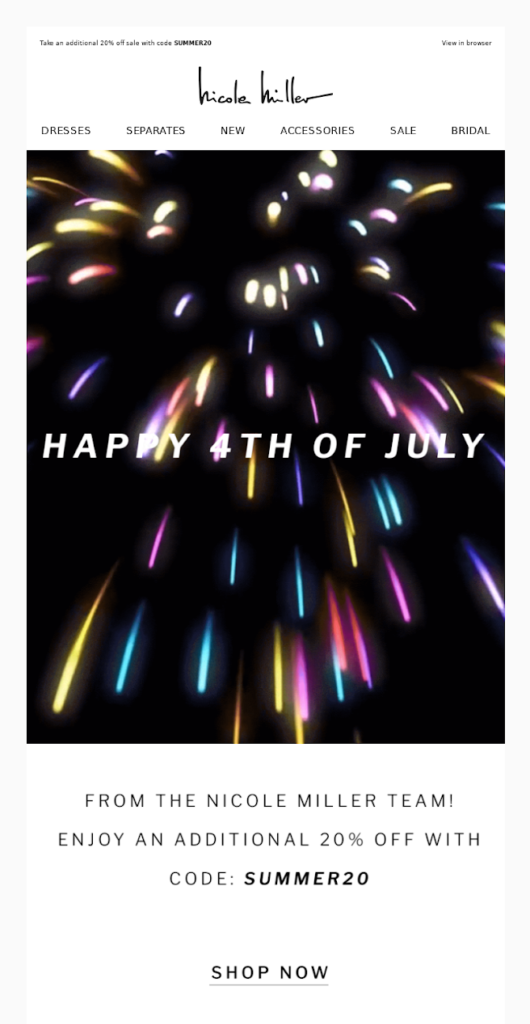 Other examples may come to mind; remember to be creative and keep it cheerful.
Focus on the Holiday Mood
Holidays are fun, and the 4th of July is no exception. In fact, it may well be the most cheerful holiday nowadays. Whether spent with family or friends (or both), people focus on good times. It is, therefore, recommended to appeal to the atmosphere by creating fun emails. Rover did it brilliantly: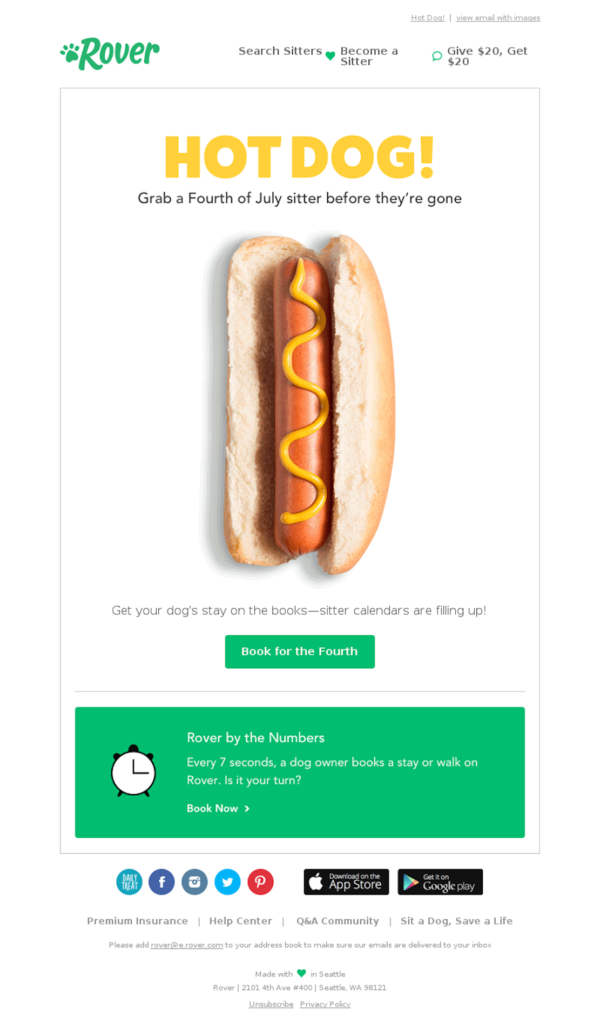 Be creative and humorous and look for ways to link the message to the offer.
Stress on Patriotism
To appeal to overall patriotism, many campaigns fly the American flag. If you find it too generic, trust your brand's specialty to add some zest to the offer. Here's how Sperry nailed it:
Highlighting patriotic products is also a good idea. M&M did a splendid job with that with their 4th of July edition candies.
That isn't to say that you need to create special themed products for the occasion, though. You may simply plaster the offer onto the American flag and get creative with the fireworks around it.
Things to Keep in Mind
The 4th of July is an American holiday and the biggest one next to Thanksgiving. If your business is international, do your homework with segmentation. Sending promotional offers to people outside of the U.S. would be a waste of effort and money, so focus on the target audience.
Further out, the 4th of July falls closely to Father's Day and Memorial Day. You may easily kill two birds with one stone if you couple the offers. On top of it, sending too many emails too frequently is more likely to annoy the recipients than to inspire them, so use the opportunity to combine multiple offers into one email.
If you have a physical store, don't forget to include business hours and the services offered around and during the holiday. It's also important to include information on holiday shipping and delivery deadlines.
Finally, remember that the best of the best campaigns tell a unique story. It is not all about the offer. On the contrary, statistics show that people tend to remember the stories rather than the offer, especially if they are emotionally charged. Sharing an experience and showing the heroes being rewarded is what people will relate to the most. Adding a video or a promo campaign ahead of the holiday will keep customers connected to your brand and keep them coming back for a long while.
Piggyback Existing #Hashtags
To boost the outreach, don't shy away from social media. Use the hashtags such as #4thofjuly and #fireworks to reach a larger audience and follow up with personalized email messages. Remember that younger generations are the key to your 4th of July campaign. Primarily, they use Snapchat and Instagram, with somewhat lesser percentage sticking to Facebook, Twitter and Pinterest.
Add an additional giveaway or two to attract more people. Some ideas include giveaways and social media photo competitions. The more interesting the offer, the more people will share the post. Photo competitions are known to go viral, if done the right way. Use your imagination and may, well July, the 4th be with you!