Ever feel like you're being stabbed in the back by your procurement boss? You're definitely not alone and we have the stats to prove it!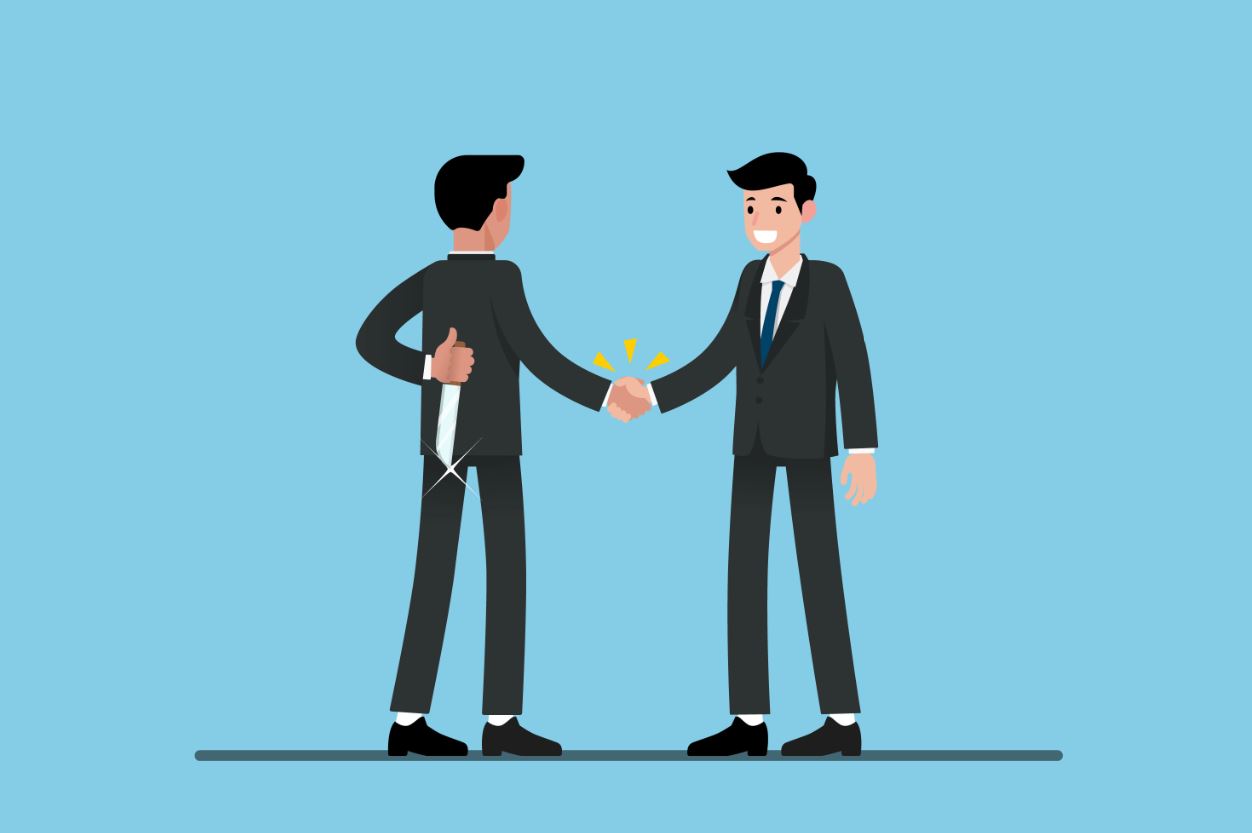 When Procurious put out a call for procurement survey participants, we were delighted when 500+ professionals across more than 50 countries shared their insights and wisdom.
Amongst our most startling discoveries was that over half of those surveyed don't trust their boss to be proactive about their career progression. This result indicates that professionals need to seize control of their own career advancement, while managers need to be incentivised to support and progress their direct reports.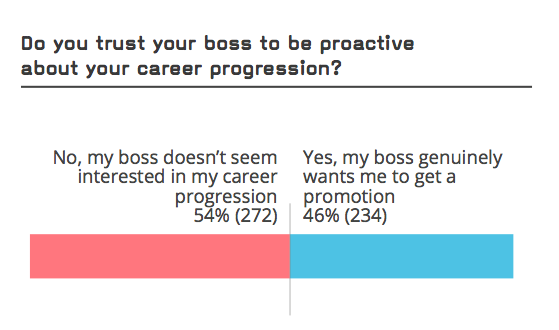 The Results Explained By Global CPOs
At The Big Ideas Summits in Chicago and Melbourne earlier this year we revealed the results of the survey to our CPO delegates.
We were particularly interested in their thoughts on what procurement managers should be doing in order to regain the trust of their team members. The video below shows a compilation of their responses:
What's the root cause of these  trust issues?
Why is trust so terribly lacking between procurement professionals and their leaders?  A number of  key factors arose from our research:
Rate of Change – David Henchliffe, Group Manager Procurement OZ Minerals attributes the lack of trust to the astounding rate of change in today's organisations, "What people seen as firm and certain today, is gone tomorrow. That constant change erodes trust. And it erodes peoples' view of your genuine-ness."
My boss doesn't want me to leave – Many of us can relate to the experience of having an overly protective boss, a boss who is keener to hold on to their talent at all costs rather than priortise career development. Alan Paul, CEO Sourceit, takes his responsibility in this area very seriously, "As a manager I need to demonstrate to my staff that I'm not afraid of them leaving the organisation. I want to develop them I want them to improve themselves." If employees feel like they are missing out on opportunities because of an unsupportive boss, it's likely they'll leave anyway!
My boss doesn't engage or communicate with me – The value in talking and listening can never be underestimated.  Imelda Walsh, Recruitment Consultant, The Source believes that "fantastic leaders encourage honest and open conversation. If procurement managers can take that step, you'll naturally build trust"
My boss isn't helping my career development – If it appears that your boss doesn't care about helping you to advance your career, of course you're not going to trust them! Michelle Varble, Procurement Director, United Airlines, asserts that  "we need to take a geuine interest in [our employees] success- we need to take on the roll of mentor even if we havent recieved a specific invitation to be a mentor."
My boss isn't ethical – Employees will hold a leader in high regard who both demonstrates good ethics  and demonstrates that they genuinely care about good ethics. People want to work for companies that are not soley motivated by savings and profit, that aren't covering up immoral behaviour and where they aren't suspicious of the goings on at the top of the company.
A lack of ethical behaviour at the top sets a terrible example to the rest of the organisation and destroys trust.
What can procurement leaders do to regain trust?
Encourage development – Anna O'Dea, Director and Founder of Agency Iceberg, believes that "a  good employer should encourage the development of their employees. If your employer isn't investing in your training or opportunities, you could be in a one-way relationship."
Spend time with your talent – David Henchliffe advises leaders to regain trust by devoting more quality time with employees, "spend time with them, get to know them, admit your mistakes and praise them when they do well."
Put clear career progression procedures in place – Implementing clear structures within an organisation reassures employees that their progress is being monitored and the value they contribute is recognised.  John Foody General Manager Procurement, U.S Steel explain how his organisation "We've put in place some tools that we call Career Ladders, that evaluates and gives feedback to our people. It provides them with feedback on their skills, their capabilities, areas to continue to work on. It gives them a sense of progress as they continue to move through our organisation."
Take the fear away – Don't let your employees worry about your lack of commitment to them. Reassure them that you  have their best interests at heart, and not your own!  Alan Paul asserts that "for a manager, a true leader, it's about taking away the fear that your people are going to leave and trust that they're going to stay. But also accept the fact that eventually they are going to move on.
How can you advance your career without the help of your untrustworthy boss?
As Procurious founder Tania Seary asserts, "It's all too easy to find excuses for why your career is not panning out the way you intended. Soft targets for blame include your employer, your peers, your organisation or even your own personal life- challenges for blocking your charge to the top.
"We know there are some significant problems with procurement bosses around the world but…as I have always said, and will continue to say, the only common denominator in your career is YOU."
So join that professional network, start updating your online CV, enroll on an eLearning course, listen to that podcast series you keep forgetting about  and start connecting with influential peers and thought leaders! The procurement world is your oyster…
Request your copy of the Gen NEXT Report
The Gen NEXT report, exclusively available to Procurious members, is packed with data, insights, recommendations, and links to over 20+ Procurious articles that further explore many of the findings that are raised in the report. Email us to request your copy.