How do you pivot your operations? Here's how. We discover how one fashion house started making scrubs.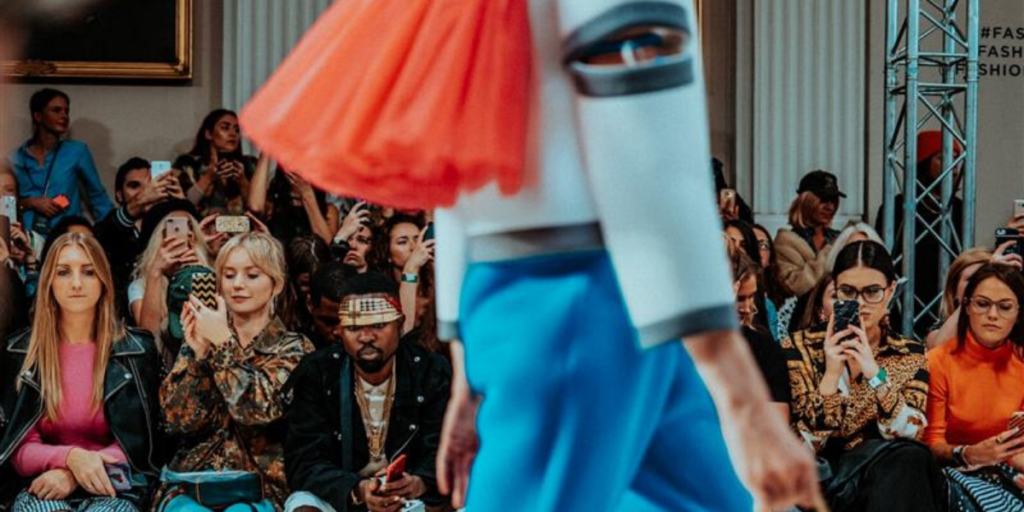 ---
Imagine, for a second, that during this pandemic, procurement simply wasn't needed within your organisation. Your boss then came to you and said that the business valued you and thought you had some transferable skills, so they had decided you should switch into a sales role, immediately. How would you feel? What would you do?
Admittedly, in this situation many of us would panic. But right now, we don't need to look far to find people that that exact situation has been thrust upon – namely, our suppliers. Throughout this pandemic, we've witnessed this exact, almost instant change, occurring from Ford and Tesla switching their production to making ventilators, to 3M making face masks. But how does it feel to have your world changed, overnight? And as the pandemic rolls on with no vaccine in sight, can we expect more suppliers to be doing this?
To get an insight into this fascinating transition from a supplier's perspective, we spoke to Martin Kristensen, Director of the House of Kristensen. Incredibly, over the last few weeks Martin and his team has transitioned from manufacturing high fashion to making homemade scrubs, which are now being used by the NHS.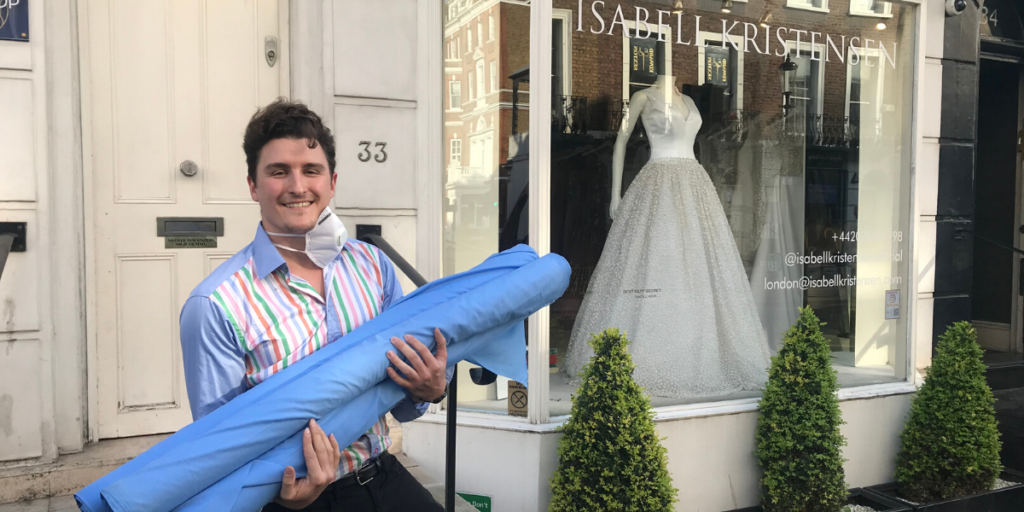 ---
Martin, tell us about your business prior to now making homemade scrubs?
Sure, so House of Kristensen is a couture fashion house specialising in made-to-measure, bespoke designs. We create unique feature pieces for both private and public/professional clients, with our public pieces being quite high-profile.
For our private clients, we design mostly for special family occasions, such as weddings, birthdays, bar mitzvahs, etc. For our professional clients, we do everything from gown design for famous TV shows as 'Strictly' or 'The Voice,' to dressing stars for stage performances(we've worked with Katy Perry and Dame Shirley Bassey, to name a few). We also create stunning outfits for red carpet appearances, including Cannes Film Festival, the BAFTAs, and many more.
We understand that you're based in London. Tell us how the coronavirus unfolded for you. What's your personal experience been and how has it affected your business?
I couldn't have been in a stranger situation when the Covid-19 escalation was first announced. I was actually running around a woodblock with camo-cream on my face on a training exercise with the British Army Reserves!
Prior to departure, though, I had left an action plan for my team with guidelines about what they should do if the situation escalated. My training was cancelled, so that allowed me to return to my team.
When I returned to London, immediately our focus was on adapting our workforce to be able to work from home, at least temporarily. This involved significant kit & equipment prep as well as material allocation so we could still execute our production schedule.
Beyond that – honestly – the outlook for us wasn't that rosy. We're fundamentally in the events business, and with Covid, most events were axed. We had a quarter of a million pounds' worth of cancellations, and little room for new opportunities.
Everyone was afraid, there was no certainty. All we could do was focus on being proactive, strengthening existing relationships and forging new ones.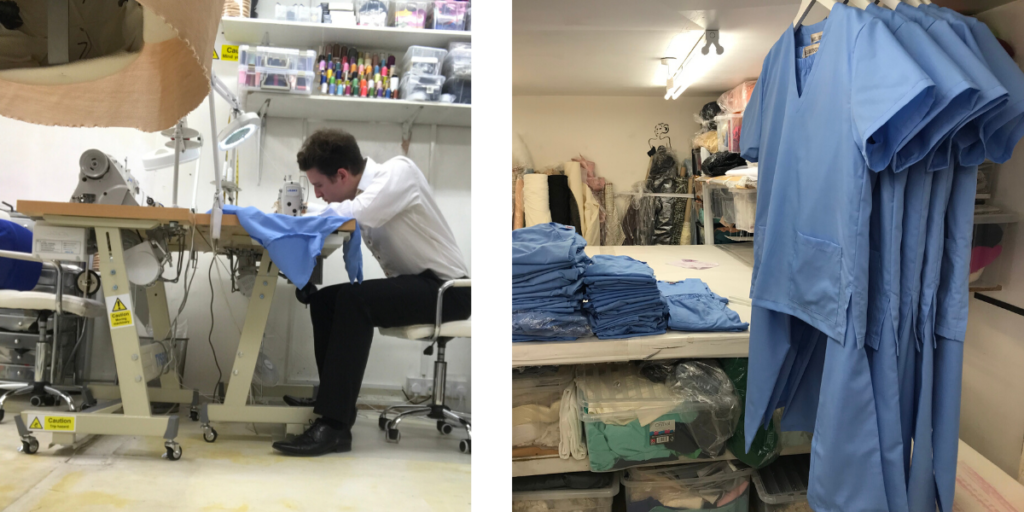 ---
With everything that was going on for you, how on earth did you think of switching to produce scrubs?!?
Scrubs4Heroes was born out of recognition of the extremely challenging situation facing our frontline staff and a desire to help in any way we could.
For those of us in the leisure and luxury sectors, It is not every day that we are able to be a part of helping safeguard peoples' lives.
I will always remember the amazing care I received after my hand was broken in a cycling accident. So when I heard about the shortages at Chelsea and Westminster Hospital, where I'd been treated, I called them to offer support with scrubs if any were needed, the response was clear and more requests followed, pushing us to capacity.
I then decided volunteers were needed to help us meet demand and we then created Scrubs4Heroes. I am proud to say we now have almost 200 volunteers and are burning through about 3000m of fabric per week to meet our urgent orders.
We're intrigued! How do you actually make scrubs?
The process is very interesting and there's lots of different design features you definitely wouldn't think of.
Firstly, you need to find the right fabric. We discovered quickly that poly-cotton was best, as it provides a resistance to shrinkage when cleaned at higher temperatures as well as a resistance to wear/tarnish, whilst also ensuring a degree of breathability.
The next step is the creation of the garment, from a specific NHS-approved pattern. We also need to consider details relevant to practicing medicine such as colour. Colour is a lot more important that you'd think – research shows that looking at blue/green helps keep doctor's eyes more sensitive to variations in red. So if you are a terribly busy doctor, nurse or surgeon looking at blood frequently, operating or trying to detect an infection, typically indicated by levels of redness, blue or green is invaluable to refresh colour perception
That's amazing! How many scrubs are you making now?
Lots! The list of places we are supporting has grown significantly in recent weeks. We now have 14 NHS trusts and clinics we are working to supply, as well as six GP surgeries and just this weekend we delivered to NHS Glasgow.
We are also now supplying HM prison service with instruction packs and material to help them produce scrubs for the NHS. We think that's pretty special – I think it would have to be the first couture house and correctional facility collaboration! So far they anticipate adding 50-100 sets of scrubs to our relief effort per week.
Congratulations on your great contribution Martin! Where to from here?
It's hard to say. There's a high degree of uncertainty at the moment and we're not anticipating a flood back to the sort of events we cater for. We need to remain nimble and agile and adapt to our changed circumstances. One example of how we're doing this currently is with our Couture-In-Situ Service where your own personal shopper comes straight to your home, hotel or office with a selection of 30 carefully styled looks. This enables us to provide the same level of couture and expertise, but within your own safe setting.
Way to go, Martin! Is there a thing or two you think can you learn from Martin's transformation? What does it tell you about how you personally are dealing with change? And how are you currently remaining nimble and adapting to changed circumstances? Tell us in the comments below.
Join Procurious to connect with 40,000 other ambitious procurement professionals and get free access to networking, industry news, training and much more.