A triple-whammy of recently published reports highlight current and impending trends in 3D printing.
The global market for 3D printing is set to grow from $4.5 billion today to $17.2 billion by 2020, finds research by A.T. Kearney.
According to the analysis titled '3D Printing: A Manufacturing Revolution', the 3D printing market – defined as the market for hardware, supplies and services – is set to boom over the coming five years. Today the market is worth approximately $4.5 billion, with Aerospace (including Defence) and Industrial (including Construction) both accounting for18 per cent of the pie, followed by Healthcare at around 16 per cent. The Automotive and Jewellery sectors both represent a 12 per cent market share, while Energy holds 5 per cent, with the remainder taking about 20 per cent of the share.
Benefits of 3D printing
The boom in the application of 3D printing is based on several benefits the technology has over traditional forms of manufacturing, which according to A.T. Kearney can be bundled across five dimensions.
1. Mass customisation – the technology will allow people to create items build to the specifications of customers, with custom-built designs opening up a wealth of possibilities.
2. New capabilities – items can be mass produced without high-fixed capital costs related to specific design.
3. Lead time and speed – the technology allows for = printing in a wide range of mediums on the basis of data templates, benefiting the whole design and production process, ultimately leading to reduced lead time and speed to market.
4. Supply chain simplification – with printers easily deployable and moveable, the whole process can be enacted close to markets, thereby requiring less inventory.
5. Waste reduction – unused base material can be used in a variety of other products, and only what is needed is used, thereby reducing the waste of offcuts, among others.
There's riches in the 3D material supply chain…
Research compiled by Smartech examines the future of current material supply chains for the key plastics used today in 3D printing.
Many 3D printer firms are racing to fill out their plastic material portfolios and are using them to create competitive advantages. At the same time, major materials companies are also starting to see 3D printing as a profitable niche market worth jumping into now, with the promise of large opportunities down the road.
The quantity and quality of plastic materials available for 3D printing systems are key determining factors in the number of 3D printer purchases.
The report hereby goes into detail on the idea of plastics as a source of competitive advantage for 3D printer firms. Since many OEMs are looking to plastic materials as a source of substantial revenues over the next few years, 3D printing firms have set about acquiring materials to force development themselves. This inexplicably raises questions about the future role of the OEMs – will they even be needed in the 3D printing factories of the future?
A further piece of research taken on by leading 3D printer manufacturer – Stratasys, proves that 3D printing is THE trend of the moment…
Stratasys' report is based on an independent survey of 700 designers, engineers and executives – 40 percent of whom are employed by companies with over $50 million in revenue.
"We needed to look beyond our factory walls to get a more complete sense of where 3D printing is headed, so we turned to those who live and breathe the technology just like we do – professional users," said Joe Allison, CEO of Stratasys Direct Manufacturing. "We set out to uncover the common themes among companies who are on the spectrum of larger-scale adoption and integration of 3D printing into their manufacturing process. We're sharing our findings to help advance adoption and help manufacturers' maximise the business benefits."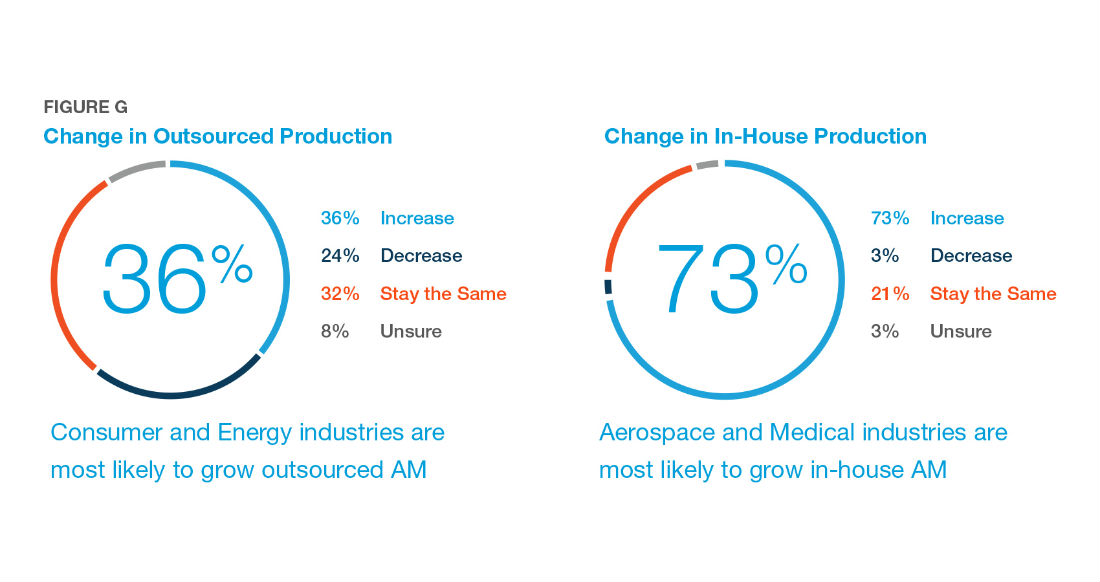 The report indicates what applications, business benefits and challenges, equipment, materials and services are capturing the attention of 3D printing's most committed users – and where their companies will invest. Among the more attention-grabbing of the results are the following:
The majority of respondents – representing the aerospace, automotive, consumer and medical sectors – strongly believe more end-use parts will be designed specifically for additive manufacturing (AM) in the future
Additive metal use is expected to nearly double over the next 3 years
The majority of respondents said that regardless of their company's in-house AM capabilities, they believe there will always be value in partnering with an AM service provider to augment internal capabilities
"The results may serve as a wake-up call to take swifter action," added Allison.