A bold move to standardise roles on behalf of the profession.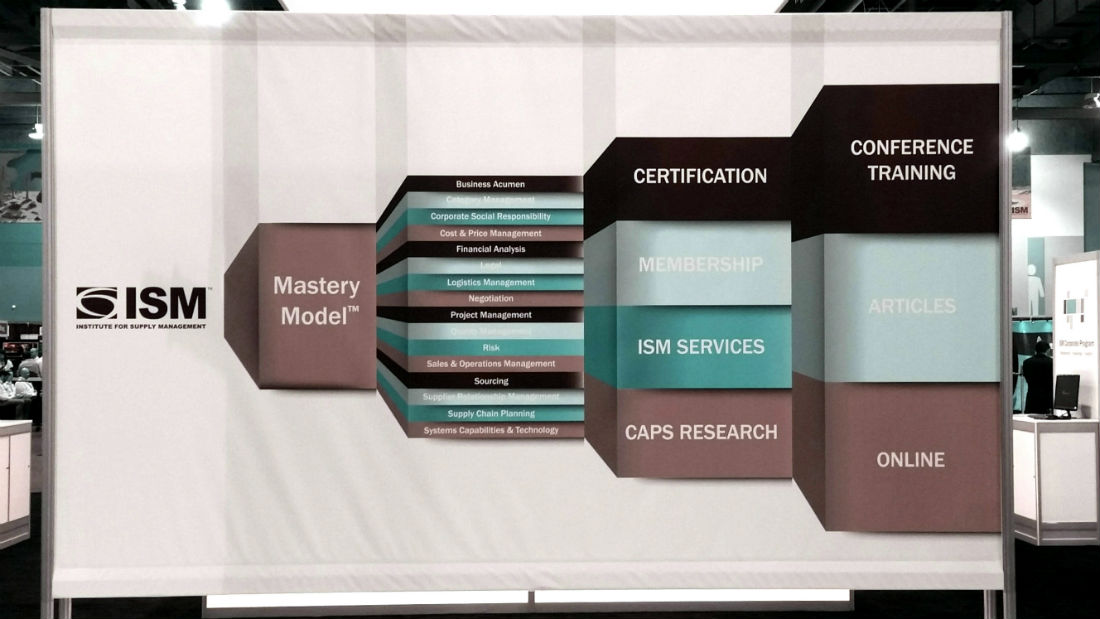 Standardisation. The supply chain profession is crying out for it, but it's very difficult to achieve. If you've ever worked with procurement teams from more than a handful of organisations, you'll have seen that people don't speak the same language when it comes role titles and the competencies they entail. It's day two of ISM2015 and I'm attending a press conference with some of ISM's top brass – Thomas Derry (CEO), M.L. Peck (Senior VP Programs and Product Development), Cecilia Mendoza (Director Education and Training) and Tony Conant (COO). As the cameras zoom and flash, Derry clears his throat and announces his organisation's biggest initiative of the year so far: the ISM Mastery Model.
This year ISM celebrates its 100th birthday and is using this milestone to create a model that will drive standards into the next millennium. ISM has plenty of experience in this area – they've been the hand at the tiller of the US supply chain profession since 1915, setting the standards and moving the professional boundaries as the responsibilities and expectations of procurement professionals grow at an incredible pace. As Derry says, "Procurement has moved so fast we've almost outstripped the ability to have formalised career structures."
So, what is it?
The ISM Mastery model represents ISM's bold move to standardise roles on behalf of the profession, with the goal that the model will become an integral part of the hiring process and career development for supply chain professionals. The model was built by drawing on ISM's own experience over 100 years in the sector, including 50 years as the USA's leading provider of supply chain certification. Two dozen supply chain professionals took part in validating the thinking behind the model. It creates a crystal-clear career path for young people, or rather a number of possible career paths by detailing the competencies required and how they can be achieved. The model is scalable and configurable to different companies' needs, and surprisingly, it's free.
Here's how it works: the model is organised into 16 major competencies; namely business acumen, category management, corporate social responsibility, cost & price management, financial analysis, legal, logistics management, negotiation, project management, quality management, risk, sales & operations management, sourcing, supplier relationship management, supply chain planning, and systems capabilities & technology. There's a mix here of core or "hard" competencies, and what we traditionally call "soft" skills, such as negotiation. Derry comments that it's time to change this label to "critical skills" to reflect the importance of hard-to-learn competencies, as you'll absolutely need these skills to advance in modern-day procurement.
The major competencies are then broken down into highly detailed sub-categories, in what Derry proudly calls "the world's greatest collection of job descriptions". The detail is superb, laying down in the plainest language what is required to master that competency. Take business acumen as an example – ISM has determined that procurement professionals will need to come to grips with no fewer than 10 sub-categories, ranging from business intelligence to strategy development. The model then lays out the expectations for these sub-categories at four different career levels – essentials, experienced, leadership and executive leadership. That's 40 detailed competency descriptions under business acumen alone. The final piece of the puzzle is found on the website – I click on the competency "business acumen", the sub-category "change management" and the "essential" experience level, and I'm directed to the ISM certification programs (online courses, podcasts, articles, seminars and more) that will equip me with this skill.
Who will the Mastery Model benefit?
Individuals – build your career path, identify the gaps in your knowledge and create a business-case to request training or personal development.
Managers – map out the skill-set of your team and pinpoint the exact training required to fill gaps. Create a clear roadmap for ongoing investment in training. Lock in key checkpoints for career advancement using this model.
Global organisations – use the ISM Mastery Model to raise your decentralised team to common levels of proficiency.
Private equity firms – use this model to assess the procurement functions of your portfolio of companies.
Recruitment organisations – use the Model to help identify the right candidates and speak the same language across every procurement organisation.
The Mastery Model is impressive, and my only concern is its sheer size seems overwhelming. Derry points out, however, that although a huge amount is expected of the modern procurement professional, we can only do so much. People can use this model to create a career path into an area of specialisation – for example, I might want to begin my career with a generalised "essential-level" skill-set, but concentrate on specialising in legal as I gain the upper reaches of the model.
The launch of the model has some interesting implications for ISM. Derry talks about the data they'll be able collect, such as tracking a surge in interest in a particular competency in a particular industry. ISM can then research the reasons why and adjust their training programs accordingly. Derry also stresses that the model is adaptable and is expected to change over time – if procurement has altered so much between 1985 and 2015, just imagine how different the roles will be by 2030.
This model makes personalised growth possible. Having a clear roadmap and standardisation will help accelerate the development of younger teams and will be of immense benefit in attracting and retaining talent. Check it out at www.instituteforsupplymanagement.org.