The Procurious Big Ideas Summit is back and it's bigger and better than ever before!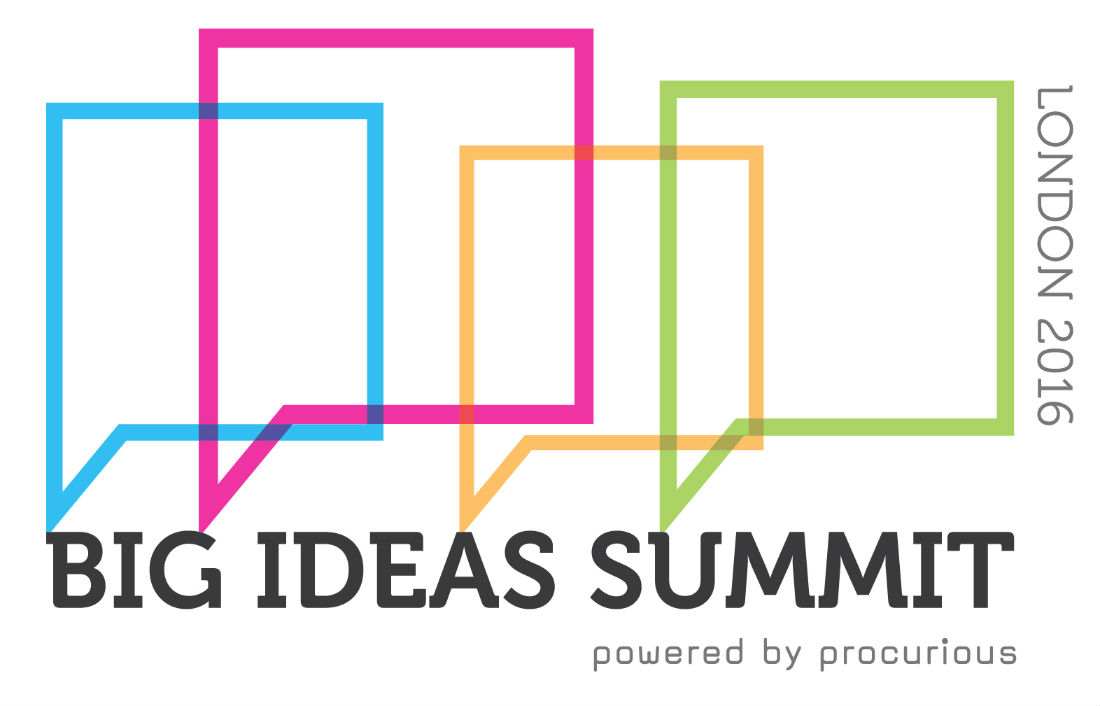 We had a fantastic experience, and great fun, last year at the Big Ideas Summit, the world's first digitally-led conference for the procurement profession. And it's almost time to do it all over again at the Procurious Big Ideas Summit 2016.
If you aren't familiar with the event, the  Big Ideas Summit gathers together 40-50 of the world's brightest minds, such as established thought leaders, senior decision makers and industry experts, to discuss the future of the procurement profession.
What's the Big Idea behind it?
The event is a unique opportunity for professionals to gain insights into the evolving global space of procurement. It connects senior executives, thought leaders and CPOs with digital delegates on a live platform.
Big Ideas 2016 aims to get current and future procurement leaders thinking about and discussing the key trends, risks and issues in the profession, and giving them tangible outcomes they can use to drive innovation and change in their organisations.
The key themes our speakers will be addressing this year include:
The technological "megatrends" impacting procurement
The True Cost of doing business in the fashion industry
How social media breaks boundaries for innovation and collaboration
Attracting and retaining the best Millennial talent
Creating and sustaining organisational agility
The face-to-face component of the event will take place in London on 21st April 2016. However, as with last year, we're inviting over 12,000 procurement and supply chain professionals (co-incidentally, the same number as the Procurious community!) to join us as digital delegates.
This will amplify ideas and content through Procurious, as well as give our global delegates the chance to submit questions to speakers in advance as well as tune in, learn and participate in real time. 
Who will be speaking?
We've secured a high calibre of thought leaders and keynote speakers, including:
Tom Derry, CEO, Institute for Supply Management
Christopher Sawchuk, Principal & Global Procurement Advisory Practice Leader, The Hackett Group
Gabe Perez, Vice President of strategy and market development, Coupa
Elizabeth Linder, Politics & Government Specialist, Facebook EMEA
Lucy Siegle, Journalist and broadcaster, The Observer
Peter Holbrook, CBE, Chief Executive, Social Enterprise

Lucy Harding, Partner and Head of the Global Procurement & Supply Chain Practice, Odgers Berndtson

Martin Chilcott, Founder and CEO, 2degrees

Dapo Ajayi, Chief Procurement Officer, AstraZeneca
How you can take part
The Big Ideas Summit is open to all Procurious members. It doesn't matter where you are in the world, we want you to help shape the agenda. Register your attendance in our Procurious Big Ideas 2016 Group.
On Twitter? You can also submit your questions by tweeting us @procurious_ using the hashtag: #BigIdeas2016
For more information about the day head on over to our bespoke event site at www.bigideassummit.com.
Why take part?
As savvy social networkers you'll already be of the mind that social media can be used to create a global stir. We want to amplify these Big Ideas throughout the global procurement community, connect with one another, start meaningful conversations, and ultimately drive change.
All keynote sessions will be captured on film and offered exclusively to registered attendees. As a 'digital delegate' you'll also be able to access a rich collection of supporting material including articles, interviews and video content following the event.
Who Is Sponsoring It?
For an event that explores the biggest trends impacting procurement we thought it only necessary to bring onboard similarly hot-ticket sponsors. The Procurious Big Ideas Summit 2016 is proud to be sponsored by the The Hackett Group, The Institute for Supply Management, IBM and Coupa.
We are delighted to be working with such great organisations and look forward to joining with them on the day to produce a fantastic event for you all.
If you're interested in finding out more, visit www.bigideassummit.com, join our Procurious group, and Tweet your thoughts and Big Ideas to us using #BigIdeas2016.
Don't miss out on this truly excellent event and the chance to participate in discussions that will shape the future of the procurement profession. Get Involved, register today.