Another traditional high street store has announced store closures due to falling revenues and profits – is this the latest step in the terminal decline of the UK high street?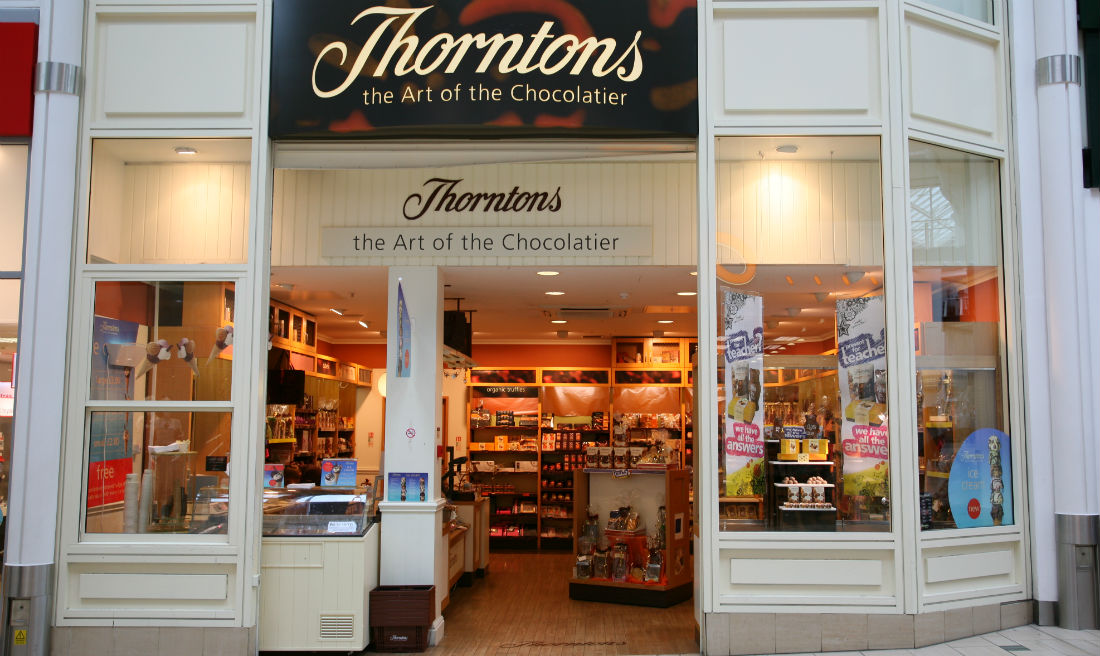 UK chocolate retailer Thorntons has reported a fall in revenues for the six months to January 2015 of 8 per cent to £128.2m. This comes hot on the heels of the pre-Christmas profit warning issued by the company and the closure of just under half of its stores.
Thorntons has suffered from falling sales and unprofitable stores for a couple of years and made the decision to move more of its sales to other outlets and retailers. This move has since been compounded by the announcement of the loss of shelf space at two major UK supermarkets.
High-profile casualties
Thorntons are far from alone. According to a report issued by PwC, there was an average of 16 shop closures per day in the UK in 2014. Coupled with a reduction in the number of new shops opening, this is leaving many high streets full of empty units.
In the past year alone, a large number of high-profile names have either been forced to close high street stores or have collapsed entirely. Phones4U and La Senza both collapsed last year, while 2015 has already claimed its first big victims in Bank, USC and Austin Reed (all fashion retailers) and Radio Shack in the US.
Why is this happening?
For many, the main cause is seen as the out of town retail parks, complete with free parking and everything in one place. However, even these shops aren't immune to the changing environment.
The Office of National Statistics retail statistics have shown an average 12 per cent increase on online sales to the same period the previous year throughout 2014.
Many organisations have failed to keep up with the pace of the digital economy. Poorly designed shops with unclear offerings, poor customer service and unsuccessful marketing just don't cut it against the convenience of shopping online and having everything delivered to your door.
Organisational Benefits
It's not just the consumers who are benefiting either. There are major positives for organisations and supply chains for having an online operation. Not having to run a high street store means reduced overhead costs and monthly outgoings and the ability to be located in low-rent areas.
With fewer staff required, the goods or services can be offered at a lower cost, as companies require less mark-up to make a profit. Stock can also be ordered in bulk, further reducing costs, while at the same time ensuring that there is sufficient stock to cover customer orders.
Hope for the Future?
All is not lost though. Many consumers still want shops that they can visit and often, the convenience of online shopping is outweighed by the risk of not getting what they want first time, or not being able to see what it is they are buying.
It is widely felt that organisations that successfully merge the two worlds of digital and physical shopping can help to save the high street. For example, the John Lewis Group now offers 'click-and-collect' to any of their department stores or Waitrose supermarkets for online orders.
Special offers can be sent to a smart phone when customers are in store, while augmented reality (think Google Glass) can be used to show you what a sofa would look like in your house. The companies who can tailor their offering best will be the ones who populate the high streets of the future.
So, terminal decline? Probably not. Natural state of change? Arguably yes. And it looks as though it will be for the better.
Read on for the other procurement and supply chain stories making the headlines.
MoD spent £33 million on 'botched' defence procurement outsourcing
The Ministry of Defence (MoD) must "sharpen up" its reform of procurement, after "throwing away" £33m on botched changes.
This follows a report from the National Audit Office (NAO), Reforming Defence Acquisition, which examined the MoD's plans to improve the skills of Defence Equipment & Support (DE&S) staff, its systems and the way it interacts with the armed forces.
The NAO concluded that improving the performance of DE&S remained the most challenging part of the department's strategy, although progress has been made. "There is now a clearer separation of responsibilities between the commands, which request equipment, and DE&S as the organisation responsible for delivering the equipment," the report said.
It also outlined how the department had spent two-and-a-half years and £33 million trying to implement its preferred option of a government-owned, contractor-operated (GoCo) model to reform DE&S, before it was deemed undeliverable and halted in 2013.
Read more at Supply Management 
Will a new UK law eradicate supply chain slavery?
Whether it is high street fashion, bedding from a department store or eggs from a supermarket, few British shoppers would stop to ask whether slave labour was involved in making their goods.
Yet forced labour often lurks along the supply chain as a product and its individual parts are manufactured, packaged and distributed in a process linking multiple suppliers in many different countries, business ethics experts say.
Globally, the International Labour Organisation estimates that 21 million people are victims of forced labour. In Britain alone, the Home Office (interior ministry) says up to 13,000 people are forced into manual labour, sold for sex in brothels, or kept in domestic servitude, among other forms of slavery.
A government-backed draft law aims to tackle exploitation by requiring businesses in Britain to disclose what action they have taken to ensure their supply chains are slavery free.
The clause will provide guidance to companies about the kind of information they could disclose. However, the Home Office said firms will not be told what must be included, and that it expects disclosures to differ from company to company.
Read more at Reuters
SLG's SCOR expert recognized for supply chain leadership
Satellite Logistics Group (SLG), a leading supply-chain solution provider for the beverage industry, announced today that

Dan Swartwood

, the company's vice president of process and technology, has been named one ofSupply & Demand Chain Executive magazine's 2015 Pros to Know.
The annual Pros to Know Awards recognize select supply chain executives who have helped their clients, companies, or the supply chain community at large to prepare for the significant challenges in the year ahead.
"This honor highlights the many thought-leaders who are helping to shape the Supply Chain industry and advance Supply Chain as a respected discipline in the enterprise," said

Barry Hochfelder

, editor of Supply & Demand Chain Executive. "Their efforts in developing the tools, processes and knowledge base necessary for Supply Chain transformation, and in promoting new approaches to supply chain enablement, have earned them a place on this year's Pros listing."
Swartwood has guided a number of U.S. and international companies in various industries through the methodologies and has seen the results firsthand. On average, opportunities for improvement equate to two to six per cent of revenue.
Read more at PR Newswire
Apple under scrutiny in Labor's tax loophole crackdown proposal
Large international tech companies operating in Australia such as Apple and Google could come under increased fire over their local tax treatment under a new proposal by the federal Labor Party to clamp down on loopholes.
In what Shadow Treasurer Chris Bowen described as an "opening salvo in the battle of ideas", Labor's first major policy announcement in opposition is to introduce a range of measures to stop billions of dollars of tax from bleeding offshore.
"This announcement today sets a blueprint for Labor's approach in office," Bowen told reporters in Canberra on Monday. The federal opposition's tax package, which has been costed by the independent Parliamentary Budget Office, is worth AU$1.9 billion over four years in additional revenue.
It includes tightening of the so-called "thin capitalisation" rules, which allow companies to offset profits against debt servicing costs in high-tax jurisdictions such as Australia to reduce their taxable income.
Read more at ZDNet
Drones still useful in supply chains despite FAA regulations
Last week the Federal Aviation Administration published its rules and regulations for the oversight of drone usage within the United States. Many will and have argued that these rules are too restrictive for companies such as Amazon or Google to truly take advantage of the technology. The basic parameters of the guidelines set by the FAA:

Drones must be less than 55 lbs in weight
Can only fly during the day in good weather
Must not fly close to airports
Cannot fly faster than 100mph
And must be within visible site of the operatorLast week the Federal Aviation Administration published its rules and regulations for the oversight of drone usage within the United States. Many will and have argued that these rules are too restrictive for companies such as Amazon or Google to truly take advantage of the technology. The basic parameters of the guidelines set by the FAA:

On the surface these restrictions severely limit the dreams of the likes of Jeff Bezos. One of the great opportunities for drones within the supply chain and particularly with the delivery side is the ability to enhance the last mile portion. The last mile is always a challenge since you have to break down the orders to the individual level. Drones seem to offer an affordable and flexible solution – but not if the FAA rules are in place. This does not mean there are not some use cases that supply chains can take advantage of immediately:

These include: Asset monitoring and remote delivery… read more over at ZDnet