So you're a fully-registered Procurious member: you're sharing stories with your peers, contributing to interesting discussion topics, brushing-up on your learning using our learning resources, yet you're still craving more… Let us introduce you to our new Procurious Groups – the perfect haven to hang out with likeminded professionals around a core theme.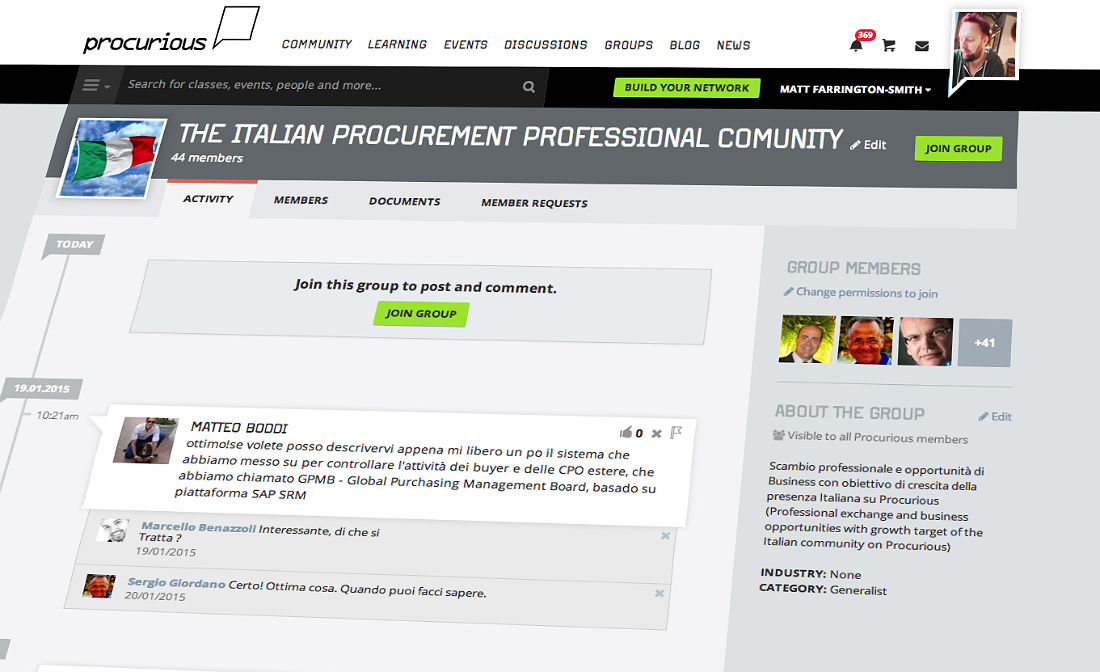 Sergio Giordano – one of our original, early Procurious members has forged ahead and set up The Italian Procurement Professional Community. It currently boasts 44 members, making it the largest active Group on Procurious.
We asked Sergio if he'd like to share some words about the Group, and the approaches he's adopted to entice new members:
"Italian professionals are beginning to understand that to achieve reputation you must first demonstrate your competence by helping colleagues and proving to be an expert in a specific field.
This is an essential feature which is the basis of my request to join the group. I also tried to make it clear to them that the opportunity to grow the Italian community in Procurious is huge. On one hand it helps to get in touch with a world of international procurement with the support of other Italian colleagues with whom to share their knowledge. And on the other hand, a means to enrich themselves with the expertise of colleagues from other countries. 
Finally, as you know, Italians like sport (and competition) so I spurred the decision to join the group by issuing a challenge: to be the most numerous and competent team in Procurious, by putting together the excellence of Italian procurement professionals. However I think that the first interest in joining  the group is the uniqueness of Procurious: we all felt a great need of a specialistic network like yours or, let me say… like ours."
Create your own Group
To take a leaf out of Sergio's book, navigate to the 'Groups' page by following the link (it's nestled between the Discussions and Blog items).
To set up a group of your own, begin by clicking the 'Create Group' button.
Now you need a good name… The Group name should be succinct, and easily identifiable. You can go into extra detail in the 'Description' field – this should spell out your modus operandi.
You'll also need to specify relevant industry and category choices using the drop-down menus (just like you did when you originally joined Procurious).
Finally, upload a small image that can be used as the Group's profile picture. Now you're ready to start inviting other Procurious members to your new Group – you can do this by typing names into the 'Add members' field.
Set privacy and permissions for your Group
Ideally you'll want to retain full control of your little corner of Procurious – this is where the privacy and permissions controls come into play.
Set the Group privacy to 'Posts visible only to group members'.
To manage the flow of new members to your Group we'd recommend selecting the 'Any Procurious member can ask to join' option in the first instance. This means that every time someone makes a request to come onboard you'll receive a notification to approve/deny their membership.
We'll be exploring Groups in more detail in future postings, but in the meantime we encourage you to have a play around and explore the new functionality on offer.
Have any feedback/comments? Leave below for Procurious to see!