While we eagerly await the first videos from the Big Ideas Summit to appear, we recap on a jam-packed day. How much of it did you catch?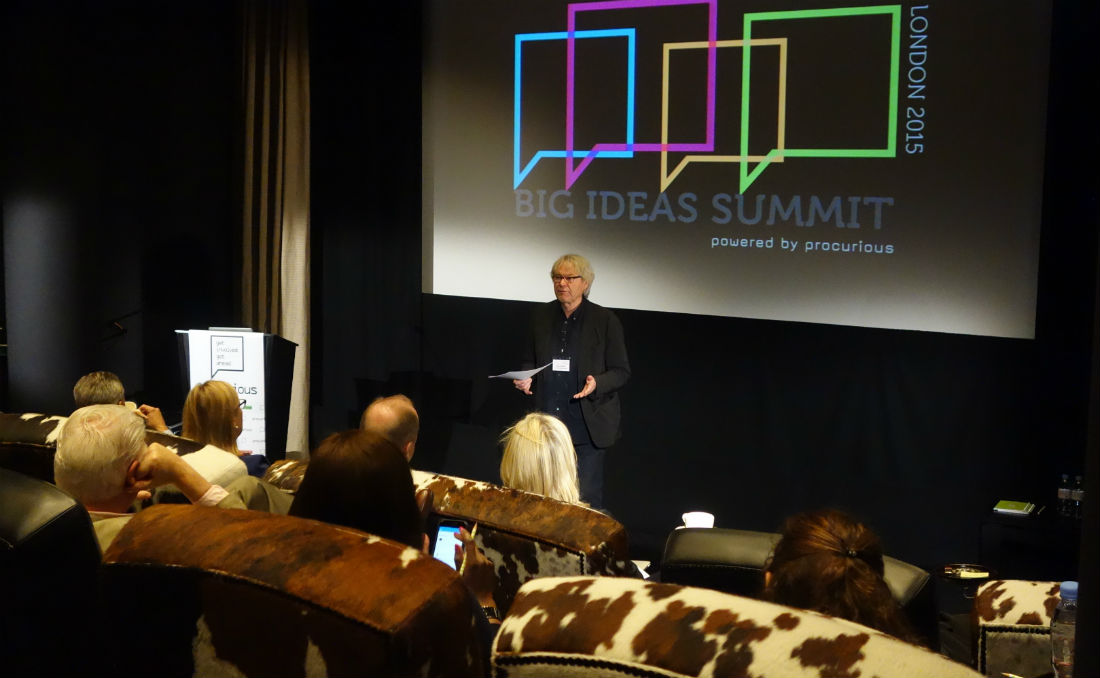 Our man Jordan Early set the scene for all of our 'Digital Delegates' who followed along on Twitter, Facebook, and Procurious.
The Big Ideas Summit 2015 is live!
Sarah Trota, 2013 Personnel Today HR director of the year, talked us through creating 'alchemy' using people in organisations.
We captured some of her other 'Big Ideas'
Sigi Osagie got us all thinking about changing our perspective.
Have you got a business card? Is it a business card or a blank card? Change your perspective and get thinking about the other side of things…
Click to read more of Sigi's insights.
Rio Tinto's CFO, Chris Lynch took to the floor to discuss Big Ideas in Big Companies, crucially – where do Big Ideas come from?
Chris taught us not to treat your suppliers as a resource to cut costs, but someone that you can work with to generate Big Ideas… Old St Labs Mark Perera also streamed the session live on Periscope for ardent social media fans.
Keep your eyes peeled for a blog series from Chris on Procurious soon.
In the first of our 'Big Ideas' panel discussions Sigi Osagie, Helen MacKenzie, Andrew MacAskill and Sarah Trota took to the stage to provide their perspectives on authentic leadership, and the challenges of trekking through the procurement jungle.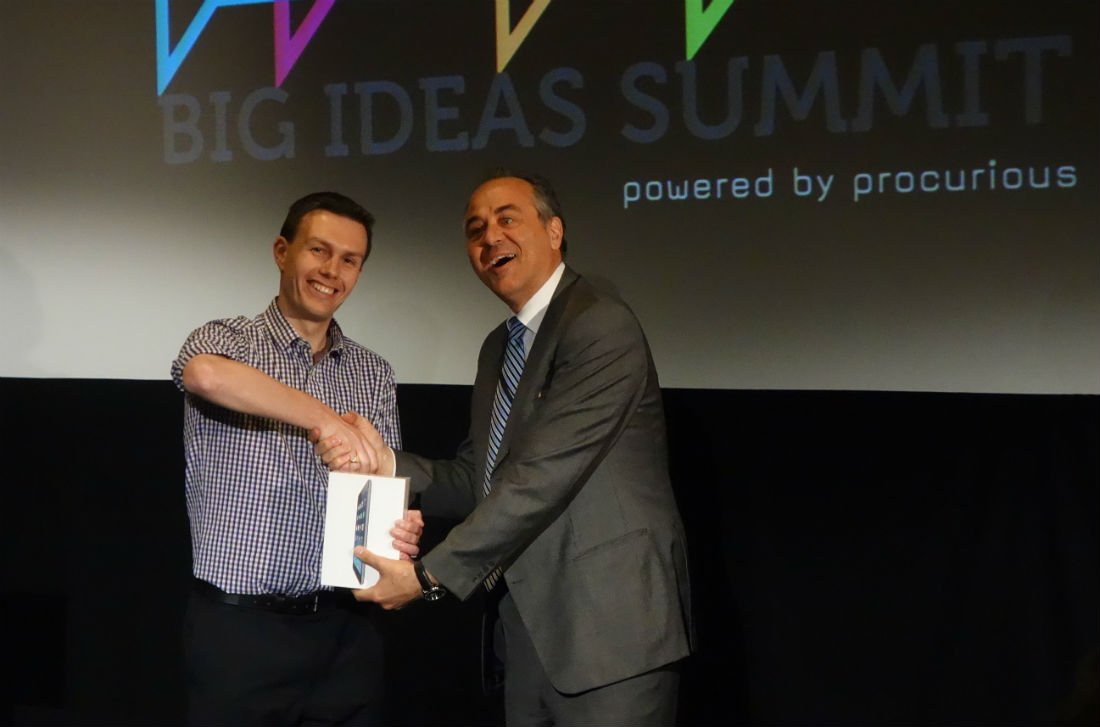 Ahead of Big Ideas 2015, we ran a competition to win an iPad mini for our community to invite 10 members to join the site. The winners were announced at the Summit and they are:
Helen Rees
Natalia Urazova
Sergio Giordano
Bertrand Maltaverne
James Bush
(And there is Sergio collecting his prize in person!)
Chris Sawchuk from The Hackett Group thinks procurement can learn from UBER
Here are a few top insights from his session:
– Innovation should be seen as a top priority in the organisation
– How do we build agility into our procurement organisations?
– If we can't predict what's going to happen, we need to be more agile to respond
– Be responsive and put the customer at the centre of everything we do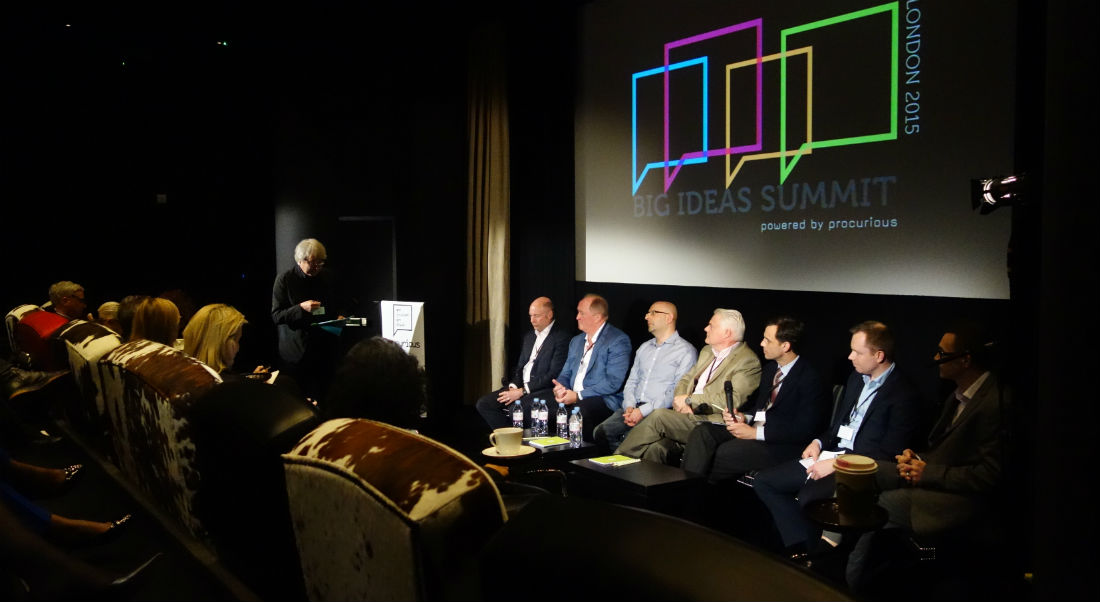 Jordan Early reckoned the 'Where are our blind spots?' panel discussion that featured Tim Hughes, Olinga Ta'eed, Giles Breault, Jason Busch, Nic Walden and Lance Younger was the best procurement panel he'd ever heard.
It was certainly a heated affair… the reverberations of which were felt on Twitter!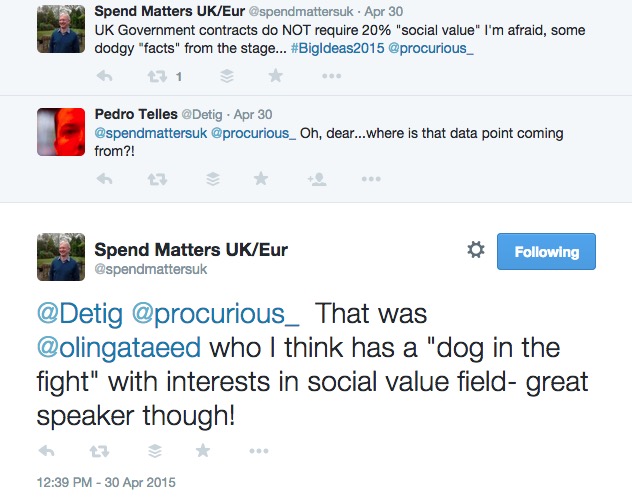 Tania Seary rounded off our keynotes with a call to action to the profession to set their egos aside, collaborate, share ideas and pull together for the betterment of procurement. Procurement needs to be "ego-less, collaborative and full of T-shaped people"…
Why procurement should flex its muscle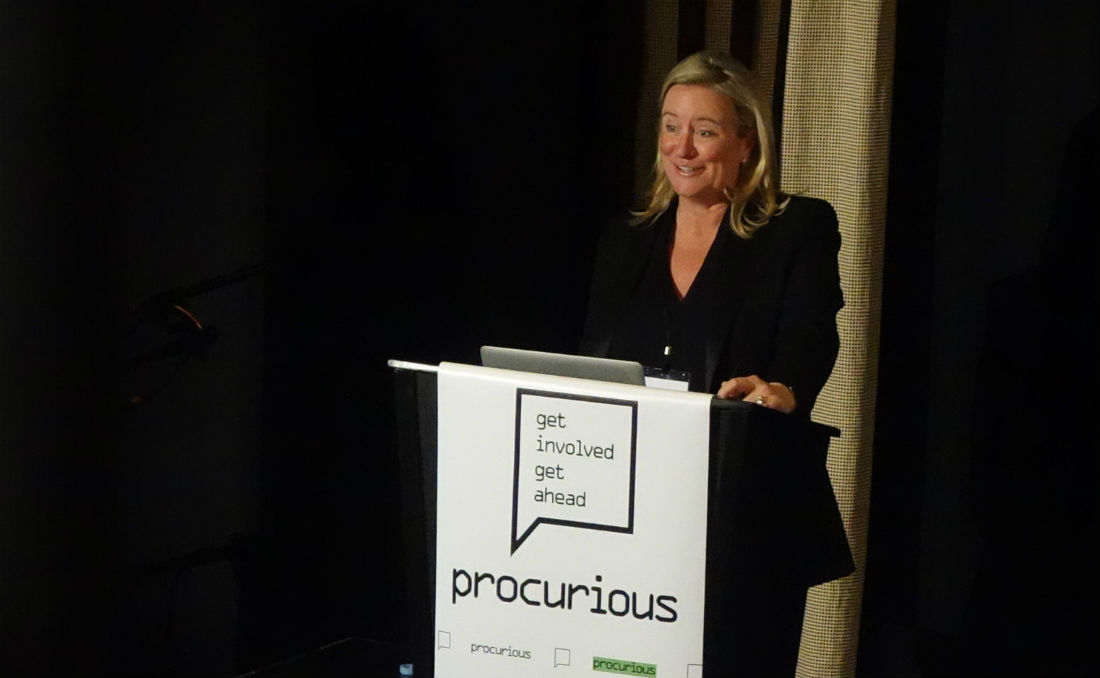 The day itself may now be over, but the debate and discussions are still being amplified online. Here's a teardown we've done of #BigIdeas2015 reach on social thus far… What Twitter was saying about Big Ideas 
And if that's not enough reading material for you, here's a handy list of related stories you might have missed on 'Big Ideas':
Sigi Osagie`s Big Ideas On Bringing The Real You To Work
6 Big Ideas To Join Procurious By Thursday
CIPS David Noble: Big Ideas On How Procurement Will Seize The Day
Thinking the Unthinkable – Big Ideas on Supply Chain Risk
Mark Perera's Big Ideas on startups, technology & disruptive procurement
Samantha Coombs on the challenges facing Millennials going into procurement
Is ethical fast fashion an oxymoron?
Professor Olinga Ta'eed on Turning Procurement Professionals into Agents of Change
Professor Olinga Ta'eed: Big Ideas For Helping Your CEO Understand Social Value
Winning the War for Procurement Talent with Social Media
4 Big Ideas That Transformed Procurement Technology
Help us to help you (and win 1 of 5 iPad minis)
Social influencer Tim Hughes: Big Ideas for the next Industrial Revolution
David Berry on Fixing the Innovation Supply Chain
5 of the deadliest risks facing your supply chain in 2015
`Our People Are Our Greatest Asset.` Erm… Really?!
Behind the supply chain curtain: 5 questions procurement needs to ask
Slavery in Supply Chains – A Modern Day Risk
Big Ideas 2015: How to be a Digital Delegate and get involved
What are the innovations transforming supply chains & biggest trends right now?
4 technology trends we'll tackle at Big Ideas 2015
Big Ideas that changed the world: Communication
Why we're talking managing talent at Big Ideas 2015
Who are procurement's most influential thinkers?
The digital delegate and rise of the virtual summit
Join the world's first digitally-led event for procurement professionals