You might think that your most strategic suppliers are the ones you spend the most with. But supply chain crises may shine a light on which suppliers are actually strategic.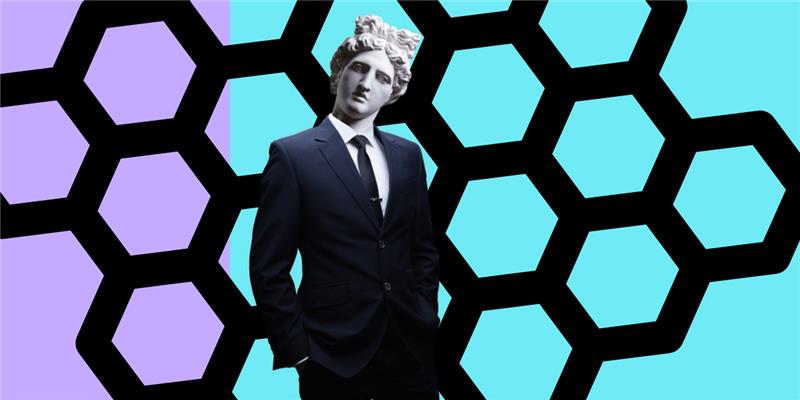 ---
Modern-day supply chains are truly global, highly complex and getting longer and longer. 20 years ago, most of a company's suppliers were probably within a very short radius. Today they could be on the other side of the world.
The reality is that organisations have more difficulty than ever keeping track of their entire supply chain – from Tier 1 all the way down to the smallest supplier organisations. This poses enough challenges for organisations when it comes to issues like environmental performance or modern slavery, let alone with supply chain efficiency or continuity of supply.
With so many suppliers to keep track of, organisations have to make decisions about who their strategic suppliers really are. Traditionally, organisations (and their procurement departments) have fixated on the suppliers with the largest spend volumes. In reality, they should be most concerned about a supplier's risk profile.
This risk profile is thrown into light at times of crisis in global supply chains. This may come from volcanic eruptions disrupting global flights and travel, or from a global pandemic, such as COVID-19.
What Does the 1% Look Like?
All suppliers are unique, bringing different things to an organisation beyond the goods and services they provide. When assessing which suppliers to manage as 'strategic', procurement departments have traditionally focused on their visible suppliers. This usually is defined by spend profile and determined using traditional methods such as the Pareto 80:20 principle.
However, it's the less visible, hidden suppliers that are often the most strategic. These are the 1%.
This group is made up of the suppliers who are easiest to ignore as they supply something low-cost and apparently trivial to the organisation. In truth, this trivial component may be manufactured from an expensive or rare raw material, be a proprietary item, or come from a supplier who has a monopoly or dominance in the market. Despite this item costing very little, the likelihood is that it is difficult, if not impossible to replace. This makes the potential impact on the supply chain huge should the supplier fail to deliver.
Assessing these suppliers using another procurement favourite, the Kraljic Matrix, they would fall into the 'non-critical' or 'bottleneck' categories (see below).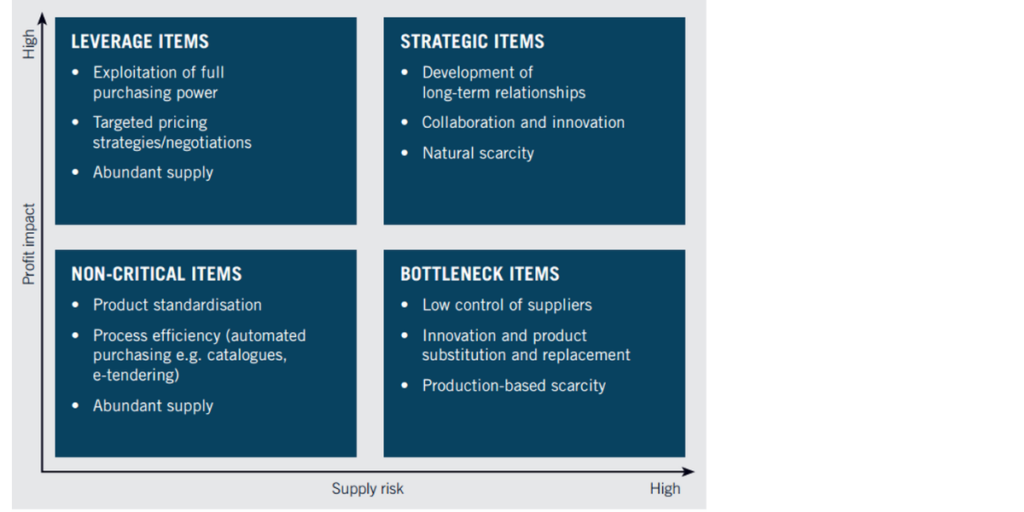 ---
However, in many cases, the risk aspect of supply is downplayed or removed entirely, leaving the focus solely on profitability. This is where the issues with your 1% lie.
The Role of Technology
In times of supply chain crises, every supplier – even your 'transactional' and 'bottleneck' suppliers – need the same attention in order to ensure you're not missing something. What may have once seemed like an impossible and highly inefficient task has been aided considerably by the advancements in procurement solutions and technology.
Organisations have gone from a reliance on their transactional systems, such as their ERP, and the knowledge and experience of their procurement teams to manage their suppliers. This has left organisations exposed through a lack of data to define and manage strategic suppliers, as well as the loss of knowledge when people leave to join another organisation.
Procurement technology and solutions have developed to the extent that they can help provide the necessary foundation for tracking an entire supply base. This has moved the profession from a position of weakness, to a position of strategic responsibility. In the current climate, people are now actively talking about supply chains and procurement's role now and in the future.
Therefore, the profession cannot undermine itself by failing to manage its 1% effectively. Even big organisations, with highly developed supply chains can be caught out, as we can see below.
Real World #1 – Keeping Supplies Zipped Up Tight
The fashion industry has taken some very public, very high-profile hits for its supply chain. Organisations have a uniquely complex situation to contend with – finding suppliers who are flexible, reactive and usually low cost on one hand, while on the other ensuring that the highest ethical standards are still achieved.
Suppliers can frequently be small, family-owned and geographically challenging too. However, you might consider an everyday item on many items of clothing a product of a 1% supplier – the zip.
You might overlook it, but a zip is a critical item for manufacturers and designers. The market is dominated by two major suppliers, YKK and SBS, but there are other players there too. However, the majority of these are geographically focused in Asia – specifically Japan and China. Switching supply is unlikely to be easy, so all it takes is a supply chain crisis in this region, say a lack of key raw materials or alloys for production, and supply could be disrupted, without viable alternatives.
Low value compared to other items in the fashion design process, but very high risk.
Real World #2 – Bearing the Risk
Manufacturing is another industry with highly complex and multi-layered supply chains to manage. In automotive manufacturing, supply chains have moved towards the 'Just-in-Time' method pioneered by Toyota, making continuity of supply and supplier reliability critical at all times. It's no use having 99% of the parts available to use, when the 1% is stuck in its factory, two tiers down your supply chain.
As such, a greater focus on quality over price is required, but even this is not fool proof. Fiat Chrysler announced in February that it was halting production at one of its factories in Serbia as it couldn't get parts from China. Manufacturers who would traditionally hold minimal stock to remain competitive and agile are faced with a situation where that very strategy could pose a huge risk to their organisation.
As the impact of COVID-19 related factories closures around the world continues to grow, even large manufacturers may actually stock out before there's a chance to re-align. And these items could be as simple as ball bearings for wheels – very low value, but huge risk at this time.
De-risking the 1%
Is there a solution that overworked procurement professionals can take advantage of in the face of a supply chain crisis? When it comes to supplier risk, there are a number of actions that may be taken immediately in order to reduce this.
According to KPMG, these can include setting up a response team to manage the flow of information across key stakeholder groups, reviewing key contracts with customers and suppliers to understand liability in the event of shortages, and conducting a full risk assessment to provide a list of actions to take, which may include shortening supply chains and assessing alternative options.
In the long-term, however, the focus needs to be more on supplier management and the creation of truly 'strategic' relationships, built on risk profiles rather than value. This should be done across the entire supply chain and aim to go down through the various Tiers that exist in it. This is defined as 'Holistic Supplier Management', a concept explored in more detail by JAGGAER in their latest whitepaper.
JAGGAER's research uses a similar model to the Kraljic Matrix for supplier positioning, but with the key difference that it focuses on risk and cost to the business (rather than cost of supply) in the event of supplier failure.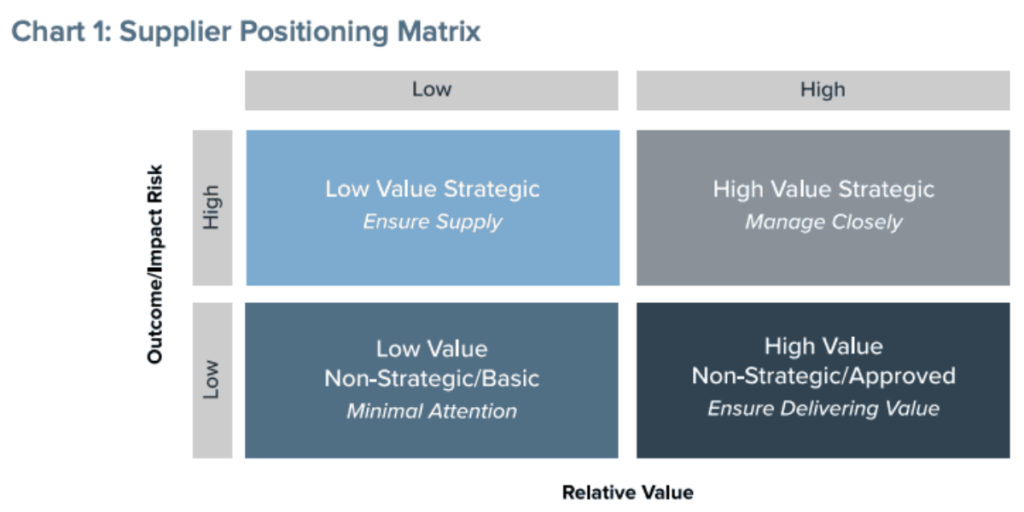 ---
A concept is all very well but being able to deliver Holistic Supplier Management and manage suppliers on risk and cost requires being able to access data on current performance, the impact of an individual supplier on your organisation, as well as the value that they deliver. This is where technology comes to the aid of procurement and it's what is offered within the JAGGAER Supplier Management solution.
The solution not only provides the data and analysis that is required by procurement for key decision-making, but also gives a deeper understanding of suppliers to help construct better contracts that deliver greater value to the organisation. By using technology like this, procurement can effectively and efficiently de-risk their supply chains, keeping them better prepared for managing crises when they inevitably hit.
Don't Get Caught Out
The key message, as every procurement professional knows, is that good communication is key to maintaining a strong and stable supply chain. However, as supply chains grow more and more complex, geographically dispersed and multi-tiered, individual procurement professionals and departments need to make use of all the resources at their disposal.
Holistic Supplier Management can help procurement be better prepared, mitigate risks and start to understand what strategic procurement and strategic suppliers really are. You can find more information on the JAGGAER website, or by downloading their latest whitepaper, 'How To Achieve Holistic Supplier Management: Orchestrating Supplier Management for Maximum Benefit'.
No matter how safe you think you are, how stable you believe your supply chain is and how strong your links are with your strategic suppliers, there is always an inherent risk within that 1%. By being better prepared and truly understanding your supply chain, you can avoid being caught out in time of crisis.