Our second blog rewind looks at the idea that 3D Printing will have a major impact on the way organisations manufacture their products and ultimately how their supply chains are set up for outsourcing.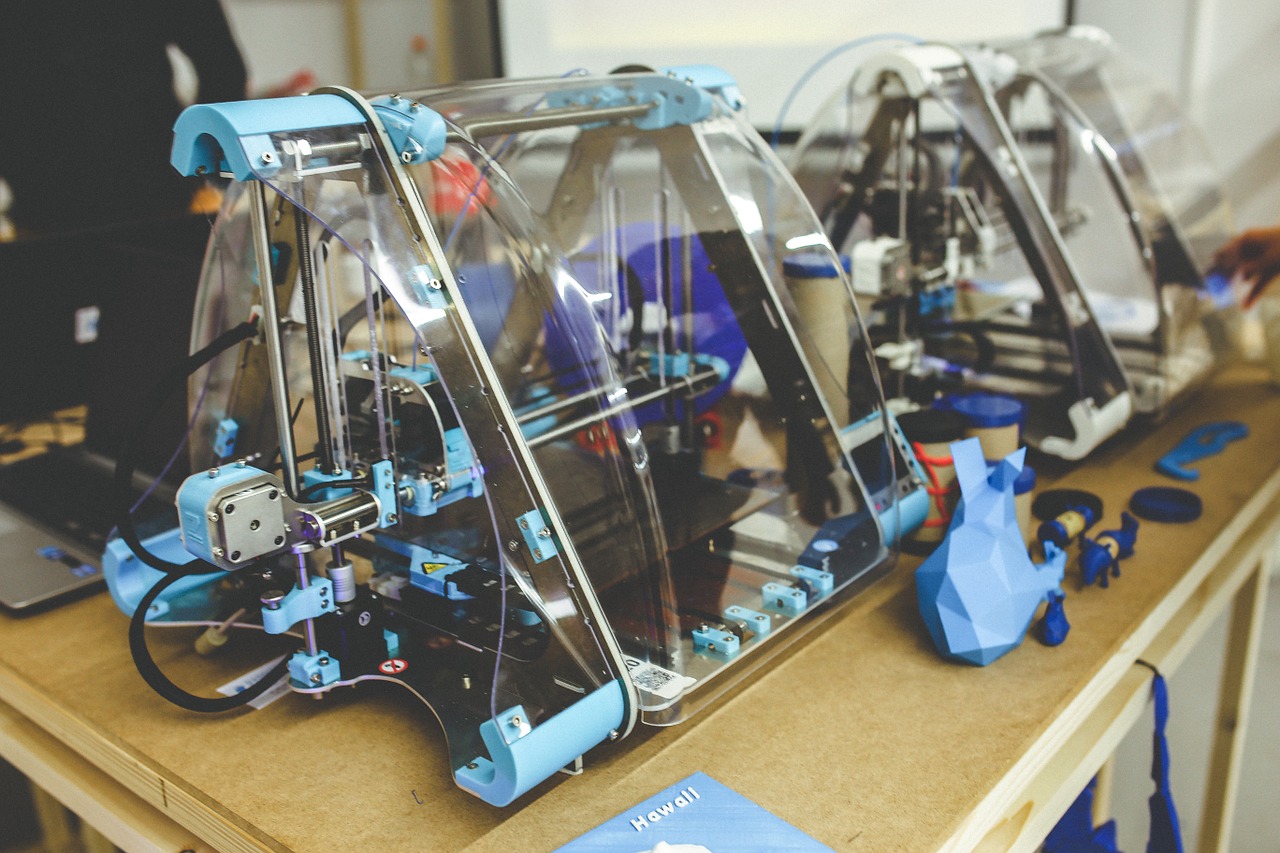 From golf clubs to firearms, pharmaceuticals to trainers, 3D Printing is disrupting the manufacturing process of an increasing number of products. But what are the long-term implications for the supply chain as a whole?
It's a common misconception that 3D printing is something new. Although the processes and thinking for it have been around for a number of years, it's taken a while for the technology to catch up and allow wider functionality and usage.
As a procurement and supply chain professional, this opens up a world of possibilities – a world of potential cost savings as a result of lower manufacturing costs and a centralised supply chain. Of course this isn't going to happen overnight, but organisations can start to think differently.
The End Outsourced Manufacturing?
Manufacturing in particular has the potential to see a big change. The advances in 3D Printing can allow certain products to be made in house, instead of being outsourced to 'low cost' countries. While good news for organisations bringing more jobs back home, it doesn't provide a rosy outlook for countries like Mexico and China, traditionally strongholds for low-cost manufacturing.
By bringing manufacturing closer to home, it also gives organisations an opportunity to reduce risk in their logistics, reduce lead-times and make savings on transportation costs. Plus, there's the lower carbon footprint of global activities as an added bonus. This is all illustrated in this neat infographic.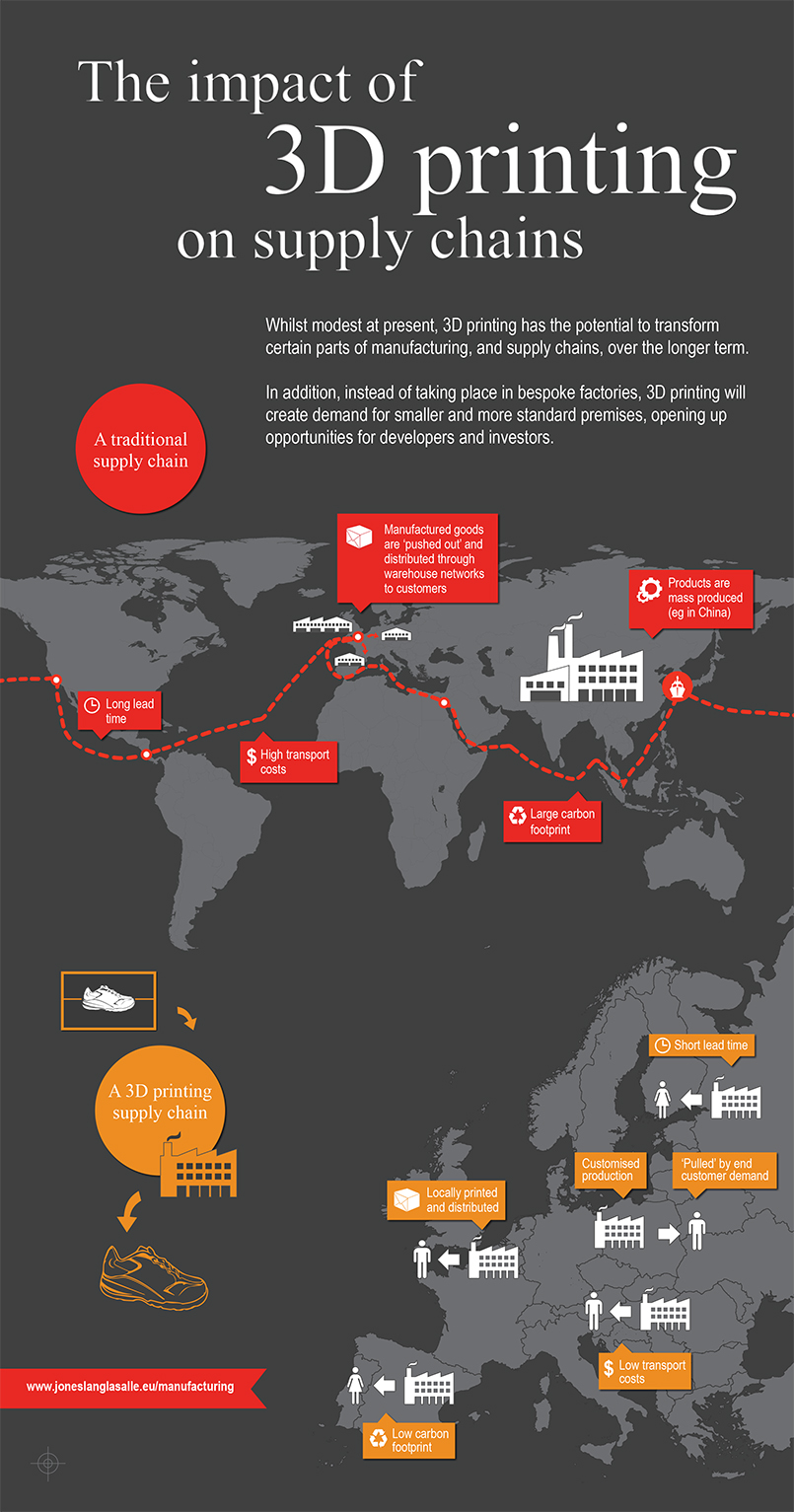 In the pharmaceutical industry, manufacturers are using 3D Printing to improve medicines delivery systems for patients. Printers are being used to produce pyramid-shaped pills, which provide a more rapid drug release than cylindrical pills, and layered tablets that dissolve quicker and more efficiently.
While these processes are still in their infancy, manufacturers are hopeful that technology and science will work hand in hand, lowering production costs, enabling local production and, in the long run, reducing the end cost for patients.
Changes in the Supply Chain
Beyond enabling organisations to bring manufacturing back to a local setting, lowering logistics and transportation risks and costs and even maybe reducing globalisation as a whole, there are other impacts in the supply chain to think about.
Organisations will be able to produce prototypes of designs much faster than before and facilitate testing by being able to print on site. Organisations will also be able to print packaging materials, more tailored to certain products, as well as tools, jigs and other aids for manufacturing.
Finally, the requirement to hold inventory can be reduced by having designs for applicable products and other parts held on a hard drive, ready to be printed on demand, rather than physically stored in a warehouse.
Beware the Magic Bullet
A word of warning, though. As great as all this sounds, there are still risks and issues that need to be considered with 3D Printing.
Protection of copyright and security of patents is a big deal when all the designs are held on a hard drive that could be hacked from outside the organisation. Some organisations have taken steps to protect their intellectual property, but can you be 100 per cent sure you're safe from cyber attack?
On the environmental side, although footprints are lowered for transportation, the need for printers to run continuously to be cost-effective means increased energy usage and costs. This would lead also to increased carbon footprints for local factories.
Finally, with greater efficiencies in the supply chain, reduced transportation requirements and potentially fewer warehouses, where does that leave the supply chain manager? If parts are going to be printed on site as required, there isn't going to be the need for someone to manage an end-to-end process.
Best learn how to use the printers then!
Do you work in an industry that's seen an increase in 3D Printing? Do you work with printers – have we missed any big benefits? Let us know and get involved in the discussion!