The gender pay gap in procurement and supply management has INCREASED, according to US and UK survey results released this week. Have you sponsored your own internal gender salary gap analysis?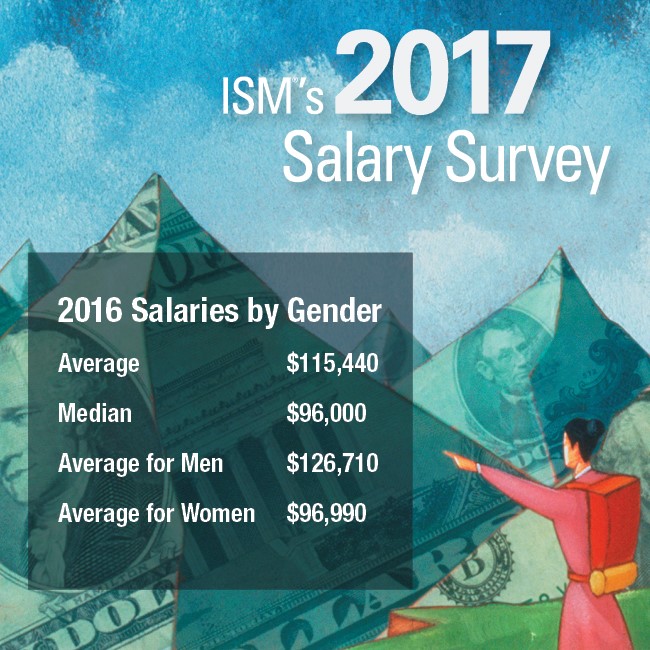 Ever considered how procurement salaries measure up with the rest of the working world?
Are you suspicious that your  procurement colleagues might be getting a better deal than you?
If you're a woman working within procurement and supply chain, have you ever wondered how glaring the pay gap is within your industry or organisation?
This week, ISM's Twelfth Annual Salary Survey in the US and the CIPS/Hays Salary Survey in the UK have shed some light on all of the above. Whilst there's clearly still a very long way to go in terms of the  gender pay gap (predicted to take another 170 years to close), things are otherwise looking pretty comfortable for the procurement and supply chain profession….
ISM Salary Survey Results
Now would be a great time to convince your boss you deserve that pay rise, because the Institute for Supply Management's (ISM) Twelfth Annual Salary Survey has been released. The results are based on data from 3808 supply management professionals who were surveyed throughout February and March 2017 to determine these average salaries:
Average Salary: $115,440
Median Salary: $90,000
Average for Men: $126, 710
Average for Women $96,990
In the US, a person working in professional, management or related occupations earns an average of $63,076 annually, which means these results are pretty good news for the supply management profession.
The figures show a 5 per cent increase in average compensation since 2015. Men's salaries have risen by 8.2 per cent and women's by 3 per cent.
The super bad news is that procurement appears to be taking a step backwards with regards to equal pay. In 2015 women earned 24 per cent less than men, compared with 31 per cent this year.
Download a summary of the report here.
UK Pay Gaps Revealed
It's not just ISM's figures proving to be disappointing in terms of gender equality.
As of last month, UK organisations employing more than 250 people are obliged to publish their gender pay gap figures.
Virgin Money disclosed that men who work at the bank earn, on average, 36 per cent more than women, asset manager, Schroders, reported a  31 per cent gap and Utility SSE a 24 per cent gap.
Some are against the new legislation arguing that the numbers don't give a full picture and place all the blame in the hands of the employers. Others are in favour of the full disclosure and think it will spur organisations and governments to crack down harder on gender inequality.
McKinsey's Global Institute report found that $12 trillion could be added to the Global GDP by 2025 by advancing women's equality, which is as good a reason as any to close the gap, pronto!
UK Procurement Salaries Outstrip Average
The CIPS/Hays Salary Guide and Insights 2017 has surveyed over 4,000 procurement employers and employees to learn everything from key trends in salaries to challenges faced by employers and the top benefits desired by procurement professionals at all levels of seniority.
Whilst the average annual UK pay increase is 2.2 per cent, procurement professionals in the UK are receiving an average of 5.3 per cent more! Jacki Buist, writing on Supply Management, believes the results show a "continuing enthusiasm for the profession in all regions."
Unpredictably,  the cause for concern falls once again in the region of gender disparity. Overall, the pay gap is reducing but at the advanced professional level, men receive an average  of £82,000, compared with a woman's £65,700.
Registrations are open for the CIPS/Hays Procurement Salary Guide and Insights 2017 Webinar, which takes place on Thursday, 11 May 2017 13:00 GMT.
Are you surprised by the figures released in these two surveys? How do you think the UK's new legalisation will impact the fight for equal pay? Let us know in the comments below.
In other  news this week….
Google Customers Subject to Phishing Attack
G

oogle customers have been targeted with a scam that gave hackers access to the contents of emails, contact lists and online documents of victims
On opening a given link, Google's login and permissions page asked users to grant the fake Docs app the ability to "read, send, delete and manage your email"

G

oogle has now shut down the attack but have asked customers who received such an email to flag it to them.
Victims have been advised to change the passwords to their online accounts
Read more on The Telegraph
Amazon to Expand in the UK
Amazon is adding 400 staff to a new research and development centre focused on machine learning, in a move that reinforces the retail group's long-term investment in the UK
The lab will develop  the voice-activated Echo speaker and Prime Air drones
By the end of this year, Amazon plans to add another 5,000 British employees to its payroll, open a new 600,000 sq ft headquarters in central London, and operate three new fulfilment centres around the country
Read more on the Financial Times
The future of Blockchain
Put simply,  blockchains take out the middle man (banks) and make the transfer of funds more streamlined and safe
The United Nations (UN) used one particular blockchain, Ethereum, to distribute funds from the World Food Program (WFP) in a pilot program earlier this year. The experiment successfully, distributed aid to 100 people in Pakistan
The system will now be used in Jordan to distribute funds to more than 10,000 people. It's expected to help support 500,000 recipients by 2018
Read more on Futurism